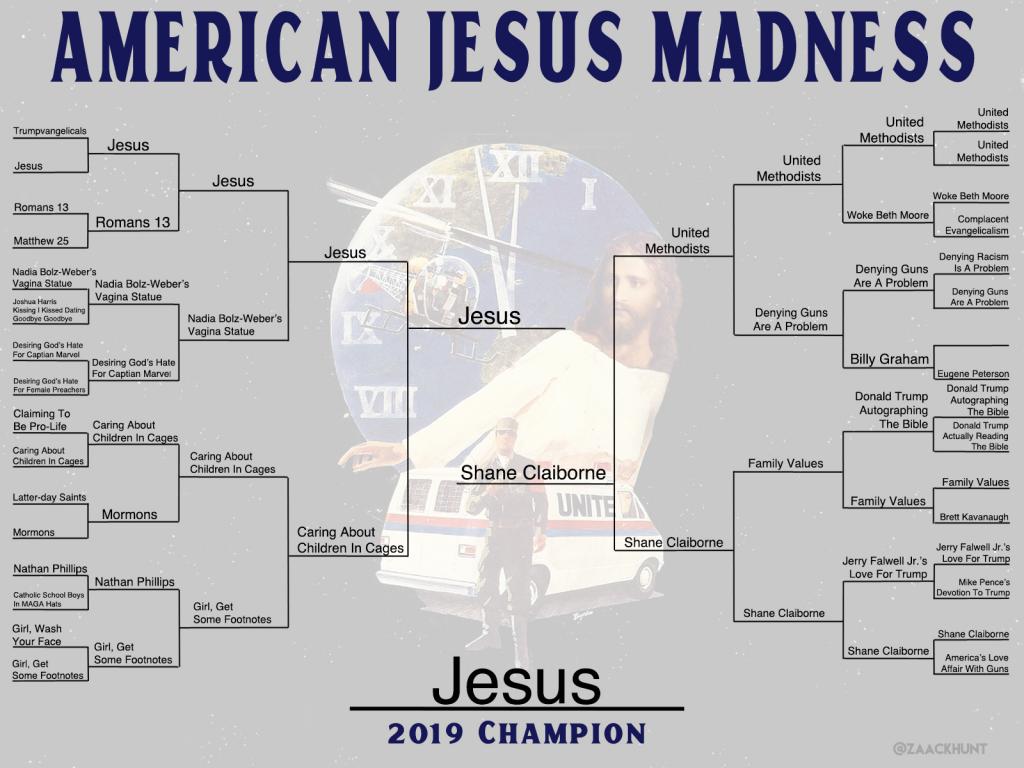 It has finally happened.
After nearly a decade of futility, Jesus has finally won the tournament that bears his name.
I would say Shane Claiborne put up a valiant fight, but Jesus smelled the blood in the water. He finally made it to the championship match and he wasn't going to miss his shot. He threw all that humility and first shall be last stuff to the wind and laid down a 99% to 1% beating that would make even Satan himself shake in his boots.
At long last, he truly is King of Kings.
Speaking of champions, a huge congratulations to our bracket winners!
Our overall bracket champion this year was Richard McNeeley who not only won handily with 176 points, but won with a perfect bracket!!
But Richard isn't the only one winning prizes.
Finishing in second place with 140 points, Mark Copley, and in third place with 127 points, Kimbre Birdwell, both will be receiving prizes as well!!
And so will Brenda Patik who crushed the competition to win the inaugural Resurrection Bracket with 90 points!!
Huge congratulations to all of our winners, especially Jesus.
Richard, Mark, Kimbre, and Brenda if you will email me your addresses I will get your prizes in the mail asap.
As always, a sincere word of thanks to everyone who participated this year. It literally would not be possible to do this without your votes and your brackets. I hope you all had as much fun as I did.