Joshua Johnson speaks to a group of young people at an archdiocesan revival meeting in 2014. From The Archdiocese of New Orleans Clarion Herald
Following in the footsteps of Fr. Stan Fortuna?
Details from The Baton Rouge Advocate:
A young Catholic priest who enjoys rap music had a few confessions about his faith and his music: He didn't like the Catholic Church as a youth, and he doesn't want to simply be known today as the "Rapping Priest."

At 27, the Rev. Joshua Johnson, of Christ the King Catholic Church at LSU, is the youngest priest in the Diocese of Baton Rouge. Johnson is in his first year as a priest after trying for years to run from his calling to minister in the Catholic Church.

"I was raised Catholic, but I just never liked the Catholic Church growing up. I thought it was boring, and I didn't understand it," said Johnson, a native of Baton Rouge who recently garnered a measure of renown on YouTube and social media for his rapping talent. He hosts the hip-hop show "Tell the World" on Catholic radio.
Read more. And check out a sample of his rap below.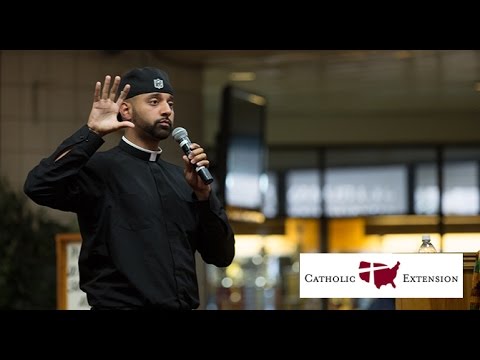 UPDATE: A reader thought I might want to know about this sensational vocations video featuring Fr. Joshua. Check it out. It's really excellent, and helps tell more of his inspiring story.