The Global Square is Os Guinness' newest book.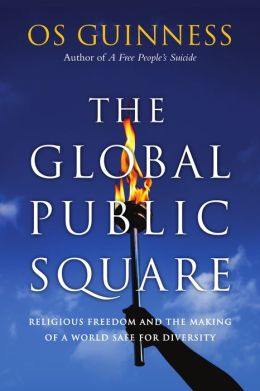 The book is about religious freedom and the attempt to provide safe diversity in a very diverse world.
7 billion people share our planet. How do we navigate freedom and diversity and blend it with safety?
Guinness seeks to give a vision of religious freedom that allows for competing truth claims in a safe environment.
Guinness's proposals are reasonable. So much so that some are calling the book a "a blueprint for all the peoples of the world–both in the West and beyond–struggling to achieve for themselves just and lasting regimes of ordered liberty."
I'm not very familiar with Guinness's work. This is my first of his. But he's an engaging, clear, and compelling writer.
Some deem him to be a prophetic voice to our generation. Even though he outlines the risky status of religious liberty in our fractured world, it would be nice to think that this book will actually create change.
To my mind, the book is more philosophical (with history mixed in) than a pragmatic blueprint for specific action.
I suppose that if his "Global Charter of Conscience" at the end gets circulated enough and penetrates the hearts of enough people, especially those with power, we may see some changes. But how likely is that?
That's really the rub when it comes to publishing books. How does one get it to circulate widely enough to produce visible impact?
If you know the answer to that one, let me know. I'm sure Os would be interested as well.
Here are a few endorsements that give the flavor of the book:
"Os Guinness consistently tackles salient and difficult issues and, while giving due recognition to their complexity, analyzes them in clear argument and expounds them in lucid prose. In The Global Public Square, he does so again. Contemporary problems of diversity and religious freedom are massive, urgent and growing, but our deep differences are seldom addressed in other than a shallow way. This short but wide-ranging and eloquent defense of freedom of religion and conscience, and civility and plurality–which the author summarizes as 'soul freedom'–provides much needed insight and guidance in our common future." (Paul Marshall, senior fellow at the Hudson Institute and coauthor of Silenced: How Apostasy and Blasphemy Codes are Choking Freedom Worldwide)
"This is a closely reasoned and eloquent defense of religious freedom (Guinness calls it 'soul freedom,' because it refers to the rights of secularists as well as people of faith). This is not just one right among many, but a fundamental right rooted in the dignity of every human being. But it is also a right essential to the maintenance of a public space in which people with widely diverse worldviews can live together with civility. This is a book that should be read by everyone concerned with freedom of conscience, not only in the face of murderous persecution as still exists in many places, but also with the more subtle threats by political orthodoxies in Western democracies." (Peter L. Berger, professor emeritus, Boston University)
This post is part of the sponsored Patheos Book Club.
If you find this post helpful, you are free to ADD A LINK to it on your blog or website. But don't copy and paste the post as this violates Google's guidelines.
Subscribe to the blog so you don't miss anything. It's free. All
Email Subscribers
will receive my eBook
Rethinking the Will of God
(Revised) free. Also, if you are interested in setting up a new blog,
click here
. If you're looking for a new hosting service or you want to buy a domain name, I recommend
BlueHost
, hands down.