It's still Friday for two more hours! Visit Jen for more quick takes.
7.
We are going to the Indiana State Fair on Sunday! I'm so excited. For the last few years when we went I would think, "I can't wait until we have a child to bring to the fair and show all the animals to." I'm eager for Maggie to see a cow, horse, chicken, and pig for the first time.
I love the 4-H projects: the gorgeous quilts, art, clothing, and the prize winning vegetables. It's all so magical.
Also, let's be real, I'll probably be sprinting toward the dairy barn for ice cream and perhaps a grilled cheese.
Atticus prefers the elephant ear.
I love the fair.
These people do too.
6.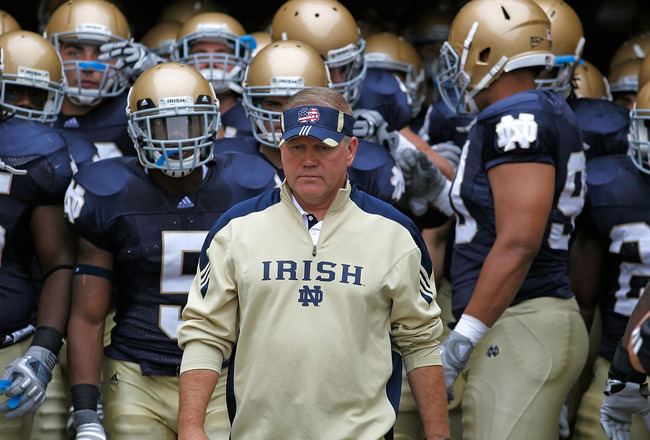 So, Notre Dame football. I can barely contain my excitement.
September 3 is the first game. South Florida at home.
We got tickets for two games this season.
the Purdue game, which will be played in West Lafayette on October 1. It will be a nice time to spend the weekend with Atticus' parents, who will watch Maggie while we go to the game.
Then we're going to campus for the Navy game on October 29th. We'll just go for the day, and again, Atticus' parents will watch Maggie for us.
I am so looking forward to it!
5.
Please pray for our family. We are going through some transitions right now, and praying they will be relatively smooth. Your prayers are appreciated.
4.
I have been watching the documentary Ken Burns' Civil War during my down time this week.  Why yes, I did study history, why do you ask?
I watched portions of it in my Civil War class in college, but I had not seen the whole thing, and have heard it is one of the best series ever done on the war.
I am enjoying it immensely. Every time Lincoln is quoted, I seem to tear up. I'm not sure why, other than that man is a damned good writer and orator.
I wrote a paper about Joshua Lawrence Chamberlain in college, and he is one of my favorite characters in all of this. I knew I liked him when I discovered in my research that his horse's name was Charlemagne.
3.
Whenever Sirius is sitting somewhere, and he sees Maggie, or I pick her up and bring her over to where he is sitting (for instance if we're all on the couch), he gets up and runs away. I think he's afraid of Maggie because she was trying to pet him once and grabbed his fur.
Just wait until she starts crawling buddy. Nowhere will be safe.
2.
I've been reading all the homeschooling blog posts which have been going around lately. They are super interesting.
Even though Maggie is less than a year old, I've spent a lot of time thinking about what our schooling will look like. We live in the Indianapolis Public School district. According to the state department of ed website, about 45% of students passed the testing at our local elementary school, and our local high school is so bad that it's been taken over by the state.
No thank you.
It's certainly not the public schools that existed where Atticus and I grew up, that's for sure.
Luckily there are three decent Catholic schools within two miles of our house, so we have a lot of options. I was pleasantly surprised to see that at least one of the Catholic schools offers a very generous discount to parishoners with more than one child attending.
It's so interesting to me to read about how other families determine what schooling is best for their children.
1.
Maggie can't really use her bouncer anymore. She's starting to turn over in it sometimes. This makes me so sad, as it has functioned so beautifully in our kitchen for many months, and now I will have to find some other way of corralling her while I work in there.
That bouncy seat was the best $40 I ever spent.
Hope you all have a great weekend!