When our daughter was baptized in March 2010, her godparents presented us with a gift in addition to hers. It was the book Parenting With Grace: The Catholic Parents Guide to Raising Almost Perfect Kids by Greg and Lisa Popcak. Written from a wholistic perspective integrating their Catholic faith and experience as therapists, this book has wonderful sections on cultivating attachment and the idea of self-donative love at each stage of a child's life. Even though she was an infant, one section in particular drew my attention; the chapter on helping children to develop and sustain a life of faith. It resonated.
When I was pregnant with Maggie, I would relish receiving the Eucharist, praying that some of those graces would be planted in her tiny soul, growing as quickly and wonderfully as her body. Now, as parent to a busy, thriving toddler, it is so easy to get caught up in caring for her body and keeping her safe. I often forget that caring for her precious soul is just as, if not more, important. During those first few yers of life, my husband and I are the face of God to our child. We are the first experience she has of love, and therefore, of God. When they are babies, that cultivation is simple. Pray for them, love on them, and give them what they need to grow.
Now, however, I know that things are changing. I see my little girl, who just turned two last week, seeking and beginning to understand what she sees at Mass and hears during prayers. A few months ago I went back to that chapter on helping children grow in faith, with the goal of getting some ideas for how my husband and I can plant the seeds of faith deep within her heart. In hopes that they might be of service to other parents of little ones, here are some ideas and resources that we have found helpful in helping our precious daughter on her journey of faith.
Mass and Sacraments
This might seem sort of silly to even include, as it's a requirement of our faith to attend Mass, but there it is. Sunday Mass is non-negotiable. She went for the first time at 3 weeks old (I think, it's really a blur), and we haven't missed but once since. We talk up Mass with her now that she's getting older. We tell her that we are going to "see Jesus". During a rough phase when we spent most of Mass in the vestibule, we would take her to see the large crucifix hanging there. We told her that was Jesus, pointed out his "boo-boos" and gave him a kiss. Now whenever she sees a crucifix she says, "Jesus. Kiss Jesus' boo-boos." Please don't misunderstand me. I'm not saying my toddler is a perfect angel who sits perfectly still for a hour and never makes a peep. She's two. She chats, she climbs up and down on the pews, she endlessly arranges the missalettes. But she knows that we see Jesus at church. She knows He has boo-boos and that we love Him. It's a start. My husband and I have a goal of going to confession once a month. We don't always get to it on time, but we are setting an example of returning for forgiveness, something we want to instill in our child. There is no sin too big or too small for God.
One of the things that has been really helpful for us is a "Mass Bag". It's a non-descript tote bag that we fill up with books and toys on a rotating basis. Some of our favorite things for the Mass bag:
The Bible for Little Ones — Maite Roche
My First Catechism: The Catholic Faith for Little Ones — Christine Pedotti
The Gospel for Little Ones — Maite Roche
My First Pictures of Easter, Christmas, Jesus and Mary (each is a seperate book) — Maite Roche
What we love about these books is that they are brightly colored illustrations that she likes, and they are board books, which makes them much more durable than some other Catholic books we have. The others are great content wise, but we worry more about ripping pages, so those books are usually left home.
Also in the Mass Bag are some dolls and toys. We have two dolls from this adoreable Etsy shop, Saintly Silver. They custom make felt saint dolls which are so sweet and best of all for Mass, quiet. Maggie has a Saint Margaret of Scotland and Saint Gianna doll. Each has a prayer to the saint on the back.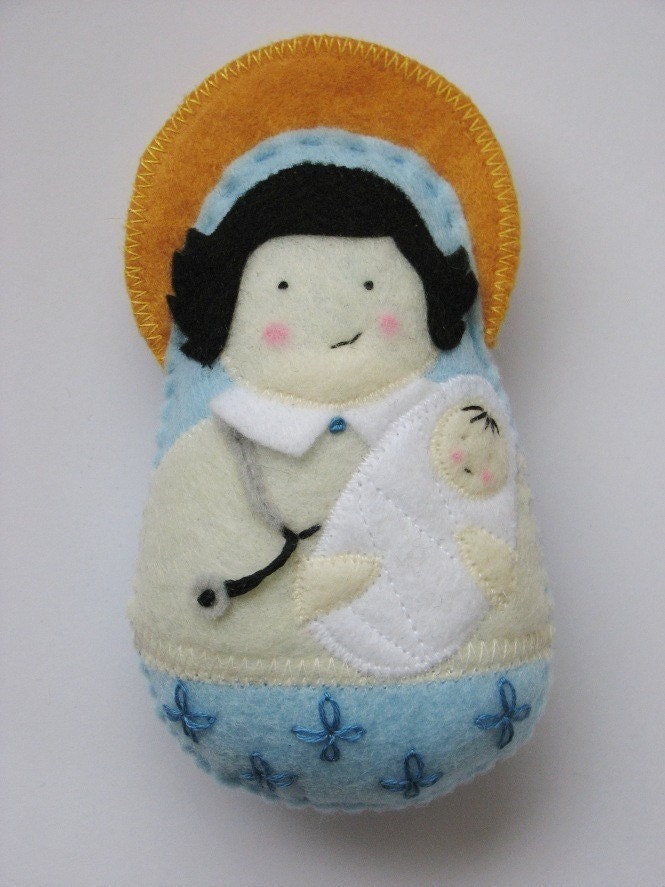 Lastly, I took a pile of about twenty holy cards I had around the house, punched a hole in one corner and added a key ring. Fun for babies to chew on since they are laminated, and now that she is older, she loves to flip through them and find the images of Jesus and Mary. If we ever have a boy I would love to get the Wee Believers Mass Kit. The company which makes the Mass Kit and other fun, quiet Catholic toys is located in our city, which we love, since we try to support local business whenever possible.
Family Prayer 
We are working on this. Gotta keep it real. This is an area in which we are inconsistent. We always pray before meals, and most nights we do some kind of evening prayer before bedtime. We are trying to teach Maggie her prayers, but her attention span is also inconsistent. Of course on some level, our family prayer is inconsistent because Atticus and I are inconsistent. We keep working at it, and are slowly getting better at carving out that time in the evening to talk with God as a family.
We have some go-to prayer books which we all really enjoy. Maggie pulls them out of the bin, brings them to us and says, "Pray pray". How can you resist a toddler asking you to pray with her? The ones we like are all from the same author, Maite Roche. The pictures are darling, and the prayers are short, simple, and perfect for little ones.
My First Bedtime Prayers (Includes the Our Father)
My First Prayers with Mary  (Includes the Hail Mary)
My First Prayers for Christmas
My First Prayers For My Family
Each book is short enough that we read through all the prayers once, sometimes twice depending on her desire and attention that night. Our focus now is on teaching "the big three"; the Our Father, Hail Mary, and Glory Be. She is also getting the hang of the Sign of the Cross, though her version of it is to tap her chest three times. Her interest in the rosary has increased. She notices the ones we have around the house and wants to hold them. We haven't yet gotten her one of her own, but this one looks fun and sturdy.
We talk a lot about God and Jesus. We tell her who his "Mommy Mary" is, and she has religious art in her room. A crucifix, a divine mercy image, and an image of Mary. I tell her Jesus loves her when I'm snuggling her at naptime, and we try to do all we can to make going to church and talking to God part of our everyday lives. We pray for her as well as with her. In my view, our job isn't so much to force holiness upon our children, or to create their relationship with God, but to be a facilitator. From the moment of her conception, Maggie had a soul made by God, to love God and someday return to Him. Since that moment she has been in relationship with God. It's my job to realize and respect that she is already in a relationship with God, and to give her tools she needs to cultivate that relationship so it will continue to grow. Holiness is an invitation that God extends to all of us, and I should treat the cultivation of holiness in my child the same way, as an invitation extended by God, one which I am graced and gifted to participate in.
When she gets old enough to ask why we go to Mass, the answer isn't going to be, "Because we have to" but "Because we love God, we are thankful that He loves us, and we want to spend time with Jesus".  At the end of it all, that's what's true. We go to Mass, yes, because we have to, but more importantly, because we want and need to.
Neither Atticus nor I grew up in a home where God and faith were talked about much outside of church on Sunday. Atticus became Catholic as an adult, and though I am a cradle Catholic, my grandparents who raised me from age 7 are not Catholic. This is mostly new territory for us, and we're making a lot of this up as we go along. I just want to be real. I don't want anyone reading this to feel badly, or imagine that we are so perfect and our child is having visions and locutions at age two. She's not, and until pretty recently, we didn't really pray together as a family much at all. Now we are starting to have a little bit of rhythm, and I wanted to share what's been helpful for us with others, in hopes it might be helpful for another family that wants to pray but isn't sure where to start with little ones.
Now it's your turn! What has worked for your family in trying to help your children grow in faith? It really does take a community, and a community's resources, to raise holy children in an unholy time. Please share!