I just arrived in Portland, Oregon. It was a long, beautiful train ride. My pope alarm was rendered useless by rural Montana, but I eventually got the word, narrated over the phone by my wife. Since then, I've consumed news in the patches of 3G service available.
Needless to say, I'm not very well informed. But I do hope to read some of his works in Spanish and provide some commentary in the months to come, before the translations begin to pour out. As usual, this isn't journalism. Just thoughts.
My first reaction was surprise and delight at the election of a Latino. Call it tribalism or whatever, I suspect I experienced something like what Eastern Europeans did when John Paul II was elected. Within a few minutes I was also struck by the fact that Pope Francis is not only a Latino, he is also an American — Latinoamericano, Latin American.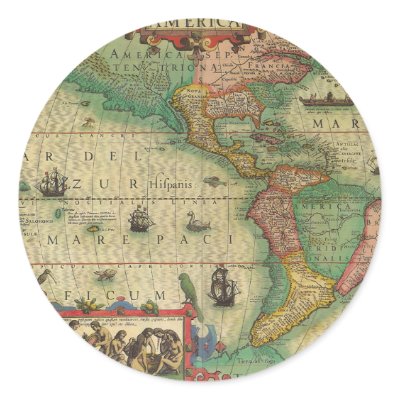 Here in the U.S. we often think, or at least speak, as though we have a monopoly over "America," but geography and common sense teaches a very different lesson. There is something to learn here, I think. It begins with an unprecedented sense of American solidarity: Francis is our pope, an American pope.
Even George Weigel seems to understand this.
The Americas are a wildly diverse flux of nations and peoples. There is no singular blueprint for an American, from Canada to Haiti to Panama to Argentina. Pope Francis, an Argentine through and through, embodies this through his Italian genealogy. (And, of course, there is a good argument to be made for why Italians ought to be considered Latinos, too — but certainly not Americans.) In a way, he provides a perfect link between the two continents.
If there ever was a moment for continental solidarity, this seems to be the time for it among American Roman Catholics. This might be hard to swallow in the United States. It is not a common experience for us to associate the United States of America with the Americas. Our bishops — especially
Dolan
— have made a good example for us and I think there is a sense of real solidarity there already.
There are far more important things to think about in these momentous times, but I don't think this call for American continental solidarity is entirely beside the point. Pope Francis is a humble man. Whereas Benedict XVI showed us a profound humility of spirit, Francis shows us an embodied humility — a man who, like St. Francis' embrace of the leper, washes and kisses the feet of the poor and the infirmed. He brings a quiet sense of humility to an overly prideful Roman Church.
I hope this extends to the United States, where we suffer from an even worse imperial pride and often struggle to see our fellow Americans as continental kin. Not only as kin, but as Christ among us.