… this weekend my father and my step-mom celebrated 25 years of marriage, an eternity for most married couples today. It truly was a beautiful evening and a moving celebration of the sacrament of marriage and testimony of love.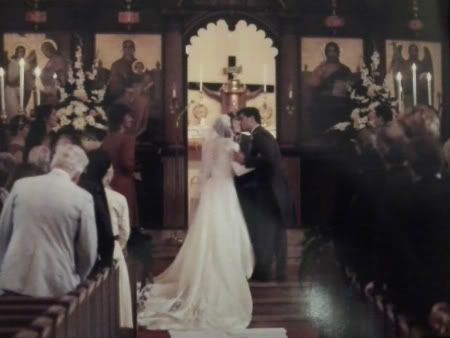 While I was there I took the above photo from their wedding album. It came out pretty well for being a picture of a picture. They were married in the fall of 1986 at a local Greek Orthodox Cathedral in Virginia.
There is so much to love about this photo but the reason I took it was because it was in a beautiful church. Church weddings have become increasingly rarer and rarer. For two years, between the ages of 26-28, I attended and participated in fifteen weddings. Only six were actually in a church. The rest were in parks, botanical gardens, one at the Chrysler museum, and another in an aquarium. Even my religious friends opted for the park and garden weddings. A Jewish friend chose a bird sanctuary for his nuptials.
To date, only five of those couples remain living together as husband and wife. All the church weddings endured, save for one. Everyone else is either separated or divorced.
Looking at this it seems disproportionate to me. I know there have been studies galore regarding marriage statistics and some that specifically analyzed the the divorce rates among certain protestant denominations and Catholics. But has anyone looked at the rates of divorce for those who've had church weddings versus non-religious civil ceremonies?
I understand not every one who has a church wedding is religious. Some opt for the location because the cathedral is beautiful, family tradition, or simply it's the cheapest venue. And I will admit that my friends who had the church weddings weren't the most pious practicing types, in fact we were very much a secular group.
Yet the church weddings endured. Why is that, I wonder. I can't help but speculate that the very act of marrying in a Church drives home the profound reality that marriage is a sacrament. It is not just simply a celebration or a fancy party. It is a sacramental vow till death do them part, witnessed by God in His house with a huge crucifix hanging overhead.
I know it sounds like I am suggesting that couples who marry in a park or quaint garden have less serious intentions, but maybe it's not so far fetched to wonder if the non-religious atmosphere in which some chose to celebrate such a monumental life moment denigrates the seriousness of the union. Does a lack of religious solemnity start a marriage off on the wrong foot?
Discuss.