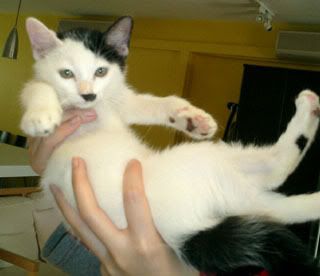 The post was "It's hard for me to hear you over the sound of your Nazi analogies" and the comment thread was… err… frustrating, so I'm not advising you revive it.  But there's been a positive development: Mark Shea has decided to stop using the phrase "gay brownshirts" (with more comment from him here).
We didn't exactly come to consensus (he and I still definitely disagree on whether the comparison is accurate), but we can pretty much agree it does bupkis for dialogue.  I want to thank him for making it easier for us to fight.  Putting aside inflammatory language doesn't mean lowering the stakes of an argument, it just means tightening your focus to your real disagreement, instead of getting aggrieved over phrasing.
So what do Mark and I still disagree on here?  Well, a lot of things probably, but the most relevant seem to be:
How much responsibility does a movement have for the actions of anonymous vandals, and when should it or affiliated individuals apologize for their crimes? The Sierra Club doesn't apologize or even bother acknowledging every act of ecoterrorism, and that's about how I feel about my obligation to comment on vandals who smash windows of churches that oppose gay marriage.  Not only do I not have any authority over these guys, I don't even know who they are, since they haven't been caught, so I'm not addressing them, I'm just mentioning again that I think vandalism is bad tactics and bad ethics.
Are all acts of vandalism-as-intimidation/anger equivalent? The reason I object to Mark's Kristallnacht references is that I think there's a huge difference in the significance of the vandalism and the extent to which it portends future violence.  These are isolated vandals, not, you know, a paramilitary group wearing brownshirts or any other kind of uniform that makes existential threats and has the power to carry them out.
Various other things mostly related to whether homosexuality is morally neutral.
It's easier to have any of those conversations if you don't give the other side an excuse to tune out right in the post title, so I'm really pleased Mark made this change.  I understand that sometimes people want to use hyperbolic language to 'vent' or don't intend to a conversation to be read outside their circle.  Obviously the open nature of the internet makes that bad tactics, but I think it's bad for us, even when we do it in private.
I'm really opposed to the idea that we're ever entitled to our anger or our hate.  It's one thing to need privacy to be hurt and vulnerable, but I'm doubtful that we can ever really burn off anger without feeding it or denying a little of our own agency and responsibility.  A while ago, I found this George Will quote though a commenter's blog, and I heartily endorse the sentiment:
The historian Macaulay famously said that the Puritans opposed bearbaiting not because it gave pain to the bears but because it gave pleasure to the spectators. The Puritans were right: Some pleasures are contemptible because they are coarsening. They are not merely private vices, they have public consequences in driving the culture's downward spiral.