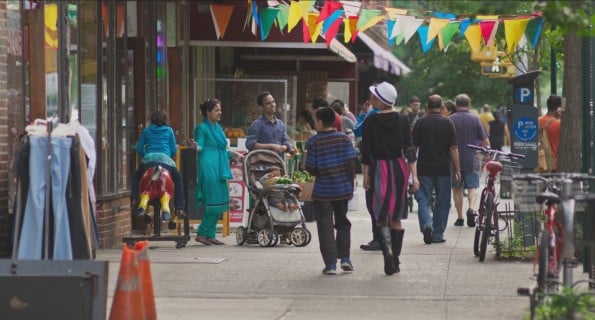 The first shot of Frederick Wiseman's In Jackson Heights is from a fixed angle set at about the height of a traffic sign. The camera peers down upon a common street corner in Queens, NY. A montage of this neighborhood's sidewalk exteriors–outside of which residents sit, converse, gaze, walk, and barter and buy–follows as Wiseman sets the stage for this work of pedestrian brilliance. (And I mean "pedestrian" in the most literal way; the film is far from dull.) This sequence cuts into one of the many storefronts, as the camera observes a Ramadan service; the first words spoken in the film are in Arabic. And thus begins the prolific documentarian's (this his 40th feature) modern masterpiece of quotidian urgency.
In a tumultuous national climate where the bias-confirming outrage machine rages ever on, a repulsively rich real estate mogul-o-maniac threatens ascension as leader of the free world, and refugees fleeing terror-ridden countries are regarded in equal light as their own slaughterers, In Jackson Heights is a sobering observance of the times. It serves as an antidote and a sedative, both through an immersion into a wholly other experience.
The Jackson Heights neighborhood is one of the most diverse communities on the planet, home to a staggering 167 languages. With a population of nearly 180,000, 60% of which are foreign-born (according to a 2012 write-up in Highbrow Magazine), there is no better example of the American ideal than Jackson Heights. Because of this, it has the specific communal voice to reveal deeper truths about the state of America today.
It should be evident, even to those approaching his work for the first time, that this titan of nonfiction is one of cinema's greatest observers. Early on, Wiseman sets a specific visual rhythm. He establishes (and then transitions) scenes with montages of Heights' exteriors, followed by sequences of interior goings-on–usually a community meeting of a specific swath of residents. Once inside the camera sits patiently. Wiseman watches with care as residents speak, often ineloquently, of personal or communal struggles. We sit in on a meeting of homosexual seniors discussing where they will meet next; phone conversations at a councilman's office are observed as an assistant deals with residents' concerns; the camera joins an LGBTQ march to protest a harassing restaurateur. Before exiting back onto the streets of the neighborhood, Wiseman usually cuts away from the speaker to a punctuating montage of faces and interiors. Jackson Heights is equally people and spaces, and Wiseman is fascinated by it all.
Wiseman and cinematographer John Davey's compositions are often very striking. Many feature sight lines meant to push the viewer's eyes along the screen: for instance, a storefront shot from a wide diagonal angle creates a sense of motion as the eyes are pushed from left to right across the screen. The action of the cuts and the transitions of the life caught in frame is dizzying. Yet what is observed is as quotidian as crossing the street or entering a store. The bustling action of the neighborhood is vivid even in the still composition.
Given the sheer density of the subject at hand, I expected a much looser, more meandering film. The first hour even feels like an off-the-cuff, feet-on-the-street piece of verite, but Wiseman is a clever craftsman. His role as director, editor, and producer allows for a nimble and calculated touch. As a true observer, he allows the audience to slowly see the tapestry woven together over the course of the film. It's three hours for a reason: Wiseman is asking us to be patient alongside him. What he wants is to open eyes, to make connections. And so he never states his thesis, but lets the community's residents speak for themselves.
In Jackson Heights is only about something in that Wiseman is judicious enough with his camera to tease out the stories embedded within the community. The threads of the specific story he wants to tell are laid out early on in seemingly happenstance scenes. Issues are dispersed throughout the film, edited in a naturalistic, non-didactic fashion. The city's BID program (Business Improvement Districts) is crippling small businesses around the neighborhood, so we witness meetings that an unnamed advocacy group puts together to educate and arouse action from local business owners and residents. The work of councilman Daniel Dromm is documented throughout as we see him work through local education issues and address the LGBTQ community, preparing a parade to celebrate local hero Julio Rivera, killed twenty-five years ago. The camera frequents a location of Make The Road NYC which hosts many immigrants who speak out on their American experience: one young man speaks of being shorted wages at his job because he only speaks Spanish, another woman recounts the horror story of her daughter and grandchildren crossing the border.
Though, it's not all disconcerting in detail. This neighborhood is as playful and full of color as it is hardship. Color, according to Wiseman's eye, is essential to Jackson Heights. The angles he and Davey shoot from absorb so many vivacious hues from the street, be it from signs, skin, clothing, papers, or any other passing surface. It's hard not to smile when the camera enters a tattoo/head shop or a nightclub, imagining the elder Wiseman perusing such sites with a glint in his eye. You can sense the glee on his face when there's suddenly a montage of a florist's stand as Jason Derulo's "Talk Dirty" plays overhead (diegetically, that is). There are many smiles and handshakes, much celebrating of life and children playing on playgrounds. Jackson Heights is a true wonder of the world.
The whole film is full of these threads that Wiseman had to have come across by that patient observance a documentarian is uniquely familiar with. His style is an act of discovery, but he doesn't stop when the veil is pulled away. Wiseman continues to shape, and in that he's a supreme craftsman. He could've allowed the film to remain in that ethereal state of happenstance, just be satisfied with passing by. Instead, he created a transcendent work by allowing the specifics of the Jackson Heights milieu to connect with broader truths that we all face. In Jackson Heights is a shaped work that's meant to shape those who witness it.
By putting these struggles and joys in the context of realities faced by the marginalized, the foreigner, the other, Wiseman uses his camera as a tool of empathetic protest, exhausted lament, and unwavering celebration. In Jackson Heights is a deconstruction of New York City magic, and ultimately, of the American allure, yet it's a hopeful document of the brilliant color and motion, the skin and bone that compose our most diverse city. It's a reminder that while we are still alive there is life to live and fight for.
---
Like 1More Film Blog on Facebook: