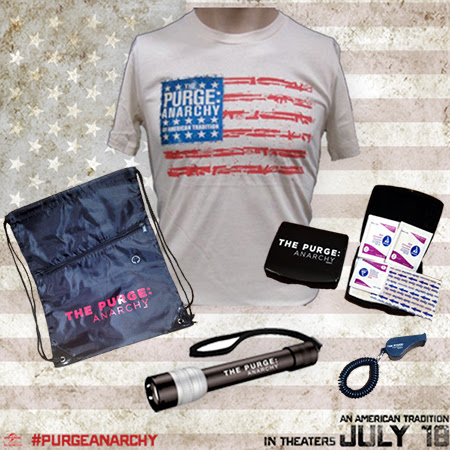 I'm happy to partner with a blog sponsor to offer another fun giveaway. We're offering a prize pack to one lucky reader, including:
– The Purge: Anarchy Promo T-shirt (size L)
– The Purge: Anarchy Promo Flashlight
– The Purge: Anarchy Drawstring Bag
– The Purge: Anarchy Whistle
– The Purge: Anarchy First Aid Kit
Want a survival pack? Simply run your mouse over the GIFs below to control the scene, and then leave a comment saying what you would do to try to survive Purge Night if you were a character in the movie. If your strategy includes one of the items from your survival kit, I'll count your entry twice!
I'll pick a winner at random from the entrants on August 1.
Now, I know it seems strange to have rules for a contest about a movie with the word "Anarchy" in the title, but we live in the real world, so rules there must be:
Each household is only eligible to win One (1) Purge Deluxe Prize Pack via blog reviews and giveaways. Only one entrant per mailing address per giveaway. If you have won the same prize on another blog, you will not be eligible to win it again. Winner is subject to eligibility verification.