Halloween has always been a celebration of spooky, for me. An understanding caught through tradition and experience. Growing up, the whole month was practically dedicated to Halloween in school with art projects, songs, a costume parade, and finishing up with a half-day class party. Even Christmas didn't get as much attention as October's fright fest.
But there has been a shift in the last thirty years toward adults joining the fun as well. Festivals, haunted houses and hayrides, corn mazes, pumpkin patches, ghost hunting events, costume contests, and parties (for children and adults) have become a popular mainstay. These days, Halloween sales almost rival that of Christmas with the costumes, decorations, and candy.
People are more open to the unusual throughout October (or as I like to call it– Halloween time) as well. Skeletons, bats, ghosts, monsters, witches, and twinkle lights with purple, green, and orange bulbs begin to appear on front porches in earnest. There is a general air of celebration that begins in October and ends mid-January.
As someone who is a practicing Witch, it is rather fun to know I can look more the part in a traditional sense (although I do wear crystals, pentacles, and the Stropholos throughout the year) in October without drawing too much attention from the local population. But it's more than that too. There is a neighborly camaraderie in the festivities. Or there used to be. As with everything, this year is different.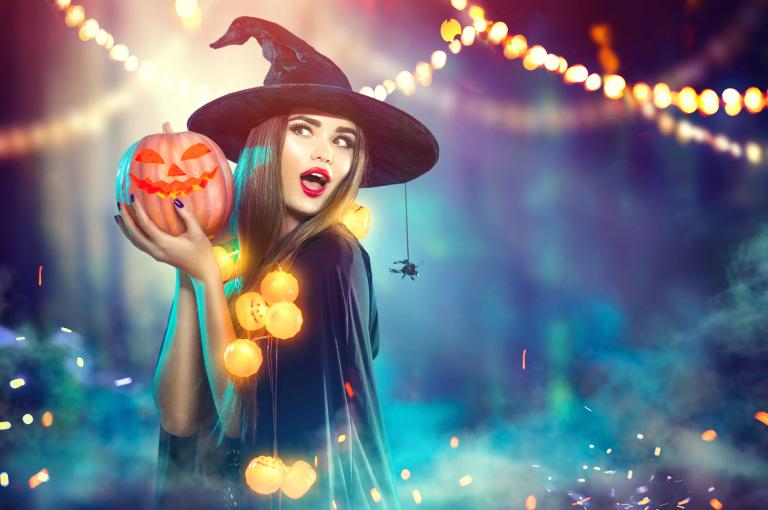 October Is The Height Of Autumn In Michigan
For me, it is October that truly moves us into the physical changes that Autumn heralds. Well, at least in Michigan which is where I have lived a good portion of my life. This is the time when the weather gets chilly (early September frosts be damned).
Leaves are turning red, gold, and orange. Fresh apple cider is available (trust me, what you get the rest of the year does not compare). The scents, sights, and sounds have always been pleasing to me.
There is a natural aesthetic that begins at the end of September and finds its glory by mid-October. You can feel nature's rhythm change. And I believe it is also the energy of the thinning veil that makes Halloween so delightful and Samhain sacred.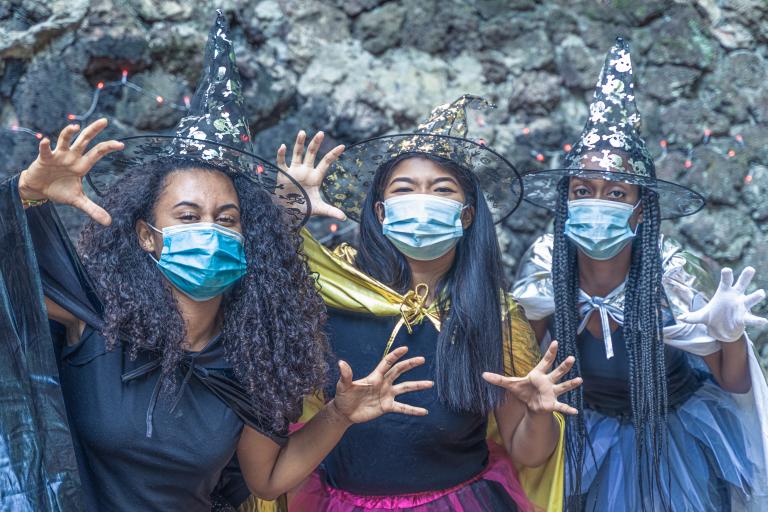 The Reality Of 2020
Obviously, because of COVID-19 and a contentious election (ugh), this year has a different vibe. Oh sure. The weather is cool enough I can wear long-sleeved shirts. Pumpkins, acorn squash, and freshly pressed apple cider are available at the Farmer's Market. But people are on edge, and rightly concerned about the health, wellbeing, and safety of friends, family, themselves, and the future of this country.
But there is also the attitude of "We shall prevail and enjoy Halloween, dammit!" floating around. A sentiment echoed by John Beckett that I echo. In They Can't Take October From Me, he talks about some of the things about October which makes this time of year special. Sports. Tea (better than pumpkin spice any day). Horror Movies. And of course, Halloween and Samhain.
Things must be different this year when it comes to the regularly scheduled activities of October, Halloween, or Samhain but we can find ways to make this beautiful, mystical time of year special. We need to hold onto our rituals and traditions, even those that must be adjusted to accommodate current circumstances.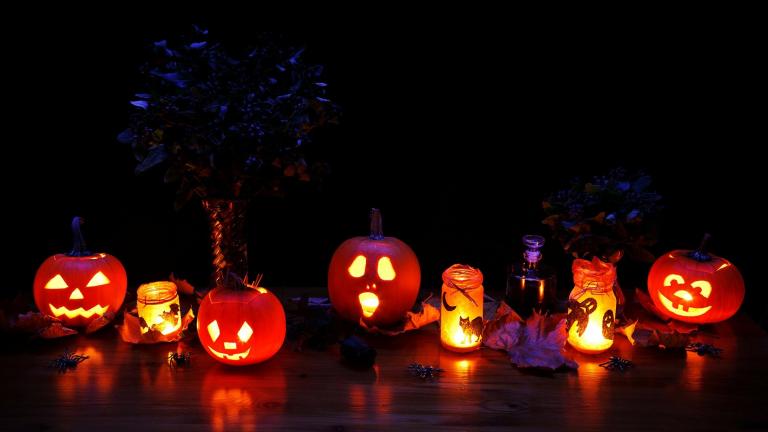 Celebrate Halloween — Corona Style
If you love Halloween, then buy or make a costume and share the pics if so inclined. Watch the beloved movies or tv shows you save for this time of year (for me those include Poltergeist, Pet Semetary, Hocus Pocus, Practical Magic, The Craft, and It's The Great Pumpkin, Charlie Brown). Buy candy to share with your kids. Decorate your house inside and out. Have an online Zoom costume party and take turns telling ghost stories (campfire style).
If you do plan to go our, host a party, take the kids trick-or-treating, etc., then follow these CDC Guidelines for COVID-19 Safe Practices:
Host or go to an outdoor event. There is more risk of infection in close quarters.
Invite the neighbors, family, friends, or people you know.
Limit the number of people invited or check how many are allowed at an event you're attending.
Be smart. Wear a mask (a real one, not a Halloween one) and bring extra if needed. Bring extra hand sanitizer (do not share or swap).
Maintain social distance. Do not shake hands. Wash your hands.
Make "grab and go" trick-or-treat bags that kids can take. No shoving of hands in a bowl, even if candy is individually wrapped. And make sure to wash your hands (and wear gloves) before creating goodie bags for kids to take.
The above may seem like a lot but it is minimal when compared to protecting your health and that of your loved ones. We've heard from many of our listeners who have contracted COVID-19 or know someone who did. You do not want this illness. So be smart, take precautions, and have some spooky fun.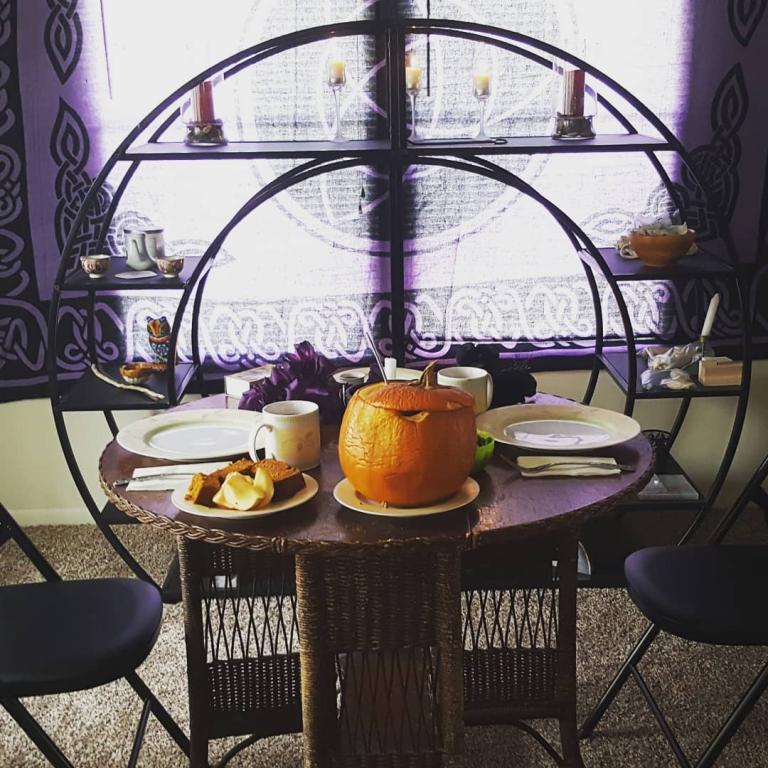 Samhain Remembrance
For me and my family, our Samhain celebration will not see much change with the exception of a late-night bonfire to honor the gods, spirits, and ancestors. I will share a Silent Supper in front of our altar, and probably offer a short online ritual on the Green Earth Witchcraft Facebook Page.
For those who are used to gathering with your covens, I know how difficult these restrictions have been. But there are ways to gather in small groups (with all the precautions mentioned above in place). We can honor our beloved and mighty dead. We can work our spellcraft and practice our divination.
This year has been terrible. But whatever you do, I encourage you to find a way to make October special. Hold on to your traditions, rituals, and celebrations. They may have to look a little different but that does not have our celebrations must be absent. Yes. We have a pandemic that is affecting our lives in multiple, difficult ways. We have a social and political landscape fraught with tension.
But I repeat and state for the record with John: "I'm going to do everything I can – both politically and magically – to help things turn out well. But for now, I'm going to enjoy October. They can't take that from me."
Or from you.