October is my favorite month.
Has it always been my favorite month? I think so.
December – with Christmas and Christmas Break – was pretty important when I was a kid. But by October the farm work and grass cutting were done for the year. The shock of going back to school after a long break was over and I had settled into the routine. For all my dislike of early morning bus rides and evening homework, I was good at school – and I knew it was my ticket to a better life.
2020 has been a hellish year, and it's not over yet. The pandemic was showing signs of improving, but now it's getting worse, even in Europe. Politics have been brutal, and I fear what will happen if the election isn't an overwhelming Biden win. Ruth Bader Ginsburg's death was a personal gut-punch and I'm terrified of what will happen if Trump and McConnell are able to ram a conservative appointment through the confirmation process.
But the virus makes its own timeline, and November 3rd will be here soon enough. For now it's October, and I intend to enjoy my favorite month. Neither Covid nor Trump can take October from me.
Here's why I love October so much.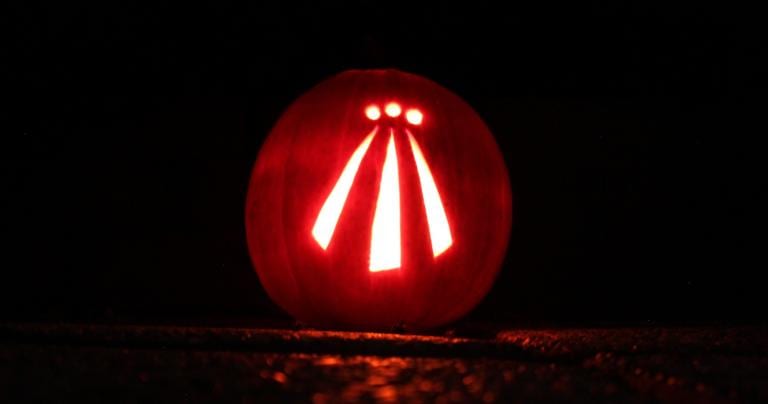 Cooler weather
I went out for an early morning walk one day last week and was actually chilled for the first quarter mile or so. In the summer in North Texas our lows often don't drop below 80°F (27°C). But by mid-September the worst of the heat is usually over, and by October most days are pleasant.
We have nice days in the early spring too, but that's the beginning of tornado season. While we can have a tornado any time of the year, they're rare in October. This is the best time to enjoy being outdoors.
Shorter days
In early August I wrote The Darkness is Returning – And That's a Good Thing. That's when I noticed that the days were getting shorter – there was reason to hope. But now we're past the Fall Equinox – the nights are now longer than the days. And the nights will keep getting longer until the Winter Solstice.
I know some people dread this time of year. If you have Seasonal Affective Disorder, the lack of sunlight (which is more pronounced in northern latitudes than it is here) can be a serious problem. I don't know if I have "reverse SAD" (it's a real thing) or if I just prefer the dark. I just know that in October evening comes sooner, and I like it.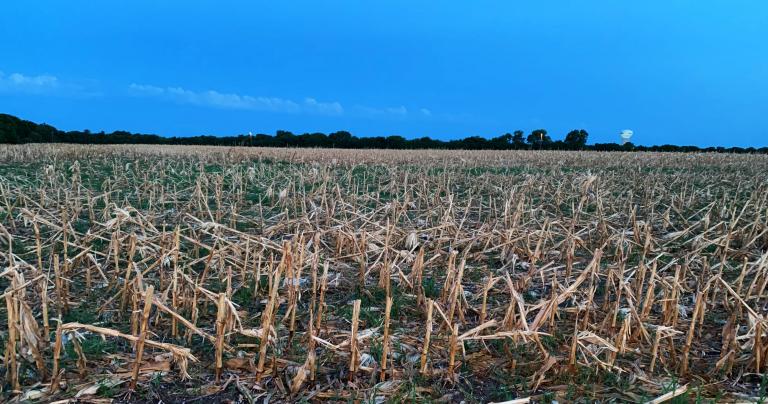 Sports nirvana
In most years, October is the one time when all four major team sports are in action. It's somewhat different this year. Instead of starting a new season, the NHL finished their playoffs at the end of September – and the Dallas Stars made the final for the first time in 20 years!
Same thing with the NBA – the finals for last season just started. Baseball is playing an abbreviated season – the World Series starts October 20 in Arlington, Texas. The Rangers won't be in it, sadly.
Football is trying to play as normal. The NFL is doing a good job of avoiding Covid-19 problems, while the colleges are not [after I wrote this, the NFL had its first significant outbreak – we'll see how it goes…].
I think I watched more basketball this summer than I ever have. After close to four months with no sports it was good to see live competition again. It was a distraction, and a bit of normalcy in a very abnormal year.
And while this October is different for sports than most Octobers, it's still a great time to watch.
Hot tea
I don't have many seasonal foods… or any, really. If I like something I want it year-round. If I don't like it, that fact that it's in season is irrelevant.
The one exception is hot tea. While I'm a certified tea addict, I'm a Southerner who prefers iced tea. I drink hot tea when I'm traveling, because it's available in the mornings and iced tea usually isn't ("Coffee?" "Tea, please").
But when the weather gets cool, I often find myself reaching for a ceramic cup instead of a plastic glass. It's an emotional thing, another way of celebrating the coming end of the year. It rarely carries over into actual winter. But in October, a cup of hot English Breakfast Tea just feels right.
Horror movies
October is when basic cable breaks out the best in horror: the Universal films from the 1930s and 40s, and the Hammer and the Roger Corman / AIP films from the 1950s, 60s, and 70s.
I don't like being scared – I like being fascinated. I don't want blood and pain and jump scares. I want to see vampires and werewolves and witches. And yes, I know the witchcraft we do doesn't work like movie witchcraft. I don't care. I enjoy the movies anyway… and sometimes they inspire me to work more real magic.
Turner Classic Movies (TCM) usually has the best lineup. This year they're showing Dracula (1931) with Bela Lugosi, Blood and Black Lace (1964) also available on Amazon Prime, The Mummy (1932), The Devil Rides Out (1968) – one of the few movies where Christopher Lee plays the good guy – highly recommended, and The Wicker Man (1974). And a lot of others that are worth watching over and over again.
I'm guessing that the final season of The Chilling Adventures of Sabrina on Netflix will drop sometime in October, but as I write this there has been no announcement.
I've been rewatching my favorite horror movies and TV shows since all this started, but I will definitely make time for some of the October specials.
Halloween
I love Halloween – I always have. Getting candy was nice, but the real attraction of Halloween as a kid was getting to dress up and go out as my favorite monster. As an adult I've tried to support trick or treating – some years I have and other years I haven't.
Halloween is going to be a challenge this year – going house to house and knocking on doors probably isn't a good idea. Large Halloween parties are definitely not a good idea. I'm going to wait and see what kind of laws or guidelines come out, but I want to do what I can to support the tradition.
And if I can't, well, there's nobody in the office to tell me I can't dress up every day for a week.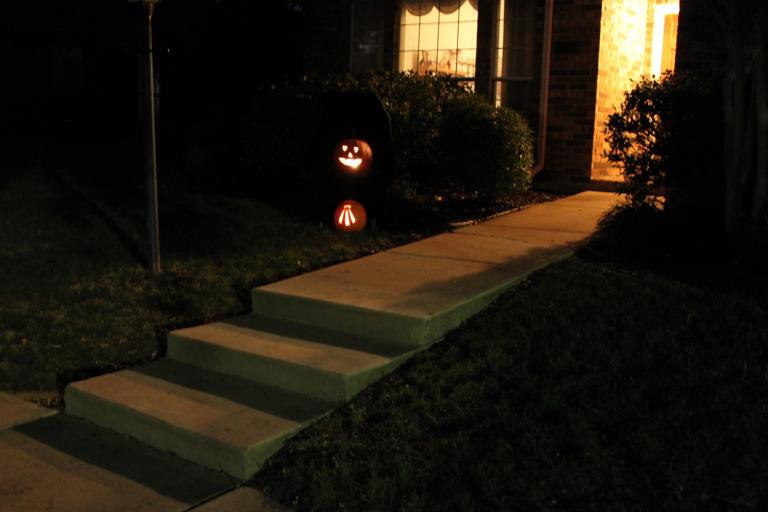 Samhain
Samhain is our highest high day, the most popular of the eight sabbats on the Wheel of the Year. Some of this is the connection to the secular Halloween, but much of it is a deep connection to what Samhain tells us: our beloved dead are not truly gone, and when we die we will join them as ancestors.
I will celebrate Samhain in person. It may be possible to have a small, socially distanced, masked, semi-public gathering. If not, I'll gather with my Pagan "pod" in someone's back yard to light a fire and pour offerings.
I will also be facilitating another Under the Ancient Oaks online ritual. I was unsure whether I would or wouldn't (they're a lot more work than a regular ritual) but I was told there are two things that need to be done at Samhain this year. So I'm going to do them.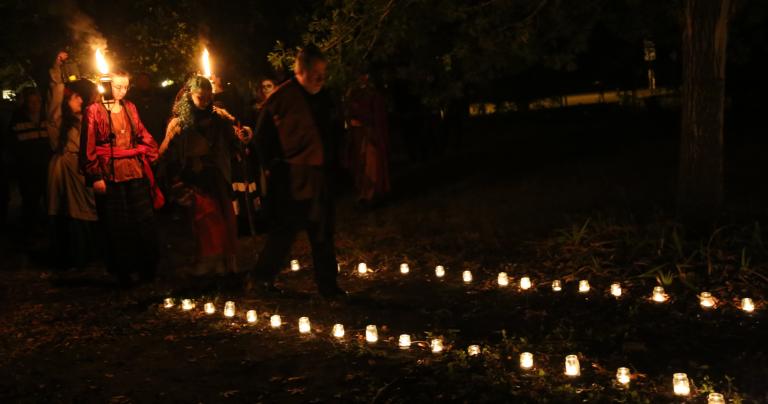 I'll be honest, folks – while I'm worried about about November 3rd, I'm a lot more worried about November 4th to January 20th. Even if the election goes well, the aftermath may not. And if November 3rd goes badly, that's a whole different can of venomous snakes.
I'm going to do everything I can – both politically and magically – to help things turn out well. But for now, I'm going to enjoy October. They can't take that from me.
Or from you.