"I have been in or around the military in some form or capacity for 60 years and if I could I would do it again." ~General Gordon Sullivan
Mil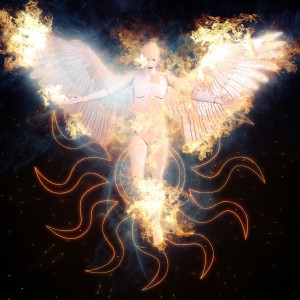 itary Spirituality may sound like an oxymoron to those who consider the military as an institution of blood and guts for death and war. However, our interviews delve deeper into the vein of life to discover the humanity behind their service mankind, and God within their deeds to all creatures big and small.
When you survive war what do you do as a soldier to give back to mankind and give thanks to God? The soldiers interviewed on the Wicked Housewives Club Internet TV show, Military Spirituality, might never ask themselves, "Why do I serve?" so we ask it of them.
Tonight we showcase our nation's hero and protector, retired four star General Gordon Sullivan who was injured in battle and served as the 32 Chief of Staff of the Army. His position is the highest ranking officer of the army. The civilian equivalent would be the CEO of a fortune 500 company.
Watch as our guest answers the question, "General Gordon Sullivan, speaking from your heart, why do you serve?"  
https://www.youtube.com/watch?v=Cnzks2SLgxk
"…I wanted to do something active to help people in war torn areas and impact their economy in a positive way…." Gen Gordon continues to talk about the ravages of war and how he felt drawn to help the people by clearing their lands of mines. He talks about why families with homes in mine infested areas cannot let children leave their house, but fortunately, the MADD dogs have come to the rescue and are making a big difference in their lives. Military Spirituality in action.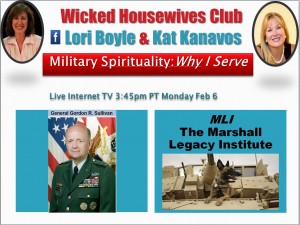 Gen. Sullivan talks about the Marshall Legacy Institute (MLI) www.Marshall-Legacy.org and the two Mine Detection Dogs (MDDs) dogs of choice; the Belgian Malinois and German Shepheard.  He discusses the difference and similarities between these two amazing dogs, how they detect mines and work with their handlers. "The dog sits down when it detects a mine and then the handler and dog back out of the mine field to let the clearing team in. These dogs are very smart, intelligent, disciplined, and hardy. We have not lost, ever, a dog or handler in a mine field. We have over 230 dogs that we have                                                                                                         employed. No deaths to mines."
How important are these dogs for clearing mine infested fields? "Humans can clear 50 square meters a day, dogs can do 1500 square meters a day. We have cleared 44 million square meters of land throughout the world."  Gen. Sullivan explains.
Why w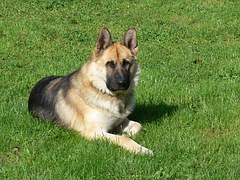 ould the MLI include children in CHAMPS? (Children Against Mines Program)  
The General explains, "Children like other children." During WW1and WW11 children had pen-pals which has since been replaced by modern day skype-pals. In the CHAMPS program Children in the United States are paired up with children in these mine-infested countries through skype. They quickly realize they share the same likes, music, clothes, and Lady GaGa."
"Yes, it is a big world but they like the same likes and worry about the same things. US students can reach out and show that they care about them, appreciate them, and understand their plight.  Yes, they live in a big world but they discover that they share many things." he says. "They come to understand the deprivation and devastation throughout the world and the realities of the world in which we live, some of which are not desirable."
That is the concept of children helping children. Children empowering children is very empowering.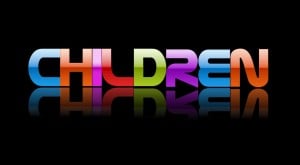 As part of the curriculum schools in mine affected countries adopt young landmine survivors and identify their needs. Meanwhile, the schools in the United States generate funds to help them help those children to provide prosthetic limbs and other medical assistance, and raise money for mine detection dogs. The US helps with medical assistance, prosthetic replacement, and mine risk education classes for children living in mine infested regions.
Children from different countries become friends with US students through electronic means.  This friendship is a beacon of hope for children in war torn countries. It is spirituality shining in the dark of life.
The wife of Senator Mike Enzi of Wyoming was an educator, did the math and said, "if we can get every child in Wyoming to donate a quarter (.25 cents) we can buy a dog through MLI, name the dog, and then get the schools who wish to do so linked up with people in the mine infested countries."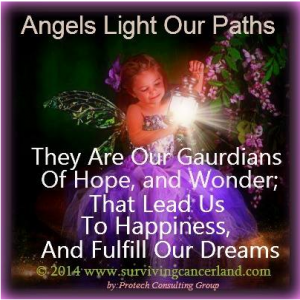 This was very successful. There are now 31 schools in the United States linked up with 9 international schools in mine infested countries like Yemen. "You don't want to go to Yemen, I guarantee you, that!" says General Sullivan.  "And, soon we will be sending assistance to Columbia, which is the most mine infested country in the Western Hemisphere."
So why would a retired four star General choose to continue to serve rather than play golf?
"…As someone who spent his whole life in the army, I can tell you it is better to prevent war than to fight it.  And what we're all about is preserving the peace in these war torn countries so people can get on with their lives.  Peace is better than war."
This is Military Spirituality in action- not just talking the talk, but walking the walk, often for someone else less fortunate, and through lands riddled with mines.  
Psalm 23:4…though I walk through the shadow of death, I will fear no evil, for You are with me…
Photo credit-Pixabay Public Domain-Linforth-angel-1617613_1280-Pixabay.com-Public-DomainFree-                              Cmmercial-Use-No-Attribution-Required.jpg
Pixabay dog-1232299__180-Wpaczocha-Pixabay-FREE-No-Attribution-Required.jpg
Pixabay children-747768_1280-pixabay.com-Public-Domain-Free-Commercial-Use-No-                             Attribution-  Required.jpg
Poster owned and used with permission by author Kathleen O'Keefe-Kanavos
Kathleen (Kat) O'Keefe-Kanavos and Lori Boyle are the Hosts of Why I Serve on New Earth International TV.
About the Author: Kathleen (Kat) O'Keefe-Kanavos-three time cancer survivor whose dreams diagnosed her illness as seen on NBC News & Dr. Oz, TV/Radio Host/Producer of Wicked Housewives On Cape Cod™ ,  Kat KanavosShow , Patheos, Quora, Medium, Internationally Syndicated  Columnist, Nautilus Award-winning Author/Lecturer who promotes patient advocacy and inner guidance. Contributing author to Chicken Soup for the Soul.  www.KathleenOkeefeKanavos.com