"Who's to say that dreams and nightmares aren't as real as the here and now?" ~John Lennon
Embracing my dreams is hugging myself.
Nightmares are an important part of your waking life. They are guidance which is almost impossible to ignore. But, your nightmares may be the best thing that ever happened to you and a key for life.
CLICK THE LINK: https://www.youtube.com/watch?v=_LiQyUUFg7Y 30 sec award winning video
Have you ever had a nightmare so horrific you were afraid to go back to sleep? Good. Don't! Nightmares have a number of purposes but none of them include terrorizing us just for the fun of it. The emotion they elicit is meant to help you remember and do something. The emotion is a snippet of something bigger that is an important part of your future.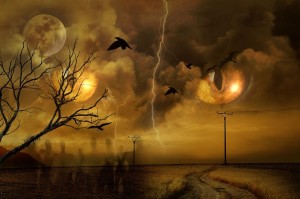 In my 30 second award winning video I show you:
the importance of nightmares
what some Spirit-guides can look like
how to communicate with your Spirit Guides
My last article on dreams equated missing important information in a nightmare with missing the boat on life.
This article explores the purpose of a nightmare because everything in life has a purpose.
It is easy to dismiss a nice calming Epic Dream, and that is okay. Its purpose is to let us relax so we can drift into a deeper sleep level, forget reality, and have a good rest.
Nightmares, on the other hand, tell us to do something to change our course in life. It could be as simple as remembering not to forget the signs and symbols from an important event that happened in our childhood. We don't want make the same painful mistake again on a larger scale as an adult.
Or a nightmare can give us the opportunity to work through a challenge.
This is a way of trying on a scary solution that may involve confronting old habits, old relationships, or fears before committing to the change in our waking life. In our nightmare we can "play-act" something that may be socially unacceptable, or even illegal.
And some nightmares are guidance.
All the challenges in our life, no matter how painful, were a learning experience. Nightmares can help us remember those lessons without actually experiencing the physical trauma, especially if there is potential for them to happen again.
Being forewarned is being armed.
We have Epic dreams as we first fall asleep. When we wake up we often think we are still having the same dream because we are still in it, but that is not the case. We shift in and out of our Epic Dream Door about four times during the night. One purpose of our Epic Dream is to get us into a deeper dream state. Between the beginning and end of our Epic Dream we can have an important nightmare while in the deep sleep level of REM; Rapid Eye Movement.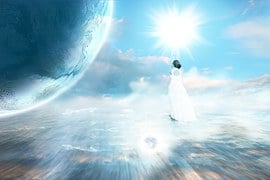 It is during REM that Spirit Guides often enter our dreams with important information for us.
Your Spirit Guides are an important part of your life. You were born with them, you are their job, and they take that job very seriously.
But what about those unforgettable nightmare that are so disturbing and frightening they wake us up in the middle of the night. What is their purpose?
Nightmares have three important purposes.
1.) Get your attention. Fear works!
2.) Keep your attention by making the experience so frightening you cannot forget it. The third purpose is to give you important information to
3.) Guide you on your life-path so you remain aligned with your life-purpose. This guidance can come as a call-to-action with specific verbal directions like, "Return to your doctors without an appointment and demand a different test for breast cancer."
If the information is life-saving and is ignored or not understood you may not be able to fulfill your life-destiny. You may have to come back and try it again in your next life. Wouldn't it be easier to embrace your nightmare as a gift in disguise, decipher its meaning and message, follow he call to action and thank your Spirit Guides for the opportunity to get back on the right path and fulfill your destiny now?
Nightmares are personal gifts from your Higher Power and brought into your dreams by your Spirit-guides. They are important pearls of wisdom and beautiful golden threads of life. String your pearls on those threads and wear them with pride.
Photo Credit: ascension-1568162__180-Jan-Baby-Pixabay-FREE-No-Attribution-Required.jpg
apocalypse-483425_1280-Mysticsartdesign-pixabay.com-Public-Domain-Free-Commercial-Use-No-Attribution-
About the Author: Kathleen (Kat) O'Keefe-Kanavos-three time cancer survivor whose dreams diagnosed her illness as seen on NBC News & Dr. Oz, TV/Radio Host/Producer of Wicked Housewives On Cape Cod™ , Kat KanavosShow , Patheos, Quora, Medium, Internationally Syndicated Columnist, Nautilus Award-winning Author/Lecturer who promotes patient advocacy and inner guidance. Contributing author to Chicken Soup for the Soul. www.KathleenOkeefeKanavos.com
Meta Tags – Kat Kanavos, Patheos, Above and Beyond the 5 Senses, Surviving Cancerland