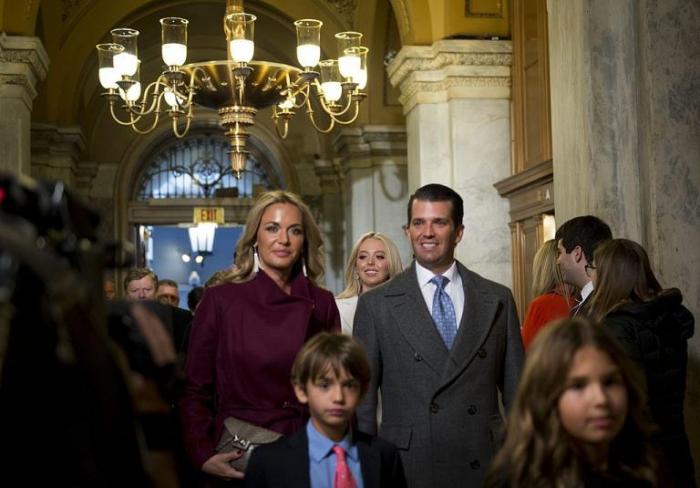 Well, here's some sad news.
Donald Trump, Jr. and his wife Vanessa, who have been married for more than ten years and have five children, are calling it quits.  News broke on Thursday that Vanessa filed for divorce according to the New York Post.  In a Manhattan Supreme Court, she filed an uncontested proceeding.  Page Six had the details about their impending divorce a couple of days ago:
One source told us, "The problems have been there for a long time, the couple had hoped to stay together during the president's time in office, but it is getting harder to resolve their issues. He's never there."

Don Jr., 40, has been traveling a lot. In February he was in India, and he has continued to take his hunting trips. Don Jr. is an avid hunter and there are many pictures of him online posing with the carcasses of elephants, leopards and other animals.
Apparently, they've been living apart for quite some time, hoping they could make it through Donald Trump's Presidential administration.  "Don Jr. has been busy traveling, which has contributed to their problems," a source told Page Six.  "Vanessa is a devoted mother, but she is increasingly lonely and alone in the house with the children."  But could there be political strife as well?
An issue, two of the sources say, is that Don Jr. "appears to have changed recently, and friends are concerned about him." Their concerns were increased by Don Jr.'s tweeting, including when he liked a tweet linking antidepressants to mass murder, and another liking a tweet attacking a teen survivor of the Stoneman Douglas High School shooting. The Daily Beast also reported that following the school shooting, Don Jr. urged his dad to stay strong on gun rights and hold firm against any assault weapons ban.
Previously at Halloween, Don tweeted that he would take away half of his 3-year-old daughter's Halloween candy because he wrote, "it's never to [sic] early to teach her about socialism." Then after his recent trip to India, he was heavily criticized for his tone-deaf remark praising the country's poor because "There's still a smile on a face."
This is a very sad development.
Image Credit: By DoD photo by U.S. Air Force Staff Sgt. Marianique Santos [Public domain], via Wikimedia Commons