(Sister Patricia Owens O'Flannery, OP, a post-modern pre-traditional omni-spiritual Dominican sister, periodically contributes to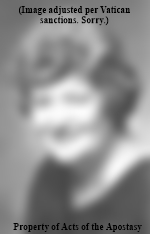 AoftheA. Today she gives her opinion regarding a new Catholic radio program, "The Visitation Project".)
Hello, my dear, dear readers!! May the confluence of aspirational transcendence and inspirational vicissitude shower you with Sophia's fullness of sweet grace and inner light!
Isn't this spectacular? Me – on Patheos!! LarryD never told me what a lovely place this is! I've been having such a delightful time visiting all the portals and making so many new friends…it's like all my ecumenical fantasies have come true at the same time! My shakras haven't been this joyfully aligned in many, many years. Not since Polly's Polyester Pantsuit Palace held a "Buy 2 Pantsuits Get A 3rd One Free!" special sales event in 1981, back in my hometown of Walla Walla. Ah, those were halcyon days.
I have wonderful news to share with you today. LarryD introduced me to some of his friends – who knew he had friends? – who are launching a new Catholic radio program, called The Visitation Project. What a dear, lovely title! At first I thought it dealt with alien abductions and theories of extraterrestrial contact with the human race throughout the eons. But no, I was incorrect – all that evidence has been suppressed by the Vatican, as everyone well knows, so a radio program devoted to such a topic would be impossible.
As it turns out, The Visitation Project is hosted by three Catholic moms – Rebecca Frech, Heather Renshaw, and Bonnie Engstrom – and their slogan is "Meeting Catholic Women Wherever They Are". LarryD told me he thinks their show will be something like an audio version of their wonderful blogs, but what does he know, he's a guy. I mean, he's most certainly correct, but still – he's a man. The program premieres this Sunday, May 3rd, at 7:30 PM PST. No, no, that's not 'Patricia Standard Time', but 'Pacific Standard Time'.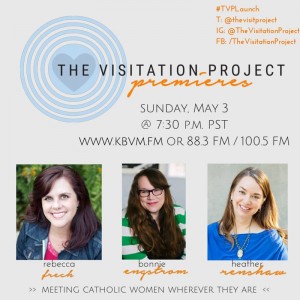 The gals were gracious enough to send me a five minute recording of their program, and they sound so genuine, fun, and faithful. It was if we were seated together in a dimly-lit meditation center, each occupying a compass point (me at the East, naturally – I gravitate towards the dawn), bowls of incense wafting tendrils of aromatic smoke while we shared a pot of vanilla chai tea and discussed Catholic issues important to us ladies. And while I have never been a mother, or a wife, I could certainly relate to their warmth, wit, and charm, because naturally I am the embodiment of all those gifts and graces.
I highly recommend this new program. These ladies represent the future of the Catholic Church, doing their best to raise faithful children, to be loving wives, to seek Godde's will in their lives, and to be disciples of Jesus – and to help other women along the way. They will make you laugh and think and nod your head, saying "if only Sister Patricia were also on their show!"
I'm giving The Visitation Project 4.5 out of 5 Labyrinths – only because there was no mention of Sophia's infinite magnanimity and good vibes. I'm sure it was an innocent oversight on the girls' part, but I must be fair. And fairness, after all, is one of the highest virtues.
Listen to the show – these ladies are bright, brassy, buoyant, and beautiful. They love the Church, the Lord, and their lives.
May the soothing embrace of Sophia's effervescent and affluential wisdom carry you on to newer and higher consciousnesses!