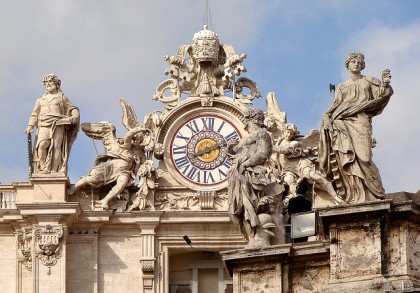 This isn't a huge surprise – it shouldn't be, anyway. John Allen wrote about it yesterday.
Via Crux: Cardinal Pell Rejects Conservative Call for a Walkout at Synod of Bishops
ROME – Despite an online petition calling on prelates "faithful to Christ's teaching" to abandon the 2015 Synod of Bishops on the family, due to perceptions of a "pre-determined outcome that is anything but orthodox," one of the summit's most outspoken conservatives says "there's no ground for anyone to walk out on anything."

Australian Cardinal George Pell, who heads the Vatican's Secretariat for the Economy, told Crux on Friday that by the midway point of the Oct. 4-25 synod, concerns about stacking the deck circulating in some quarters have "substantially been addressed."

The online petition calling for a walkout, which can be found at change.org, has garnered roughly 2,300 signatures in two days*.

It asks any bishop alarmed by the prospect of progressive changes to Church doctrine to "do his sacred duty and publicly retire from any further participation in the synod before its conclusion," and suggests that Pope Francis is responsible for promoting "confusion and scandal."
* – it's at 2,536 at the time of this post
Looks like I was a bit prescient...using a different approach, admittedly. Las Vegas wouldn't have taken bets on bishops walking out, that likelihood being more remote than Nancy Pelosi becoming a Priests for Life spokesperson (hey, it could happen!).
The petition lacked some discretion – Pope Francis promoting scandal? – but it didn't lack precedence or legitimacy. Canon 212 permits the "Christian faithful to to make known to the pastors of the Church their needs, especially spiritual ones, and their desires." Paragraph 3 goes on to state:
According to the knowledge, competence, and prestige which they possess, they have the right and even at times the duty to manifest to the sacred pastors their opinion on matters which pertain to the good of the Church and to make their opinion known to the rest of the Christian faithful, without prejudice to the integrity of faith and morals, with reverence toward their pastors, and attentive to common advantage and the dignity of persons.
I'm reminded of two recent efforts set forth by more liberal factions of the Church: in April 2015, when 100 prominent San Francisco Catholics petitioned Pope Francis to remove Archbishop Cordileone from his position; in 2013, when the What If We Just Said Wait? campaign was launched to delay the institution of New Roman Missal. That particular petition had over 23,000 signatories.
Both failed. As expected. As did this one. All had one thing in common, besides being admitted under Canon 212: they were all nothing more than "liking" a cause on Facebook, and feeling good about yourself because you've "made a difference" and "raised awareness". Without doing anything.
Which begs the question – was there ever any expectation of success? Did the San Francisco Catholics really think Pope Francis would have ousted Cordileone? Did the opponents of the New Roman Missal really expect the translation to be held back? Did the #SynodWalkout supporters really expect the bishops to take their advice – on the signatures of only 2,500 Catholics? Otherwise why go through all the trouble, right?
Cardinal Pell is a stalwart defender of Church doctrine, obviously one of the prelates to whom the petition was directed. And he's said "thanks, but no thanks."
Maybe they can take some consolation in that he answered them.
Image via Pixabay
Don't miss anything from Acts of the Apostasy – like AoftheA's Facebook page!