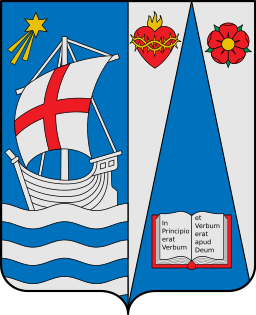 I posted on November 27, a story where a church in the Salt Lake Diocese preserved a consecrated host that appeared to start bleeding after it was placed in water. The diocese ordered an investigation, and it has concluded.
It's not blood.
Here's how the diocese's official statement starts:
Summary Conclusion: In November of 2015, it was alleged that a consecrated host (communion bread wafer) from Saint Francis Xavier Church in Kearns, Utah, appeared to be bleeding. A thorough investigation has concluded that the host did not bleed, but the change of appearance in the host was due to red bread mold. The consecrated host has been disposed of in a reverent manner, as is required.  

The work of an investigative committee proceeded as follows:

At Saint Francis Xavier Church in Kearns, Utah, on the weekend of Nov. 14-15 of 2015, it was alleged that a host consecrated a week earlier at the 1:30 p.m. Mass on Nov. 8 appeared to be bleeding. The host was publicly displayed at the Parish Masses. In the wake of the excitement generated by the premature and imprudent public display and veneration of the host, an ad hoc committee to investigate the matter was appointed on Nov. 19, 2015 by the Administrator of the Diocese of Salt Lake City, Monsignor Colin F. Bircumshaw. This ad hoc committee included individuals with expertise in Catholic theology, canon law, molecular biology and ministry. 
This shows several things. One, the Church doesn't rush to judgment in these circumstances. They take their time and investigate thoroughly, and presume natural causes, not miraculous ones. That's an important factor to remember. Two, the Church is not anti-science. There's no antipathy between faith and reason. The report details everything that was done in the course of the investigation. Three, veneration of an unverified and unapproved miracle is frowned upon. That can lead to all sorts of problems – it's always best to wait with patience and restraint. Which lead to four: it's understandable if some are disappointed by the results. I'm a little bummed – it would have been pretty awesome if investigation proved it was a miracle. But let's remember – a consecrated host is a miracle.
Image source: SajoR [Creative Commons] via
Wikimedia