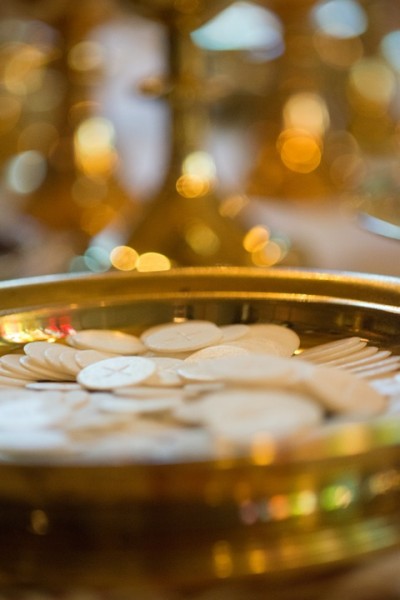 A possible Eucharistic miracle is under investigation in the Salt Lake City diocese. Here's the story, from Wednesday the 25th, per Salt Lake's KUTV.com. Images of the 'bleeding' host at the website.
(KUTV) The Salt Lake Catholic Diocese has started an investigation into what is being described as a 'bleeding host' at a local parish, St. Francis Xavier in Kearns.

Images of the host, given to 2News, showed circles of deep red, and a section with a pink hue.

As we understand it, a boy was given communion by a local priest. A relative told the priest the child had not yet made his first communion — or wasn't Catholic — and handed back the host, a wafer the faithful believe becomes the body and blood of Jesus Christ during consecration in Mass.

The priest put the host in water, and later noticed dramatic change.

Now, a five member diocesan committee will look into whether there is — or is not — an explanation.

"The work of the committee is now underway," said Monsignor M. Francis Mannion, the panel chair. "The results will be made public."

He added, the host is "in the custody of the diocesan administrator."
Read the rest here.
Exciting story. The Eucharist is a miracle in and of itself. Yet from time to time, God permits these more dramatic manifestations – provided it is determined to be miraculous. He never ceases in trying to draw all men to Himself.
Image via Pixabay