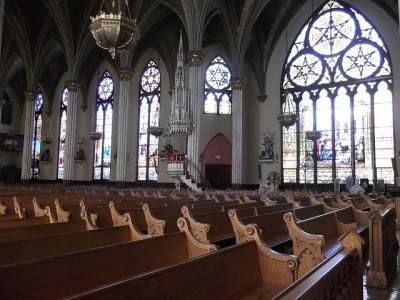 (AoftheANews) QUAD CITIES – Fr Phil Irrupp, pastor of St. Curds and Whey, couldn't believe his eyes during the Processional at the 11:00 AM Mass this past Sunday.
"Approaching the sanctuary, I saw that the front pews were completely full," Fr. Irrupp told AoftheA News. "I was shocked. There were plenty of seats available throughout the church, and even some empty pews at the back. And these weren't visitors, but regular parishioners!"
Lector Ken Nyptchen confirmed Fr Illupp's story. "The church was maybe three quarters full. It was weird seeing families in those front pews."
"I still don't understand how or why that happened," Fr Illupp said. "In fact, it was so strange, I nearly lost my train of thought a couple times during the homily."
AoftheA News has issued inquiries requesting interviews with the families who sat in the front pews, but as of the time of this report, no one has come forward to explain their actions.
Image via Pixabay
Don't miss anything from Acts of the Apostasy – like AoftheA's Facebook page!