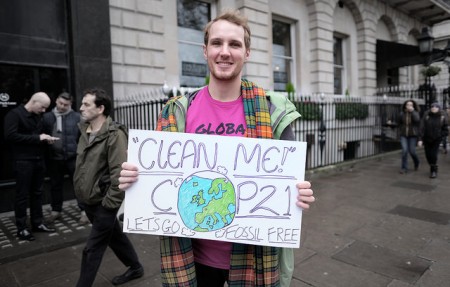 (AoftheANews) NASHVILLE – For Ed Vokett, music director at Our Lady of Good Intentions, Advent has always been his favorite liturgical season, for a variety of reasons – the anticipation, the preparations, the decorations, the music. This year, though, he has an additional reason to be joyful.
"Advent started this past Sunday, and the Paris Climate Change Conference began yesterday," Vokett told AoftheA News. "Their proximity is not a coincidence. It's a God-incidence."
The Paris Climate Change Conference, or COP21, is a gathering of leaders from 150 nations, held by the United Nations Conference on Climate Change in Paris. The attendees will be meeting over the course of the next two weeks, with the hope that negotiations will produce a substantive agreement designed to limit rising temperatures, reduce carbon production, and protect the environment from further degradation.
"Saving the environment is very important to me," Vokett said. "And so is Advent. The two kinda go hand in hand. So to celebrate, I've written new verses of the wonderful Christmas hymn 'The Twelve Days Of Christmas', renaming it 'The Twelve Days Of Climate'. The hymn needed to be reforged in the fires of environmental justice, and reformed upon the anvil of climate advocacy. All those images of wealth and luxury, lavishly given to a "true love", rather than redistributed to the destitute. It's just wrong. Now, when our parish sings this hymn each Sunday during Advent, we will be raising awareness, which is the most important thing anyone can do."
Vokett granted AoftheA News permission to reprint the final stanza of his revision:
On the twelfth Day of Climate, my True Love gave to me –
12 Volts a-charging,
11 Windmills whirring,
10 Coal plants closing,
9 Oil rigs plugging,
8 Light rail systems,
7 Seas receding,
6 Glaciers growing,
5 C-F-L's!
4 Solar grids,
3 Bike paths,
2 Vegan meals –
and a single square of T.P.!!!
"Every time you sing this song," Vokett said, "your carbon footprint will be reduced. Don't ask me how – I don't understand all the science behind climate disruption, I just know it's true."
Image source: Alisdare Hickson [Creative Commons] via Flickr
Don't miss anything from Acts of the Apostasy – like AoftheA's Facebook page!
(Adapted from a post originally written December 16, 2011)