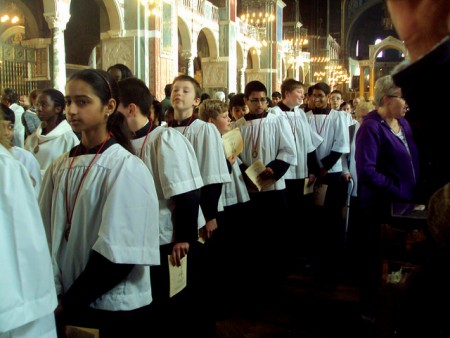 (AoftheA News) BISMARCK – The Diocese of Bismarck approved a blockbuster trade of altar servers and draft picks among three diocesan parishes, with one analyst calling it a "game-changer". The centerpiece of the trade is 3-time All Star, 12-year old Landon Patterson, regarded as the diocese's top-rated altar server, and among the top-25 nationwide.
The three parishes involved are St Jeter in Wilton, Our Lady of Free Throws in Minot, and St Brady in Bismarck. Patterson, a 4-year veteran of St Jeter's, was sent to St Brady's along with a 2016 third round draft pick, for three servers and a 2016 first round pick. St Jeter's also sent 9-year old rookie server Nick Kinnison to OLFT for a 2016 second round pick, while OLFT traded the Olsen twins to St Brady's for journeyman server Phil Thompson. This will be Thompson's sixth parish in his nine-year career. St Brady's also threw in an afternoon Mass lector to OLFT at the last minute to seal the trade.
"I'm excited about going to St Brady's" Landon said. "I've enjoyed serving at St Jeter, and I love the fans, but to be honest, it's a small-market team. I'm ready for the big time in Bismarck. Plus, St Brady's post-Mass doughnuts are the best anywhere."
"This trade is a game-changer," analyst Vince Clortho told AoftheA News. "It makes St Jeter's so much stronger in the long run. Sure, they give up a phenom in Patterson and a 3rd round pick, but they get three solid, dependable servers in return, plus a 1st round pick. Next year's draft class is projected to be very strong and deep. Patterson is going into the final year of his contract, and he's gonna command a hefty raise – it would have busted St Jeter's salary cap. And getting a 2nd round pick from OLFT in next year's draft sets them up for continued success.
"St Brady's is sacrificing the future for the present by landing Patterson. Getting the Olsen twins shows that their pastor wants to win now. He's going to have a tough off-season with Patterson's expiring contract, but it's a rich parish. OLFT was certainly the loser here. It's hard to believe Thompson will be all that committed, and Kinnison will be expected to pick up a lot of the slack now that the Olsen's are gone. Maybe they have plans to sign a couple free agents in the off-season."
The trade is contingent on each server passing routine team physicals. It's being reported that Nick Kinnison cried as he left the sanctuary after Mass and informed of the trade, but felt better when his parents promised him a puppy.
Image Source via Flickr [Creative Commons]