I thought I'd share some of my thoughts and quotes on preaching. 1stly here is a list of things I felt that I needed to focus on about a year ago on improving in my own preaching-
1. STRUCTURE I need to beclear + emphasise where we are going. I should anounce number of points at beginng and probably what the points are going to be.

2. BE JESUS CENTRED mention his name a lot. Bring people to him not my story or my cleverness in interpreting the bible.

3. SET THINGS IN CONTEXT MORE- Both the bible context and the context of today.

4. RELAX and bring more HUMOUR!

5. BEWARE of an illustration taking over.

6. EXPLAIN MORE ASSUME LESS' – Assume makes an ass out of U and ME

7. HIDE YOUR PREPARATION as much as possible. A good sermon is like an iceberg- only the tip is visible

8. DONT LEAN ON THE LECTURN!

9. APPLY SPECIFICALLY TO PEOPLES LIVES- I want to see change in people when I speak.

10. ALWAYS THINK NEW COVT THINK SALVATION! OT is only a shadow we have
.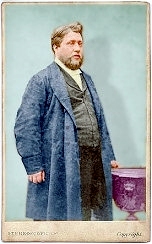 Spurgeon when preaching on John 4 pointed out 'that there was this sign-that the Savior had preached

a sermon, and that the whole of his congregation had been converted. You

will remind me that he had but one hearer. Yes, but that is the first point to

which I want to come. The conversion of one soul by the gospel should be

to you a hopeful sign that God intends to convert others' (CHS 706)
Effective Christian preachers have a compelling vision of Jesus Christ which they communicate forcefully to their listeners to lead them to view their circumstances differently and to respond with strengthened faith and commitment. (Zuck, R. B. (1996, c1994). A biblical theology of the New Testament (Page 370). Chicago: Moody Press.)
Preaching a sermon strong on information but weak on application is like shouting to a drowning person, "Swim! Swim! The message is true, but it's not helpful.

(Shelley, M. (1995). Changing lives through preaching and worship : 30 strategies for powerful communication. "Was previously published in Leadership, by Christianity Today, Inc."–T.p. verso. (1st ed.). Library of Christian leadership (Page 60). Nashville, Tenn.: Moorings.)



Great sermons lead the people to praise the preacher. Good preaching leads the

people to praise the Savior. (FINNEY)
Finnesy was always personal also and would say Do not think I am talking about
anybody else; but I mean you, and you, and you. . Now
you resent this and you will go away and say that you will not come
again; but you will. Your own convictions are on my side. You know that
what I tell you is true; and that I tell it for your own good; and that you
cannot continue to resent it.
When preaching we must Think about the emotional content of words not just their meanings (eg judgement is seen as negative, but can be positive)
Preaching is not the performance of an hour. It is the outflow of a life. It takes twenty years to make a sermon, because it takes twenty years to make the man. The true sermon is a thing of life. The sermon grows because the man grows. The sermon is forceful because the man is forceful. The Sermon is holy because the man is holy.

The sermon is full of the divine unction because the man is full of the divine unction. (BOUNDS preaching and prayer)
Truth unquickened by God's Spirit deadens as much as, or more than, error. It may be the truth without admixture; but without the

Spirit its shade and touch are deadly, its truth error, its light darkness. (Bounds)
The Church is looking for better methods; God is looking for better men. (Bounds)
In short – Preaching should bring an encounter with God rather than impart knowledge