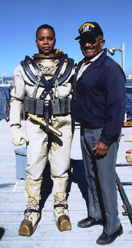 A while ago, I watched this film and as a result of hearing about the first black master diver in the US navy who also kept on diving after an amputation I initially thought 'No way!' But in fact the US navy tell Carl Brashear's true story and in this picture we see the real man meeting his hollywood counterpart. What struck me most though in reading all this is that this very strong man who might have been expected to be very independent and a true American Hero had the following quote on his diving locker.
There's no one of us smarter than all of us.
I am a great believer in team work, in community. What the world needs is not individual heroes but people who like other people and can work with them. Even today when churches are closing all over the place Colin Baron beleives Anyone can pioneer a church provided they like people
The trouble is that we live in a society that is trying to destroy itself. All the old ties of community and responsibility are being worn down. Single parenthood is becoming almost the norm. We must of course be careful not to be too hard on the single parent though- the single parent is the one who stayed!
We need to return again to a society once more of tolerance and interdependance where we all have a part to play.