Today, topically, with Easter upon us, we reach possibly one of the most controversial articles in the entire
Together for the Gospel Statement
— Article 7 on the atonement. Links to my posts discussing Articles 1-6 can be found in my last post entitled
Loving God — A Guide for Beginners
. The atonement is a subject that has come up on my blog many times over the last few years.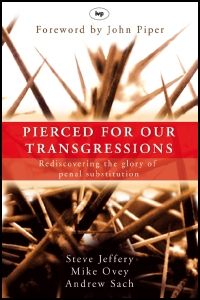 A new book, Pierced for Our Transgressions, has sold out of its first print run in just three weeks. It will be available again very soon, and is on a special offer over at
Beginning with Moses
, where you can order it for delivery worldwide. The list of endorsements for this book over on
the book's own website
looks like a Who's Who of evangelical Christianity, and if the extracts quoted there are anything to go by, it should be fantastic.

The series I am now beginning here is based on teaching I first gave at Jubilee Church. If you want a sneak preview of what is coming, you can
download the audio
(you may need to right click and save to your PC) or listen online here:
T4G Statement, Article VII

We affirm that Jesus Christ is true God and true Man, in perfect, undiluted, and unconfused union throughout His incarnation and now eternally. We also affirm that Christ died on the cross as a substitute for sinners, as a sacrifice for sin, and as a propitiation of the wrath of God toward sinners. We affirm the death, burial, and bodily resurrection of Christ as essential to the Gospel. We further affirm that Jesus Christ is Lord over His church, and that Christ will reign over the entire cosmos in fulfilment of the Father's gracious purpose.

We deny that the substitutionary character of Christ's atonement for sin can be compromised without serious injury to the Gospel or denied without repudiating the Gospel. We further deny that Jesus Christ is visible only in weakness, rather than in power, Lordship, or royal reign, or, conversely, that Christ is visible only in power, and never in weakness.
To introduce the series, let me begin by saying that I believe there is nothing more critical for us to be addressing than the subject of how Jesus saves us. This is the heart of the Gospel. Without it—and specifically without the substitutionary nature of Christ's death—there is simply no Gospel left.
There was a time when evangelicals could safely almost assume this message. We would simply preach it without pausing to explain precisely what it does and doesn't mean. Our Gospel was simply, "
Jesus took the punishment for our sins, turning away the wrath of heaven so God could justly forgive us.
"
That remains the Gospel.
It is vital that we now examine these truths carefully and, I would add, preach them more wisely. A generation of people who wear the label "evangelical" are being raised up who would not feel comfortable signing their name to this article of the Statement. Indeed, one of the most prominent people in the Evangelical Alliance and the Spring Harvest Conference in the UK would not feel comfortable with this language. These things can cause controversy. (See for example this post and this retraction from my interview with Dr. Wayne Grudem.) Last Sunday, the Telegraph reported the way certain preachers are changing the traditional message of the cross under the rather appropriate headline:
Easter Message: Christ Did Not Die for Sin!
The vicar mentioned in the above story describes the typical evangelical view of the cross as follows: "In other words, Jesus took the rap and we got forgiven as long as we said we believed in him . . . This is repulsive as well as nonsensical. It makes God sound like a psychopath. If a human behaved like this we'd say that they were a monster."
It is easy for us to simply react angrily to words like that and the news that some now doubt this doctrine. I am sure I have been guilty of that in the past. I fear, though, that at least part of the reason for this new wave of concern about this most valued and crucial of all evangelical doctrines is that we have not been very good at articulating its truth well. One thing is clear—this is a doctrine that is central to the rejection of Christianity as a whole by some. I therefore feel that we need to take more seriously our responsibility to explain this doctrine clearly. People who then reject it on the basis of clear teaching are rejecting a well-explained perspective rather than an overly-simplistic one.
In this series I hope to provide an opportunity for us to consider this matter together carefully. If you or someone you know shares concerns about this doctrine, you are welcome to join the discussion in the comments section, or to post about it on your own blogs.
Continues with "Does the Cross of Jesus Matter?