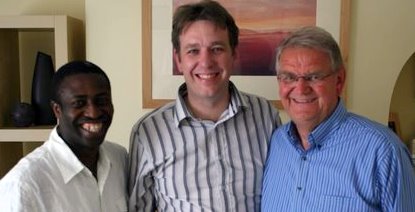 On the first day of my interview with Terry Virgo we spoke about his ministry and his view of the wider evangelical scene. Yesterday, we began to speak about how newfrontiers began, and how Terry was led to a radical view that apostolic ministry was never intended to stop when the Bible was completed. Today we will begin by examining in more detail what that looks like in practice.
Terry, can you tell us a bit more about what are the distinctives of a group like Newfrontiers?
In addition to the classical evangelical doctrines rooted in the final authority of Scripture, I would emphasize that we have a strong belief in the importance of local church autonomy, but also the importance of being involved in world mission with other churches. We do believe in the ongoing role of apostles and all Ephesians 4 gifts. We do recognize that of course the original twelve Apostles were unique, and that the cannon of Scripture is complete. We do see the need however, today, for master builders in helping to establish foundations in local churches and for fathers in the faith.
Some people say now we have Epistles we don't need apostles. Although we firmly embrace the authority of the Scriptures, we believe that a local church is built on people and on relationships. We need not only pastors and teachers, but also properly functioning apostles, prophets and evangelists, all rooted in local churches and serving translocally.
This must sound very unusual to some of my readers – are there others out there who hold similar views?
We are seeing some who do function in a similar way though with some variation and different emphases. Each group seems to have a different flavour. We feel we are a bit unique in the emphasis on both the charismatic and yet also reformed theology which we hold dear. Often reformed teachers have tended to be cessationist and often Charismatics have tended to be Arminians – so we have been unusual.
Do you see that starting to change at the moment?
I don't see it changing on a wide scale. We are still a strange phenomenon in this way according to Joel Edwards, the leader of the UK Evangelical Alliance. We do have excellent fellowship with Sovereign Grace Ministries led by CJ Mahaney and certainly we have a great deal in common with them.

So is Reformed Doctrine in the newfrontiers statement of faith?

Anyone in newfrontiers would know how much we treasure these doctrines. I am not sure that someone would feel they couldn't join us if they were not reformed. We have never said you have to be reformed to belong. But it is widely known and understood outside our circles that we are reformed and charismatic. That's how people see us. I have often said that I don't know how people who don't fully believe in the sovereignty of God can sleep peacefully at night.
We don't in fact have a statement of faith, because I wouldn't want to be defining in a kind of way that can put people in a kind of prison. I have met many people who belong to movements which have clearly articulated statements of faith and practice but they don't personally embrace everything that the movement says. They say, 'I belong but I don't believe everything in it.'
We happily embrace the classic creeds and statements of faith without getting into tight definitions of detail, which can put people into a prison.
I can't see that the early Church as described in the Bible had a systematic theology kind of statement of their faith. Obviously Apostolic doctrine was fundamental. The Apostle Paul taught doctrine, and they devoted themselves to the Apostles doctrine. But the very concept of a statement of faith seems somehow foreign to the atmosphere of the Bible and the early church.
I am sure many of my readers would be very interested to know how you maintain doctrinal unity in this environment – I think it is fair to say that within Newfrontiers there is a remarkable degree of agreement about doctrine among the various churches.
We tend to work relationally. Obviously we have our training programmes for pastors and do work with a content of theology. We do indeed have a unity of values which we embrace. So I encourage people to read books like Wayne Grudem's Systematic Theology and get a good grasp of doctrine and constantly recommend helpful books such as those reviewed on my blog.
But you will find for example when you come to Wayne's chapter on the church a great variety of possibilities are presented even within that theology. I think that one doesn't want to lead with too much detail in that kind of way. I just don't feel it's the atmosphere of the Bible.
So to take that further, Terry, what would be essential to believe to be a part of newfrontiers?

We would embrace the final authority of Scripture and that the Bible teaches, for instance, baptism of believers by immersion and we would say without that you could not be part of Newfrontiers. We would hold that as essential. Sometimes Anglican communities have asked if they could be part of Newfrontiers and I have said 'No' because we would hold that to be essential.
It would also be essential to believe that there are apostles today and that local churches are autonomous and work within an apostolic sphere. We are a charismatic group, so believe that the gifts of the Holy Spirit continue. We believe in the centrality of worship, and would want to see the presence of God manifest in meetings of churches wanting to join.
Churches within Newfrontiers embrace male leadership, which is of course a controversial area in many churches today. We teach the Biblical message that Christians are under grace not law.
We would want to see an involvement in mission — i.e. not seeing mission as something that only missionary societies do. By being wholehearted in church planting in ones own nation and overseas, a church should be caught up with world mission.
The Bible is full of language about fathers, sons, brothers, named people. Even when Paul writes to the Romans he mentions people who are dear friends, who are co-laborers. The atmosphere is like a family. The whole structure is relational. The essential Apostolic doctrine is followed by a lifestyle which is very transparent, full of tenderness, mercy, forgiveness and affection. Its about building churches that are flooded with the Holy Spirit's presence and genuine integrity of relationship. Into those churches the truth is taught and from them the truth is proclaimed to the world.
Our desire is to build godly communities. Though we are diligent for truth, we relate in and through churches rather than by doctrinal statements.
TO BE CONTINUED….