UPDATE – In 2008, I was also able to record a video interview with Terry Virgo, that has also been transcribed.
UPDATE
In January 2008, this post was identified as the 14th all-time most popular post with readers of this blog. The 15th most-read post was one in which I announced a major gift of free audio messages from Sovereign Grace Ministries.
The following post is the summary post of an interview with the father of the family of churches of which I am thrilled to be a part, and a man I respect like few others alive today. Terry Virgo is that rare true gift of God to the global Church, a man who will leave the worldwhile Church in a far better state than he found it. His influence extends far beyond the 500 churches which are a part of Newfrontiers to the many thousands of others who have been affected by his teaching.
***************
So far in this interview with Terry Virgo we have looked at his view of the wider church scene, the origins, and then the distinctives of Newfrontiers. Today we will examine his view of the future.
Terry, I would love to draw your attention now to the future. What do you think it holds for you and the family of churches you lead?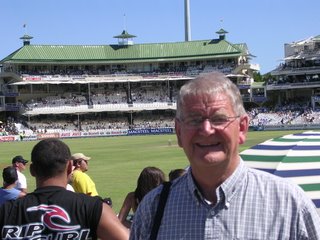 Within Newfrontiers it is essential that we prayerfully look for emerging apostles and not simply regional supervisors. I thank God for regional supervisors who help us to serve the Church, but it's essential that we make space for genuinely anointed apostles and let them find their own sphere. We must be flexible. I think that the Apostle Paul was called by God, developed his own apostolic sphere, and then received the right hand of fellowship from Peter and John who were Apostles before him. Paul came out of a different stable. He wasn't made an apostle by Peter and John; they acknowledged that he was one. We need to look for the same kind of development — we look for gifting and give it the right hand of fellowship rather than thinking that we can institutionally appoint people into that office.
How would that happen? How would you recognize that?
In South Africa the unexpected death of Simon Pettit, our senior leader, has forced the issue in an extraordinary way. God said to us that an oak tree had fallen, but not to be replaced by another one. Instead, saplings were growing and we were to discern who they were and encourage their growth. Now, what I have observed is that there are three or four guys who are gifted in raising up leaders, raising up churches, and overseeing churches. They have done it as a result of their own gifting. So, instead of trying to set up a South Africa structure, we aim to recognize gifting. So we want to say to different brothers, we see you emerging as apostles, we want to encourage you. But, we want to recognize that you have a gift rather than impose a structure on you.
I want to encourage those men to gather their own teams — to find their Timothys. We want to fan the flame of their gifting, exhort them to go for it, father them, but believe God for their apostolic gifting.
Historically, in what we call Newfrontiers, Terry Virgo was the only person regarded as an apostle since I fathered the movement and started the first churches. I was very reluctant to use the word at all for myself. People used to say to me, "Why don't you make other apostles?" I used to say, I don't know if I am one myself, let alone make anyone else one. We veered to the side of being very reluctant.
As years have gone by we have probably swung too much the other way. We have used the word apostolic as an adjective in a very misty way. We have almost drifted into calling regional leaders apostles. The reality is that regional structures are very helpful, but not every person we have asked to oversee a region demonstrates apostolic gifting. If you formalise regions, you are in great danger of institutionalising so-called apostles. That will never work.
You can just see how the whole bishop structure emerged, can't you?
Yes, and you also get to think of apostles as being responsible for regions, which is almost totally the opposite of what an apostle is. An apostle is a sent one. He is not a maxi-pastor; he has to have freedom to go as that's in his heart, and cannot be over-structured.
I don't want to leave behind a structure which is a shell that uses the labels, but has nothing truly apostolic happening. We have to try to prepare for the next generation. I am pushing late sixties now. I am not going on forever. These are huge issues for us at the moment which we talk a lot about. In recent years we have discussed the implications of my death or retirement. We didn't think Simon would die before me; it was a huge shock. What happened in South Africa has forced the issue for us and been instructive at a time when we are also talking about it theologically and theoretically.
You can never guarantee that you will be saved from institutionalism, but we must do everything in our power to avoid it.
I was looking for a tactful moment to bring this up — will you ever retire?
God knows. I don't know how it works. It is something I think about quite a lot, not that I want to stop! What you don't want to do is over-stay your welcome. One friend jokingly said to me, "Don't worry, we'll tell you when we don't want you!"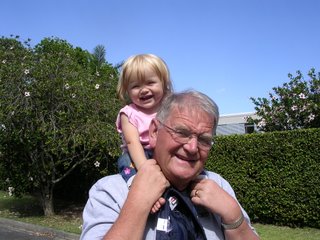 I am doing more now than I have ever done, not slowing down at all, but you have to be careful not to fool yourself. There is vigor with younger men, and as years slip by I mustn't dull the edge of a movement for lack of energy. That's what I am conscious of and pray about. I don't have any intention or plan to retire at the moment. The team tells me to pace myself, and try and build in more gaps, but that doesn't seem to happen much!
I work in different over-lapping spheres, and it has been a real joy to hand over the leadership of both my local church and the UK apostolic team. I still sit on those teams, but they are led by others. I am still, however, the father of the international movement.
Because we talk about people rather than institutions or even statements of faith, I would say that Newfrontiers is an apostolic sphere. Paul uses the phrase "all the churches," and what he means by that is all the churches that relate to him and his team. That is my Biblical base for what Newfrontiers is. It is not a denomination but an apostolic sphere. Once Terry has retired or died it is no longer Terry's sphere. So what is it?
Whenever we have spoken about it, my contemporaries and younger friends say we feel that we belong to one another and want to go on. Since in the UK we are working towards a prophetic goal of 1000 churches, it may be that a number of apostolic spheres will eventually emerge. They undoubtedly will internationally.
How do you make sure the values don't get diluted as the movement grows?
We gather the apostolic teams from around the world to rub shoulders together and learn from each other two to three times per year, as well as constantly traveling into one another's national contexts. The aim is to serve emerging apostles. We also distribute theological papers, recommend books and tapes, and have multiplied conferences and training centers.
We pray together and teach together in order to hold those values together. There are also shared prophetic promises over us as a family of churches which are also something that brings an identity that goes beyond the personal.
We genuinely believe that we are a family of churches together on a mission which is to play our part in changing the expression of Christianity around the world.
Terry, thank you so much! That seems like a great place to leave it.
If you want to keep in touch with Terry, please do add Terry Virgo's Blog to your reading list or keep visiting here, where his posts will appear in the Warnie Winners headline box from now on.