Mark began the second session of his day conference in London by taking us to 1 Corinthians 9. He briefly overviewed 1 Corinthians as a whole, and said that he felt one of the key themes was considering each other. Paul teaches the Corinthians what the Church is like and how it is supposed to be. We need to learn theology in order to know how to live as a Church.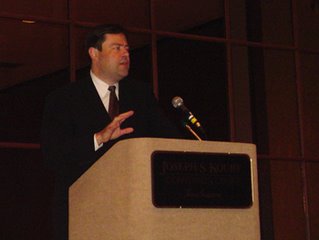 The Church is meant to be holy. Holiness is strangeness to the world. Our message is different to this world's. We are special to God (3:15,17). We are meant to be pure. Paul urges the Church to exercise discipline rather than tolerance in chapter 5. Churches must be ruthless in dealing with serious sin in their midst. When someone considers your church, they should think of it as holy.
The Church is meant to be united. Chapter 1 shows them as being like the world and separated from each other instead of being united with one another and separated from the world.
The Church is meant to be loving. This is an application of theology to our experience. Love is not ONLY actions; it also involves a disposition of the heart (1 Corinthians 13). Our focus should be on edifying others. 1 Corinthians 16:14— "Do everything in love."
Why should we be like this? It is because the character of the Church is to reflect the character of God.
We are to be holy because God is holy. If we belong to God, we should be strange to the world. Our holiness is derivative. It demonstrates the holiness of God.
We are to be united because God is united. Leaders in the Church are servants of God.

The Church is meant to be loving because God is loving. We love in response to God's love for us. Does the Church display the love of God sufficiently today?
Simply loving each other won't do—we must love God and desire to glorify him.
Do ALL to the glory of God.
No one may boast before him. Our lives should be lived in a way that only makes sense if the Gospel is true.