Last month Mark Dever was on tour. In the middle of central London, somewhere off Picadilly in a large church—complete with organ—I sat with a gathering of church leaders and others eager to hear Mark speak. (OK, so it's been a long time since I sang a hymn to an organ!) Anyway, Mark began the day by turning to 1 Timothy 1:12-17.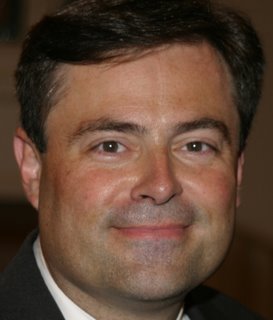 True to form, Dever began with the Gospel. Paul reminds his son in the faith of the dramatic call he himself had received to preach the Gospel. He wanted to be sure that his hearers who had decided to spend a day listening to theology were really saved. He established Paul's credentials. It was Jesus who had appeared to him on the road to Damascus. Paul's teaching came with the authority of God. Timothy had also received that call. Timothy's theology was critical. The Bible really is God's words.
Grace was abundantly poured out on Paul. In contrast to his previous life, God gave him the power to preach. Timothy was to be encouraged that God would provide. Christianity is not merely a religious way to talk about self-help, self-effort. Much modern "Christianity" is a-theological. We need God to actually act to change us. He gives us things we don't deserve, and loves us in ways that we can't imagine.
Paul is humble and joyful, yet also hopeful, as he is confessing where he has come from and what God has done for him in Christ. Paul is aware of great sin, but also of great grace. This chapter is almost like a personalized Ephesians 2—BUT GOD!
Paul was a wolf who had become a sheep. A man full of pride became humble. A persecutor became a pastor. He wanted nothing but to serve Christ Jesus. Paul uses the word "sinner," a word which is rarely said today. He says still I "am" the worst sinner. Dever was anxious to point out that even the best Christian remains in some sense a sinner. Sin has ruined our world. None of us are immune from its effects.
Paul was shown mercy, not because his ignorance and unbelief were mitigating factors—rather his ignorance was culpable. He was shown mercy, not because his sins were more excusable, but precisely because they were so great. So Paul's ignorance was part of what made Paul into the greatest sinner. His very opposition to the Gospel demonstrated God's power. Paul became a pattern for those who would follow. God saved Paul to demonstrate his patience towards sinners to the world.
God uses people we feel are beyond the reach of God's mercy to display his glory to the maximum. It is through us that his glory is revealed!