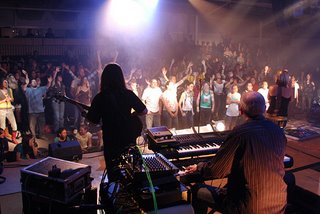 The following is an interview with Nathan Fellingham of the band Phatfish. More information about the band is available on Phatfish's website. The lead singer of the band, Lou Fellingham, also sings solo and has just released a new album, Promised Land.
I recorded this interview at New Word Alive and have already shared the audio, which is available here.
Adrian
This is Adrian Warnock here. I'm actually standing outside of the main marquee, right near the edge of the site, looking out over the beach. And the tide is out. I can see sand, and I can see sea, and I can see hills, and I can see clouds—and it's sweet! But I'm also here with Nathan Fellingham. Nathan is from Phatfish,and there's all sorts of things he's involved with—so I'm going to ask him a few questions about what they're up to and about the event here. So, first of all, who are Phatfish?
Nathan
Well, Phatfish is a band that's been together for about fourteen or fifteen years now. The backbone of that is myself and my brother, Luke, my wife, Louise, and Mike Sandeman. The other guy, Alan Rose, who was with us for about five years and actually left a few years ago, is now pastoring a church up in York, which is great for him. So we have, in recent years, been using various different musicians, depending on what the event is. We're a band who is dedicated to serving God through our music—through writing songs that help express our worship and help encourage others to express their worship to God; sometimes songs which are teaching songs—songs that as you listen, hopefully, you can be edified and encouraged; essentially through putting a lot of Scripture to music; and just songs that talk about life, our own experiences, and how God is such integral part of our life. The way we outwork that really is through songs and through playing music.
Adrian
Sounds really cool. So whereabouts do you do this playing music? Do you do gigs or what?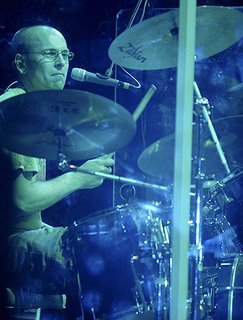 Nathan
Yeah—a whole mixture of stuff. We do a lot of them. We don't do as many Phatfish gigs as we did in years past. There were certainly seasons where we were out as much as we could doing a lot of youth clubs, youth events, town-wide events, Christian festivals, Christian conferences. But at the moment we're probably most often at Christian conferences. Often we get asked to play for people like Stuart Townend or Kate Simmonds and others, kind of playing as their support band, I suppose, helping them to lead the worship. And on the back of that, often we get to do a few of our own songs and sometimes the occasional gig as well, which is under the Phatfish name. So, yeah, this year we're actually playing here at New Word Alive at the moment, and we were at the Kingsway Children's Ministry conference earlier on in the year. We're going to be at the Brighton Leaders Conference, as well as New Day, and a couple of other Kingsway conferences at the end of the year. We're going to be up at Keswick in July as well again, leading with Stuart Townend. So, yeah—a lot of conferences this year.
Adrian
I often jokingly say you should be called the band with many names because you've been the Stoneleigh Worship Band, haven't you? The New Word Alive Worship Band, the Brighton Worship Band, Newfrontiers Worship Band, Church of Christ the King Worship Band. And, as you say, accompanying all these other guys. But I think I'm right in saying that a whole bunch of these people you've just mentioned are all in the same church, aren't they? Is that right?
Nathan
Certainly Stuart Townend and another guy, Paul Oakley, are in our church, who a lot of people would know. Kate Simmonds, who we've played with, used to be at our church. She actually moved out with her husband and son, Matthew, to Sydney, Australia, to be with the Pete Brooks, who used to be the senior pastor at our church in Brighton. That's probably about eighteen months ago now that they moved out. So, on top of that Simon Brading is obviously an up and coming very gifted worship leader who a lot of people would know, is also at our church. Yes, Brighton does seem to collect musicians and worship leaders, definitely. It seems to a bit of a hub for creativity for people like that.
Adrian
I think Matt Redman was there for a little while as well, wasn't he?
Nathan
He had a brief sojourn there. Yeah, he was there for a while. We still have a great relationship with him. He's just up the road, in a Church of England church.
Adrian
What is it with Brighton? Is it something in the sea water?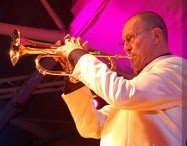 Nathan
I think so, yeah. (Laughter) I don't know. I mean, my Dad, Dave Fellingham, has been one of the pastors, one of the elders, at the church there, really since it started. I think his kind of influence and his heart for worship and heart for creativity, I'm sure, has a part to play in that.
Certainly he was very encouraging to Stuart in the early days, and I'm sure, to Paul Oakley and to Kate Simmonds, and certainly to us as well. He definitely had a lot of the vision that started Phatfish. He really had a desire to have a band who could operate in the realm of leading worship, but also were comfortable in a pub, playing songs to a secular audience. I say that with quote marks, but you cant see that! [laughter] So, yeah, he really encouraged us to do that. I think certainly his influence would be big.
On top of that, I guess I do feel that God has something for us in Brighton. I feel like there is almost a bit of a mantle on us as a church to be people who are leading the way, I suppose, within our network of churches for sure, and I hope for God to do more things
in the future based out of that. I look at what we have and think, "Yeah, there is a reason." I do believe God is in it, and I do believe that he's got a work to do with us with this collective of worship guys and creative guys in Brighton.
Continued in part 2 . . .