In yesterday's segment of my interview with Nathan, we ended by speaking about how many worship leaders have emerged from his home church, Church of Christ the King, popularly known simply as CCK. Today I ask him about writing songs for worship.
Adrian
The Brighton Newfrontiers church is an amazing resource, if you think about all of you as a group, not just Phatfish, but all the other guys you just mentioned. I mean, you guys write a lot of songs that are used in a lot of places, don't you?
Nathan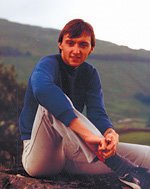 Yeah . . . yes, for sure. Of course, Stuart Townend is probably the key guy in those terms. His songs have obviously gone around the world and are sung as much as anybody's at the moment. Songs like In Christ Alone and The Power of the Cross seem to be right up there among the most-sung songs in the Christian world at the moment. I've had the privilege of being able to write a few that people have taken hold of as well, and Paul Oakley has written some really big songs which have gone 'round the world. It's a great privilege. We're just grateful that we get the chance to do it, really.
Adrian
I know some people don't pay that much attention to who writes songs, so could you just say (I know you're probably too embarrassed) which songs that you've written are the ones that are most widely known? The one that comes to my mind (I think it's one of yours) is There Is A Day That All Creation Is Waiting For. I just love that song—it goes on, doesn't it . . . "A day of freedom and liberation for the world . . .when hurt and pain will cease," and it talks about our light and momentary troubles achieving a glory for us. I just kept thinking of that song this week; I mean, you did sing it in your gig, but when John Piper was speaking about suffering—that's the one that I immediately thought of. I must confess, I'm not one of these people who always pays much attention—so what other songs have you written that people sing more?
Nathan
There is a Day is probably the second biggest song I've ever written in terms of how far and wide it's gone. Holy Holy is the song that has actually gone the furthest. The chorus is "Lift up his name with the sound of singing . . ."
It's funny to me, really. I wrote it when I was about, I think, 17, and I wrote it really quickly. And ever since then I've been trying to better my skills, hone my skills, you know, be diligent in my skills, become a better song writer, and the one that I wrote really quickly when I was very young is the one that's gone further and people know the best. So you just put that down to God's sovereignty, really. Others I've written are one called Awake Awake O Zion, which has got around a bit, and Come Let Us Worship is one. And there's probably about a hundred songs called that . . .
Adrian
Tell us a few more words of that one . . .
Nathan
The chorus is "You are God, and you're worthy to be praised, and you're good . . ." I mean, Stoneleigh was—that was kind of the era where songs probably got most profile. I usually write about one a year for Stoneleigh. To You King Jesus is another one. Jesus Christ the Holy One is another one. So, yeah, I've written quite a few. Some of them get better notice than others, but, yeah . . .
Adrian
What about the one, O God of Love, I Come To You. Is that yours?
Nathan
Yes, that is actually. It was predominantly my wife, Lou's, but we wrote that together. But that one really was her kind of main theme, and I was just around to help shape it and form it a little bit. So, yeah, again, that one has gone out quite a long way.
Adrian
I heard of a bit of an interesting back story on that one, but I may not have heard it right, so what is the back story on that, if you don't mind me asking.
Nathan

I'd quite like to hear yours, actually! (Laughter) I think it kind of came out at a time there was a young girl in our church who was diagnosed with cancer, and she did actually end up dying. It was obviously quite an intense season in our church—just going through that sort of thing as a body of people is a pretty intense thing. Everybody who was close to her talked about her love for God, and her peace, and how her face shone. It was incredibly moving, even though I didn't really know her—you can't help but be moved by it. I know Lou was moved by it. I think a lot of the words of that song came out of that—not just the frailty of our bodies, but the fact that God is always before us and behind us, and he knows our frame, and he knows how we're made. So there was all that stuff. But the chorus actually just came out when Lou and I were leaders of a small group (or whatever they were called then—cell groups probably, I don't know—like a youth one). We were just worshipping round one day, and Lou just started singing the chorus—which is quite a simple chorus—but started singing that out, and that song was kind of born there and then, really.
Adrian
That's the one — How Good It Is To Be Loved by God — that one?
Nathan
Yeah, yeah.
Adrian
Oh, no — How Good It Is To Be Loved by You . . .
Nathan
Yeah, that's right. Yeah.
Adrian
See, I almost know the words . . .
Nathan
Yeah! I'm impressed! That's good! (Laughter)
Adrian
Are there any other of those songs where there's a back story that's worth telling about? I mean, not just that it sprung into your head in the shower, but anything else that's worth saying?
Nathan
Well, I think There is a Day is probably one I'd go back to. I was reading a book called the Discipline of Grace by Jerry Bridges. It's not really a book about the second coming and our future in heaven, or anything like that, but there was obviously something that he put in there, a page that I read—that chorus literally just descended on me like—instantly. I can't put it in any other way. It was like I got so excited by reading what I was reading (I can't even remember what it was!) but I guess it was something related. But the chorus, "We will meet him in the air and we will be like him, and we will see him as he is . . ." and then that "Oh yeah!"—it was just genuinely what was in my heart. I remember I was in my bedroom. I slammed my fist down on the bed.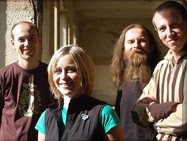 That was genuinely what it was—it was like, "Oh YEAH!!" It so gripped me—so just from there I kind of started looking up some simple passages and, you know, I did the whole kind of following Scripture links to this one, and I'd follow it through my Bible and just came up with various lines, and really felt God's grace in putting it together. A lot of people said to me, "It's a great theological song." You have some guys who really do know their stuff theologically, and it's like, "Yeah, it's just God's grace!" I mean, in a sense, it's just the Bible put to music. But just the flow of it seemed to land really well, and it seems to catch people. It actually gets used at funerals quite a lot as well. I have one story where loads of people got saved—I mean, not 100 percent to do with that song obviously—but that song playing a part in it, playing a part in somebody's life who recently became a Christian and then actually died suddenly. The song was sung at his funeral, and the family and friends heard the gospel preached, and loads of people were saved. It's just mind-blowing when you hear things like that and think a song that I've written—well, to just be able to play a small part in that is just awesome. It's wonderful.
Continued in part 3 . . .