Yesterday in my interview with Nathan we spoke about writing songs for worship. Today we will move on to talk about the theological thinking behind the songs.
Adrian
It's actually quite interesting, because already from talking to you, it's like your songs are so obviously full of theology—I mean, that's coming across just in talking to you—and I've always felt like that in listening to them. They're also full of passion and kind of "real life" situations, I guess. And that combination, together with modern music, is actually quite rare. Where is that coming from? How do you have the sort of richness to be able to do that and still also be kind of "cool"?
Actually, by the way, I must just say [this]—I met some students last night (and actually you can listen on the blog), and just at the end of our chat (we were talking about the Piper talk last night), right at the end I said, "Oh, and by the way, I was in the Phatfish gig!" And they said, "Hey, that makes you really hip and young and with it," and I was thinking "Great! That's really cool!" So you're still hip . . .
Nathan
Yeah, that does surprise me. I had no idea we were still hip. I thought we were old and "has been."
Adrian
Clearly you're not.
Nathan
That's good, that's good!
Adrian
Anyway, I forgot what I wanted to ask you now. Do you remember?
Nathan
It was kind of to do with how the richness of theology in songs and . . .
Adrian
Not with being hip . . .
Nathan
Yeah, and how we can still be hip . . . yeah!
Adrian
. . . and still be theological . . .
Nathan
I have no idea. No, I think we've just always been encouraged by the sort of church that we're in, with guys like Terry Virgo, and my dad, and John Hosier—we've always been encouraged to put good theology into songs. It's where my roots are; the sort of songs my dad used to write – such as putting Ephesians 1 to music. It's just what I've grown up with. Just the thought of writing—I mean, occasionally songs don't have to be as weighty, it's not like they all have to be really weighty, but to not write any songs like that—it never even has come into my consciousness that that should be done. It's just always been drummed into us that it's important what we're saying. Just the realization that people do go away singing songs, and therefore if we can put good truth into songs, then it's only going to help the body of Christ, really.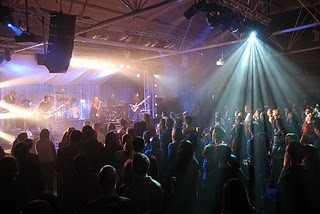 As far as that marriage with being hip, I guess the thing is—just to clarify that I don't particularly think I'm hip—I do have a desire to write good music as well. I don't think great songs come about by just finding great theology and trying to put it to "any old tune will do." Even if it's a singable tune, I think I'm a believer in the marriage of truth and beauty. I think when you marry great truth with something that is beautiful in terms of music, that's really when stuff can come alive and people can latch onto it, and the music actually serves as an extra thing to help get the truth home—that's really my desire. So, in terms of the music, I am dedicated to learning my craft as a musician as well, so in terms of listening to bands, listening to good music that's out there—that's the quest for me. It's also a quest to get my theology as great as possible, as well, to obviously say it all in the context of trying to love God more. It's all part of what my life is, so when the two things can marry together and people can be, in some way, blessed by it, then, you know, I'm just thrilled as anything.
Adrian
Is there any specific way that you try and make sure that your theology is right in the songs. Is there anyone that you ask to help you who will check things out, or have you got degrees in theology, or what?
Nathan
(Laughter) No. Yes. I'd certainly, well yes . . .
Adrian
Yes to the degrees?
Nathan
Yeah, I have about three degrees! (Laughter) No, I have no degrees at all! Certainly I often run stuff off my dad. When I was first writing songs, I was in his house, so I would just run stuff by him and he would comment on stuff. I've sent, I've kind of run things past all sorts of people at different times, oddly enough. I think John Hosier, I've put stuff past before, and Joel Virgo. I even sent something to you once, didn't I?
Adrian
You didn't have to say that! (Laughter)
Nathan

No, I know, . . . I think over time you get a bit more confident in terms of what you're saying, obviously, but I still feel like I'm drinking milk really when it comes to this—I feel like I'm just at the beginnings of a journey. I mean, sometimes I read through some of my songs and think, "Wow! God was really gracious to me in terms of being able to pen something almost beyond where my understanding is in some songs. I'm catching up still—you know, we're all on that journey. If I'm unsure about something, then I definitely try to find somebody and just kick it past them. It's an interesting thing for me. It's not something that I take lightly.
Adrian
I guess what I'm hearing from that is that you're very much a part of a theological family almost. Is that a good way of putting it? Within the church and all the people you know?
Nathan
Absolutely! Absolutely our church holds to teaching the Bible systemically and having good theology, holding it in very high esteem. So, yeah, it's just part of the very fabric of who we are. So, yeah, for sure.
Continued in part 4 . . .