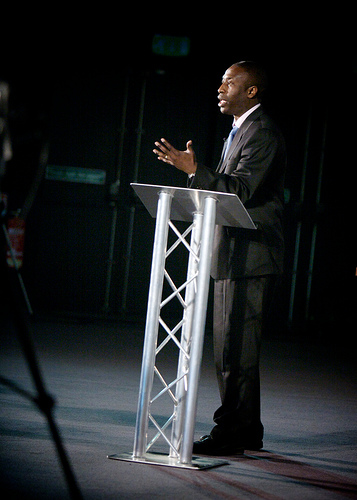 This morning I was challenged afresh by a simple tweet from my pastor Tope Koleoso. He wrote the following: "This new day begins with a new awareness. I have no rights to exist, except by the GRACE of God and for the GLORY of God. (Romans 3:23)"
Less than 140 characters that demolish so many things we are taught by the world to hold dear. We are not to think of ourselves as innocent beings with the "human rights" to be treated better than we are by others. We do not deserve better treatment than we are getting from others. Life has indeed been "unfair" to us. But the direction of that unfairness is not the way we think it is. We really have been treated much better than we deserve.
The truth is we have no rights. We deserve nothing except the wrath and punishment of God. The only reason we were even born is that God was gracious to our forefathers and did not strike them down with a great and holy and fully justified fury. And its not as if you and I have done anything to improve our situation. No, we have added to the weight of sin and condemnation we were born already carrying.
I may feel that this morning so far I have lived a holy life. But I have only been awake for half an hour or so. Give me a bit of time and I am afraid I will have added in some way to the list of reasons why God would be completely righteous to smite me. The worst thing about it is the person I am most likely to hurt today is also the woman I love the most. If I can't even do a good job of loving such an amazing gift from God to me, what hope is there for me?
The only hope there is for me
comes from the context of the verse that Tope referred to. Where there was no hope, Jesus gave us hope. Where we had no right to expect any gift, Jesus came and freely
gave us himself.
Where there was wrath, Jesus showed us mercy and
turned aside God's wrath, absorbing it to himself
! Where we deserved to die, Jesus died and rose again that we might have life! What glorious news! What a humbling thing! What a difference this needs to make to
the pride that we so often call "self esteem"
How strange it is that recognizing how lowly and undeserving we are is actually the path for us to be truly lifted. Recipients of
much undeserved grace
should not preen themselves. But we don't condemn ourselves either. We are
forgiven sons of this holy God
. We can delight and rejoice in that. All the time realizing that we come to him with nothing to bring, and no rights to claim. But he wants us to revel in this amazing grace.
The righteousness of God through faith in Jesus Christ for all who believe. For there is no distinction: for all have sinned and fall short of the glory of God, and are justified by his grace as a gift, through the redemption that is in Christ Jesus, whom God put forward as a propitiation by his blood, to be received by faith. This was to show God's righteousness, because in his divine forbearance he had passed over former sins. It was to show his righteousness at the present time, so that he might be just and the justifier of the one who has faith in Jesus. (Romans 3:22-26)