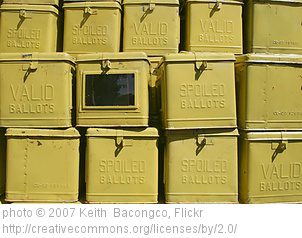 I cannot vote in the American elections because I am not American. But if I could, I would. I will not offer a reason to vote for any specific candidate in this post, but felt I needed to urge those who can vote to do so! This was prompted by hearing of some who think Christians shouldn't vote at all and even worse a strange movement exists which has somehow persuaded 1.4 million to pledge to spoil ballot papers by adding Jesus as a write-in candidate. So why should we all vote (and by vote I mean vote for a candidate that is actually standing for the election!)
1. Because we are to obey the authorities who have arranged that we should vote.
"Let every person be subject to the governing authorities. For there is no authority except from God, and those that exist have been instituted by God" (Romans 13:1)
2. Because at election time, in a democracy WE are the governing authorities. We have a duty to exercise our responsibilities not shirk them. The election will continue without us, all that we achieve if none of us vote is to ensure that officials who are elected will take no notice of biblical values.
3. Because if you do not vote you have no right to complain about who is elected.
4. Because many thousands have died for you to have the right to vote at all
5. Because if World War 2 (which is in living memory) had a different outcome it is doubtful democracy itself would have survived anywhere in the world.
6. Because many in the world still live under totalitarian regimes where voting is a mockery if allowed at all
7. Because voting is better than the two other ways we could choose our leaders: brute force or the accident of hereditary
8. Because through our voting we are playing our part in a process which will ultimately reveal God's choice for the ruler of our nation.
9. Because, contrary to the "other-worldly" perspective of some, what happens in the here and now does matter to God.
10. Because we will be accountable before God as a nation for the choices our democratically elected officials make since we elected them, whether we voted or not.
Content Director's Note: This post is a part of our Election Month at Patheos feature. Patheos was designed to present the world's most compelling conversations on life's most important questions. Please join the Facebook following for our new News and Politics Channel — and check back throughout the month for more commentary on Election 2012. Please use hashtag #PatheosElection on Twitter.