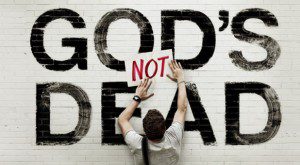 On March 21 the movie God's Not Dead will be released to cinemas across the United States. On April 11 it will be on general release in the UK.  Having had the privilege of seeing a preview of the film I am very excited about it.  The premise of the movie is the interaction between a strongly atheist philospophy professor and a Christian student. It is professionally produced, and guaranteed to tug on the heart strings as well as provoke conversations.  Many churches in the USA are block booking seats and encouraging their congregations to bring their friends.
My new friend Rice Broock's book by the same name inspired the movie, and in this video he is interviewing the lead actor, Kevin Sorbo.  For some he will be very familiar from the hit TV series, Hercules.
If you watch this video you will get a clear sense of the evangelistic passion that is the driving force behind this film. I also encourage you to watch the trailer, and think about ways you can get behind this.