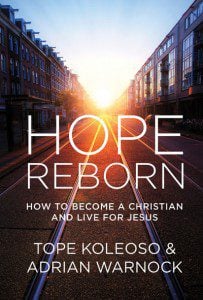 The launch of Hope Reborn – How to Become a Christian and Live for Jesus is just weeks away now.
As the title suggests this short book aims to be a resource that you are going to want to give to people who want to become a Christian, or who need help to grow in their faith. But surely that includes ALL of us, as we never grow out of the gospel, and getting back to the basics is essential for us.
We hope that this book will help you however long you have been a Christian to get the gospel back into focus, and examine yourself to see if you are in really in the faith. I know that in writing, Tope and I found this focus to be helpful. We should never move beyond the basics, and can learn again and again.
In order to help get this book out into the hands of as many people as possible, we have agreed with the publisher to offer you the opportunity to request an evaluation copy if you are evaluating the book for possible use in your church, or are willing to review it.
We need you to honor the privacy of this PDF and not share it with anyone (though you can of course point them here to , and commit that if you like the book you will either purchase copies to give to others, or review it somewhere such as Amazon. Please email adrian@adrianwarnock.com with a brief explanation of why you would like an evaluation copy.
If you are convinced already and want to pre-order copies, we have partnered with our friends at 10ofthose.com in the UK and christianbook.com in the USA. Both offer an incredible discount and great shipping rates to anywhere in the world. You won't find Hope Reborn cheaper anywhere else.