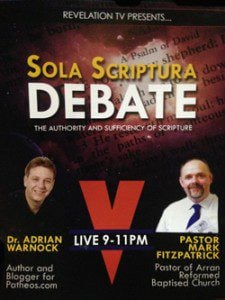 My live TV debate vs Pastor Mark Fitzpatrick, a cessationist, is now available to view online at Part One and Part Two.
My opponent argued that in 1 Corinthians 13 Paul meant that gifts will cease when the Bible was complete. I disagreed, saying they continue until Jesus returns.
We both agreed with the concept of Sola Scriptura, in other words the sufficiency and finality of revelation found in the Bible and point to 2 Timothy 3:15-17:
The sacred writings, which are able to make you wise for salvation through faith in Christ Jesus.All Scripture is breathed out by God and profitable for teaching, for reproof, for correction, and for training in righteousness, that the man of God may be complete, equipped for every good work.
But I would see the following verse as describing something that fulfills a different purpose to Scripture and is subservient to it (and is of course related to Scripture):
"

the one who prophesies speaks to people for their upbuilding and encouragement and consolation." (1 Corinthains 14:3)
We had two hours of fascinating, at times vigorous, but always gracious debate, you can now watch then online at Part One and Part Two.