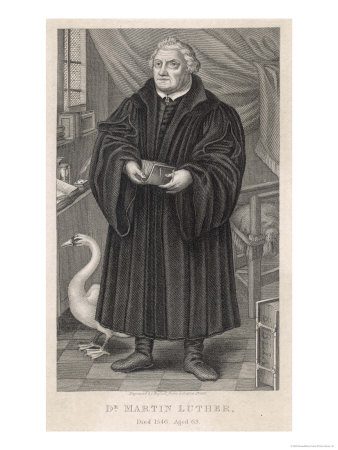 We stand in the debt of those servants of God who prompted the Reformation. I am unashamedly Protestant. I believe that the work of Luther and Calvin among others was critical in recovering the gospel itself, which had largely been lost for centuries.
Yes, cynics would say all we have done is replace a single pope with thousands of them, all thinking they have infallible interpretation. There has indeed been great division. But the Reformation restored mankind's direct connection with the Bible. Far better for us to be arguing about what the Bible means, but be submitted to its sole authority, than to submit ourselves to the authority of a man, believed to be Christ's representative on earth.
I don't have time in this short post to outline all my thoughts about the Reformation. But I did want to highlight one story that is not often told today. As a Reformed Charismatic, it is perhaps no surprise this would be one of my favorite aspects of this remarkable time in history.
The Reformation itself is believed to be have been predicted by prophecy one hundred years before it began. Huss, who was one of the forerunners of this great work of God, was facing certain death. He had been condemned for his "heresy" and was due to be burned at the stake. He is widely reported to have said to his executioner, "You are now going to burn a goose, but in a century you will have a swan whom you can neither roast nor boil."
Remarkably, Huss means "goose" and Luther, who was to come on the scene almost exactly one hundred years later had a swan as his coat of arms.
This is a truly remarkable phenomena that, given the importance of the Reformation in the plan of God, should not surprise us one bit.
God speaking in such a way should in no way be seen as in conflict with the precepts of the Reformation, and with Sola Scriptura, as indeed I argued in a recent debate on that very subject.
Let's expect God to speak to us today, but judge what we think we hear by the unchanging eternal Word of God, agreeing with the reformers that the Bible is the only infallible, unchanging Word of God for all mankind.
References
Mark Water, The New Encyclopedia of Christian Martyrs (Alresford, Hampshire: John Hunt, 2001), 631.
C. H. Spurgeon, The Metropolitan Tabernacle Pulpit Sermons, vol. 47 (London: Passmore & Alabaster, 1901) 343.
Mark Thompson, "Review of Martin Luther as Prophet, Teacher and Hero: Images of the Reformer, 1520–1620, by Robert Kolb," Themelios, No. 2, Spring 2002 27 (2002): 77.