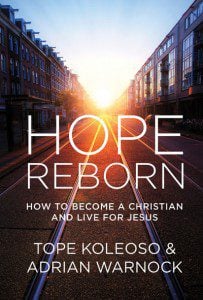 It has started to happen. People have been buying copies of Hope Reborn to give away, and as a result some people have become Christians. Today I received the following DM on Twitter:
"Encouragement! I've given 2 copies of Hope Reborn to 2 Alpha graduates. Both gave their lives to Jesus after reading half the book! Thanks."
This is so exciting to hear.
We gave away a copy of our new book Hope Reborn to everyone at Jubilee Church, London because we wanted to help anyone who wasn't sure they were a Christian, to make sure our people really understood the gospel for themselves, and to help equip them to share it with others.
I have heard of some pastors who are considering doing a similar thing with their congregations.
The gospel offers us an eternal hope.
Many today simply do not understand it because we have been guilty of assuming too much.
We also made the book available on our bookstall for our people to purchase copies to give to their friends or family. It will probably cost you less to buy your friend a copy of this book than it would to pay to take them out for a coffee and cake. Some bought five copies or more. One asked to buy a whole box.
I have good news for you today. You can get copies of Hope Reborn at a greatly reduced rate, both in the USA and the UK, by following these links. Why not buy a few copies and share hope with others.
Will you offer the gift of hope to someone you know?
In the UK we can offer an additional 8% discount on anything you buy at 10ofthose.com if you follow the link and type in "hope08" as the code during checkout.
---

Buy Hope Reborn in the USA from Christianbook.com
---

Buy Hope Reborn in the UK from 10ofthose.com use "hope08" for 8% discount
---