Jesus commands and expects his followers to fast from time to time. Yet fasting is not something that is widely discussed in the Church today. And it is not something most of us find particularly welcome or easy.
The church I attend encourages the congregation to join in a period of fasting at the beginning of each year. There are corporate prayer meetings, and we are encouraged to seek God. In fact my friend, pastor, and co-author Tope Koleoso has today started a series on seeking the manifest presence of God, which I would strongly encourage you to watch when it is made available.
There is a reason why, however, that the church does not demand that everybody fast in a certain way. Nor will anybody check up on you to find out how much you are fasting. We are not fasting for each other. This command of Jesus it is easy to miss since it is not worded quite as directly as some other commands:
When you fast, do not look gloomy like the hypocrites, for they disfigure their faces that their fasting may be seen by others. Truly, I say to you, they have received their reward. But when you fast, anoint your head and wash your face,that your fasting may not be seen by others but by your Father who is in secret. And your Father who sees in secret will reward you. (Matthew 6:16-18)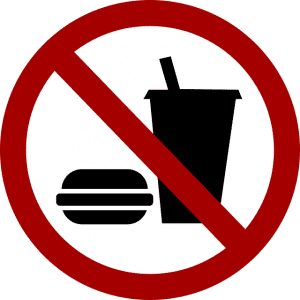 If Jesus commands us how to fast, it is clear to me that he is also commanding us to fast. This command of Jesus comes with a promise. The Father will reward us if we fast for him, and not to impress others.
Earlier in the same passage Jesus makes the same promise about prayer. Why would we think this promise applies to us if the one about fasting doesn't?
"And when you pray, you must not be like the hypocrites. For they love to stand and pray in the synagogues and at the street corners, that they may be seen by others. Truly, I say to you, they have received their reward. But when you pray, go into your room and shut the door and pray to your Father who is in secret. And your Father who sees in secret will reward you. (Matthew 6:5-6)
Jesus spoke about fasting on another occasion:
"…the days will come when the bridegroom is taken away from them, and then they will fast" (Matthew 9:14-17)
If you decide to fast, it should be something you decide to fast from. It should be something you will notice, something that will remind you of the hold certain appetites hold over all of us. Fasting should help us to reignite our appetite to know God. We are saying to God though fasting, "I hunger for you and your presence more than I hunger for anything else."
If fasting at the beginning of his ministry was good enough for Jesus, we should follow his example, as well as his explicit command, and fast too. Jesus also quotes the Old Testament, in making clear that mankind has a great need not only for food, but to hunger for God himself and his Word:
"And the tempter came and said to him, "If you are the Son of God, command these stones to become loaves of bread." But he answered, "It is written, "'Man shall not live by bread alone, but by every word that comes from the mouth of God.'""
‭‭Matthew‬ ‭4:3-4‬ ‭ESV‬‬
Fasting is a form of repentance, and helps us to turn our affections away from our own passions, and towards Jesus. As we are seeking to learn how to obey the commands of Jesus, and live in the good of our rebirth, fasting is an invaluable tool. It is not one I have embraced as willingly and with as much purpose as I should in the past. Will you join me with a renewed determination to seek out ways and times to fast and seek God's face?
If my people who are called by my name humble themselves, and pray and seek my face and turn from their wicked ways, then I will hear from heaven and will forgive their sin and heal their land. (2 Chronicles 7:14)
David Matthis has written a helpful guide to the practical aspects of learning to fast.
Follow the link or subscribe to our newsletter to receive every article in your inbox. Complete the form in the top of the right hand column, or below if you are visiting on a mobile device.