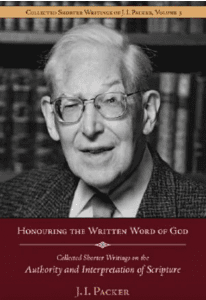 Packer and rest are not two words that really go together. His tireless work over decades had a huge impact on the Christian Church for good. His name rightly belongs in a  select group who were used under God to revitalise the evangelical wing of the church in the latter half of the 20th Century. J.I Packer, John Stott, Martyn Lloyd-Jones, Billy Graham and a handful of others formed a kind of yardstick of what it meant to be an evangelical. They didn't agree on everything. But they fearlessly held out the gospel at a time when many wanted to adjust it, make it more "acceptable" to others.
On 17 July 2020 Packer joined his co-workers around the throne of the Lamb who they proclaimed so boldly. I am sure he heard the words "well done!"
There has been an outpouring of commentary and I thought I would share some of it here.
"As I look back on the life that I have lived, I would like to be remembered as a voice—a voice that focused on the authority of the Bible, the glory of our Lord Jesus Christ, and the wonder of his substitutionary sacrifice and atonement for our sins.

I would like to be remembered as a voice calling Christian people to holiness and challenging lapses in Christian moral standards.

I should like to be remembered as someone who was always courteous in controversy, but without compromise.

I ask you to thank God with me for the way that he has led me, and I wish, hope, pray that you will enjoy the same clear leading from him—and the same help in doing the tasks that he sets you—that I have enjoyed.

And if your joy matches my joy as we continue in our Christian lives, well . . . you will be blessed indeed."

J. I. Packer – Video and Crossway reflection
What a huge contribution J I Packer made to Christ's church. A formidable mind devoted to God. pic.twitter.com/yLJuik13MA

— Terry Virgo (@TerryVirgo) July 18, 2020
"For me, the name J.I. Packer stands for Reformed theology in the hands of a servant . . . here is a difference between leadership and influence. There have been many popular leaders whose influence is ephemeral. But Packer's quiet, steady output of books, and his behind-the-scenes work in movements that were led by others, have probably solidified and deepened the evangelical and Reformed resurgence with greater effect than that of many more visible leaders . . .He knew that the job of a theologian is really not very glamorous. He wrote in 1991,

Theologians are called to be the church's water engineers and sewage officers; it is their job to see that God's pure truth flows abundantly where it is needed, and to filter out any intrusive pollution that might damage health. (Quest for Godliness, 15)
He later asked for people to think of him as a latter-day Puritan: "one who, like those great seventeenth-century leaders on both sides of the Atlantic, seeks to combine in himself the roles of scholar, preacher, and pastor, and speaks to you out of that purpose."

He often contrasted the spirituality of the Puritans with contemporary evangelicals, calling the latter to imitate the former especially when it came to communing with God:

"When Christians meet, they talk to each other about their Christian work and Christian interests, their Christian acquaintances, the state of the churches, and the problems of theology—but rarely of their daily experience of God.

Modern Christian books and magazines contain much about Christian doctrine, Christian standards, problems of Christian conduct, techniques of Christian service—but little about the inner realities of fellowship with God.

Our sermons contain much sound doctrine—but little relating to the converse between the soul and the Saviour.

We do not spend much time, alone or together, in dwelling on the wonder of the fact that God and sinners have communion at all; no, we just take that for granted, and give our minds to other matters.

Thus we make it plain that communion with God is a small thing to us."
Dr James Packer's death ends a wonderful service to God by a disciple of learning, wisdom and holiness. A giant of his time.

— Archbishop of Canterbury (@JustinWelby) July 17, 2020
"I sat there spellbound. The power was not in bombast, for there was none. The power was in well-chosen words and beautifully crafted sentences, in the development of ideas, in the care with which Scripture was handled, in the theological beauty of well-built arguments, in elegant and thoughtful prose, in the glory given to the Lord Jesus, in the quiet authority of the presentation and the breadth and competence of Packer's responses in the question time. Eventually I learned that these were all trademarks of Packer's lectures, but on this occasion, my first exposure to the man, above all I was drawn to what the cross achieved.
J. I. Packer passed away today. He was a dearly loved mentor and teacher by many people, including me. His books Knowing God, Evangelism and the Sovereignty of God and 'Fundamentalism' and the Word of God, & various of his essays are among the most formative readings in my life.

— Mark Dever (@MarkDever) July 17, 2020
J.I. Packer's 6 things a Christian should tell themselves everyday:

1. I am a child of God.
2. God is my Father.
3. Heaven is my home.
4. Every day is one day nearer.
5. My Savior is my brother.
6. Every Christian is my brother too.

— Dustin Benge (@DustinBenge) July 18, 2020
"J. I. Packer gave evangelicals a place to stand in regard to the authority of the Bible . . .Packer became a spokesman for conservative evangelicals in the face of liberalizing trends . . .Packer helped to hold the conservative evangelical line on numerous theological issues . . . He was a traditionalist who looked to the past for truth."
 

"I don't see how any Christian under any circumstances can't be encouraged who focuses on God. I don't see how any Christian can be discouraged, because God is in charge—God knows what he's doing, all things work together for good for those who are called according to his purpose (Rom. 8:28), and our hope is in Christ. Those things don't change, and those are the things to focus on . . .

"Glorify Christ every way."
J. I. Packer's Final Words to the Church https://t.co/AbhSpiuiTl

— Lee Strobel (@LeeStrobel) July 17, 2020
The essence of eternity as I conceive it—as it lies before me as my destination—is quite simply the joy of being with the Lord. pic.twitter.com/oGd9dRqQOH

— J. I. Packer (@DrJIPacker) July 18, 2020