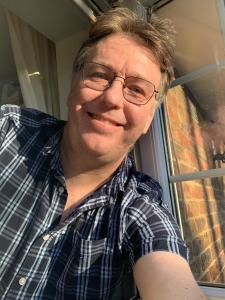 I don't tend to write much on here about my blood cancer journey since I now have a whole new website for that, Blood Cancer Uncensored. But a few days ago I passed a significant milestone: two years since starting chemotherapy. I am very grateful that the treatment was successful. It has not all been plain sailing from there, and I continue to face challenges with my immune system leading to infections, inflammation, and fatigue which only those who have experienced can fully understand.
But I have so much to be thankful for. Life is a precious gift which we should never take for granted. And just being able to sit in front of a computer and type is a gift. I am thankful that I was born in a country with a free health service and so have been able to receive expensive treatments that no doubt saved my life. I am also thankful that I have been able to supplement the care provided by the NHS with private healthcare provided by my employer, who has also provided  very generous insurance backed sick pay policy to support me and my family.
I have been blessed.  I have reached out for and received a lot of support from health professionals, counsellors, pastors, friends and family.  I could not have walked this journey alone.
I do encourage you if you are facing a challenge do not simply put on a brave face. Reach out for the encouragement and comfort you need.  And realise, as at times I did not, that no one person can provide you with all the support you need.  It is important to construct a support network to help you in various ways. And of course, as a believer, my faith in God has made all the difference, as much as it has been challenged at times.
As I faced the beginning of my chemotherapy I wrote the following post about trusting God. Re-reading it was both encouraging and challenging. Putting out faith in God alone to meet all our needs is sometimes hard. And of course God provides human beings to be there for us as well. But for sure, there have been times when if I had trusted God just a little bit more I would have found it easier to cope with what I was going through. I would also have been easier to live with.  No wonder the Bible tells us that suffering teaches us and develops us.  I know I still have much to learn about all this. I find the following words challenging since I do not find it easy to rejoice in suffering, I am not a naturally patient or enduring person, but I am thankful that these words reassure us we will not be put to shame. They tell us that rather than expecting us to be strong and perfect, Christ died for us whilst we were still weak and ungodly. These are two qualifications any of us should be able to admit to!
We rejoice in our sufferings, knowing that suffering produces endurance,  and endurance produces character, and character produces hope,   and hope does not put us to shame, because God's love has been poured into our hearts through the Holy Spirit who has been given to us. For while we were still weak, at the right time Christ died for the ungodly. (Romans 5:1-6)

 
I have recently published for the first time on the open internet a diary I shared in a private forum at the time.  Here are the links to the full story if you are interested in reading: