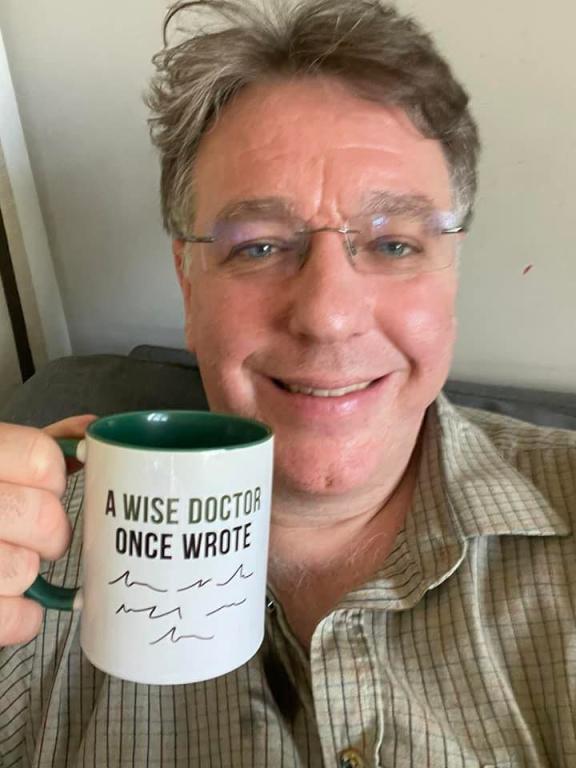 Another year has passed. Today is the anniversary, not of my actual diagnosis with blood cancer (that came 22 long days later), but rather the day I became a sick person. I think of that day as something of a "Sliding Door" Moment for those who remember a movie from the 1990s.  I often wonder what my life would have been like if that day had just been like any other ordinary day of commuting to work instead of my legs becoming like jelly as I stepped off a train, and then being rushed to hospital in an ambulance with pneumonia. Many of my hopes and dreams for the future were destroyed in that moment.
This Bible verse, as precious as it is to me today has been very hard to believe at times:
I found an article online today that illustrates what it is like to receive a cancer diagnosis. Your eyes are opened to how frail and temporary life is. And you never quite feel the same again. It really is like having an assassin following you around everywhere you go. There is a reason denial of reality is sometimes the best coping strategy.  I will include the illustration in full here:
Imagine you're going about your day, minding your own business, when someone sneaks up behind you. You feel something press up against the back of your head, as someone whispers in your ear.

"Sssshhhhh—don't turn around. Just listen. I am holding a gun against the back of your head. I'm going to keep it there. I'm going to follow you around like this every day, for the rest of your life. "I'm going to press a bit harder, every so often, just to remind you I'm here, but you need to try your best to ignore me, to move on with your life. Act like I'm not here, but don't you ever forget—one day I may just pull the trigger—or maybe I won't. Isn't this going to be a fun game?" THIS is what it is like to be diagnosed with cancer. Any STAGE of cancer. Any KIND of cancer. Remission does not change the constant fear. It never truly goes away. It's always in the back of your mind. Please, if you have a loved one who has ever been diagnosed with cancer, remember this. They may never talk about it, or they may talk about it often. Listen to them. They aren't asking you to make it better. They want you to sit with them in their fear—their sadness—their anger—just for the moment. That's it. Don't try to talk them out of how they are feeling. That doesn't help. It will only make them feel like what they are going through is being minimized. Don't remind them of all the good things they still have in their life. They know. They are grateful. But some days they are more aware of that gun pressing into the back of their head, and they need to talk about it. Offer them an ear. —Sherry McAllister
  That quote sounds really desolate really doesn't it?  And the truth is, many times in the last five years I have felt desolate and utterly alone.  But that is not the whole story. I have not actually been completely alone even when I have felt that way very often.  There has always been another force fighting within me: hope. My testimony as a Christian is not that knowing Jesus has removed my fear, loneliness and despair. But rather that the hope he gives has not entirely disappeared.  Even though there have been many times when I have been at my most desolate, and been tested far beyond what I could cope with so that I "despaired even of life itself". There have been many sleepless nights where my pillows are wet with tears.  But whenever my faith has felt like a smouldering candle about to go out, Jesus gently breathes on that flame to keep my hope alive. These are actually two extremes of different emotional dimensions, and rather than try and deny one of them we actually need to embrace part of both of them, but not let either of them dominate us. If we give in to desolation,  life becomes miserable. And yes there have been a few times when I have not really wanted to go on living if my life wasn't going to change. It is only a very small step from that place to actually wanting to harm yourself. And if this article stirs up such thoughts in you please reach out to a friend, professional, or the Samaritans. I certainly do not want to encourage such unhappiness. But whilst we can't allow ourselves to live permanently in the city called Despair, it is utterly unreasonable to expect people who go through huge losses and suffering to remain cheerful at all times.  Hope itself is a pure wonderful thing. But there is also a twisted false version of it that becomes a cruel tyrant. I like how some psychologists refer to the Tyranny of the Positive and I can't recommend strongly enough the two video clips on the link I just shared.  Some people feel they have to pretend that everything is going to be ok. That they have to fix people's problems or help them to pull themselves together. That if we have enough faith or positive thinking we can somehow bend the universe to our will and everything will work out the way we want it to. I am sorry but life is not like that. There is another name for false hope: unreality. The tension between false hope and excessive desolation is strong. And they continue to battle within me. But my hope is increasingly that I will avoid both extremes whilst continuing to live with their cousins and learn how to be:
Here's my story so far….
Year One
Exactly one year after my life was turned around forever I wrote about what happened on April 28 2017. It was actually the first time I shared in public that I had blood cancer:
"A year ago today I suddenly became unwell. And everything changed. At first the doctors were puzzled about my condition, which is never reassuring. It wasn't till the 20th May that I was officially diagnosed with chronic lymphocytic leukaemia (CLL), a slow growing form of blood cancer, which at the moment is relatively stable . . . The last twelve months have been the most challenging of my life by far. I've developed a fresh awareness for what it's like to suffer. It has been very tough on my family. But we have also got a lot to be thankful for. There are so many people with stories far worse than mine. But before April 28 2017 I had not come face to face with my own weakness and mortality. And now I am aware of my frail humanity every day. It changes your perspective dramatically . . . Some Christians think we can do a deal with God where if we serve him, then he is somehow obligated to protect us from all harm. But it doesn't always work out that way . . ."
I rightly said that first year had definitely been the hardest of my life to that point.  I decided right at the beginning that I was going to be honest with my blog readers, even if wouldn't always be entirely open.  It obviously isn't wise to always share every detail of what is going on with me.   It is definitely not helpful to over share.  But I do not want to lie, nor contribute to the notion that Christians are always meant to have their lives together, or that we are somehow immune to the heart wrenching troubles this world sends our way. Nor do I want to pretend that I haven't made some terrible mistakes in the last five years. I don't think I have always handled being sick well, and I do not think I have coped particularly well, whatever that means. As I re-read what I wrote about that first year today I realised immediately that so far in fact each subsequent year has been harder than the one that came before.
https://www.facebook.com/photo.php?fbid=10159201980988068&set=a.52490578067&type=3&notif_id=1651225286658959&notif_t=feedback_reaction_generic&ref=notif
I have watched every area of my life implode, and many of my relationships unravel as the expanding ripples of that one moment in time that happened five years ago today have had their effect.  That is not to say that some good or great things haven't also happened along the way. But every year has been tainted with huge pain and huge challenges. Much of all this I will not speak about on here. My doctor recently said that most people would have completely lost it and had a full mental health breakdown by now having gone through what I have gone through.  He is the kind of doctor who asks about and understands not just my health needs but my social ones too.  But I am not quite so sure that I have not actually had several breakdowns during the last five years. It all depends on how you define a breakdown.
Crucially, although things have been really tough emotionally just recently, I am also once again seeing a bit more hope than I have for a while in the middle of all the pain. On these anniversary days I have always felt completely  desolate in previous years, instead today I am actually daring to hope that just maybe when I write my six year anniversary article I will be able to report that this next year I am about to enter has been better than the last five.
Year Two
Two years into living with a chronic illness I was so upset around the anniversaries of my sickness and diagnosis that I did not even write about it. I was also dealing with the end of my chemotherapy at the time. In the period before starting chemo I shared a long article about the shortest verse in the Bible: Jesus wept.  8th March 2019 was the date of the last day of my 6th and final set of chemotherapy infusions. So the second year was really about the build up to that treatment and going through it, which included a month staying in hospital.  I didn't share much about chemo publicly at that time, but during the pandemic shared an edited version of my chemo diary which you can read if you like. But in the September I launched a blog series which I entitled Hope in Suffering.  It was based on what I had learnt from very slowly over many months reading Tim Kellers excellent book about how to walk through difficulties with God.  The series has multiple quotes from his book, but also lots of my own thinking.  You can see all the links to the articles that make up the series  on that introductory page. Here's how I began that post:
I would like to take you on something of a journey that often feels lonely, but you do not have to walk it alone. I am talking about facing significant suffering or grief. This is a journey that we will all have to face at some point in our lives. As Tim Keller explains in his outstanding book Walking With God Through Pain and Suffering (see also the free introduction):

"No matter what precautions we take, no matter how well we have put together a good life, no matter how hard we have worked to be healthy, wealthy, comfortable with friends and family, and successful with our career — something will inevitably ruin it."  (Tim Keller)

. . . It took me a very long time to finish reading this book partly because I was at times not well enough to concentrate even for a few minutes on reading, but I am very glad I did. I wish I had read Keller's book before I so desperately needed its core message.  If, like the pre-sickness Adrian, you have not really faced major troubles in your life, arguably preparing yourself for suffering's inevitable arrival is one of the most important things you ever can do.  
Year Three
On the Third Anniversary I shared a pretty no holds barred story of how difficult the diagnosis and period of watch and wait had been. I shared a lot about the time before chemotherapy, I suppose because by then I had the time to process it better.  Here's some of what I said:
I wake this morning feeling very sober. But also very glad to be alive. Mixed emotions for sure. You could even say that I was "sorrowful yet always rejoicing."  . . . At almost the exact time I am writing this article three years ago I was attending a private hospital appointment having already been driven to an NHS hospital that morning for yet another IV antibiotic injection to try and treat the pneumonia that was stubbornly refusing to go away . . .  The private doctor was kind but very brief and had no information to give me. My world coming crashing to an abrupt halt. It has never fully restarted. I should say at this point that many people with a similar diagnosis to mine have no symptoms whatsoever and some are able to avoid active treatment for two decades or more. Please do not assume that my story will be your story. . . Blood Cancer has been like a tsunami in my life ever looking for new ways to try and kill or destroy me, my dreams, my career, my hobbies, my charity work, my writing, my ability to watch TV at one point, and yes even all my relationships if it could. I have been grumpy at times, distracted, detached from the goings on of normal life. And so I have had to learn how to manage my emotions. Which sounds so civilised but sometimes is about as easy and apparently impossible as herding cats. . . The night of the 20th May 2017 was the first of many sleepless nights since. They tell you that it gets better and it really does. But the memories never leave you and are as fresh raw and painful today as they were three years ago. I have had good days and bad days since. But I have not had a single day where I have got through the entire day without thinking of blood cancer, it is impossible because of the effects it had on me. Sometimes I am able to put it out of my mind for the vast majority of the day, however, and I am able to do so much more than I used to be able to at my worst. .  .
Year Four
Last year at this time of year I wrote the following:
"None of what follows in any way detracts from the huge sense of gratitude I have this morning that I am still alive. There are many with blood cancer who do not survive this long. And this experience has certainly made me appreciate being alive.  But a cancerversary is also a day of deep sadness for me, and many others. I am convinced that for most of us when we are given a diagnosis of blood cancer there is a form of grieving that happens. At the very least we experience a loss of that sense of invulnerability. For many of us the unspoken but immediate question is "How long will I live?" Suddenly we feel we can no longer assume that we will have a long and healthy life. That sense of mortality can have a chilling effect on our heart. But it can also sometimes be incredibly hard to share with others. It is a huge loss. And it often has massive emotional implications. . . If unspoken that fear of death can also lead us feeling not only a huge sense of grief but also a strong feeling of aloneness. And as we walk through the life changing and sometimes expectation-destroying consequences of blood cancer, that sense of a isolation can be, and often is crushing. I have had many moments of what I call "Elijah syndrome" where I complain that I am utterly alone and feel hopeless. In Elijah's case he even prayed "God, kill me now" (See 1 Kings 19). I am not ashamed to admit that I have got to that point a few times too. What has not helped is the pressure from within and at times from some other people to "just be positive" all the time. I have concluded that such a pressure is unhealthy. And so I now believe that, whilst we must not let our emotions dominate and control us, we also must not try and suppress or ignore them .  . . I have spent most of the last four years wishing my blood cancer and its many consequences away. I have longed to "return to normal" and to be able to go back to work. I have wished that I could still go for a long walk in the forest, or around a city, or at a theme park or another attraction for hours on end. In contrast as of right now I am not feeling able to go on walks at all. Do I hope for some improvement in my energy levels and mobility? For sure. But do I now expect a return to anything resembling "normality"? Not so much. Now It is worth stating at this point that many blood cancer patients are less impacted in terms of their activities of daily living than I have been. Many of my issues are caused by other conditions that have been brought on by the cancer, its treatment, or the infections I have experienced going along the way. Many others are able to work and walk throughout their cancer journeys. Even many who face acute and aggressive blood cancers, with far stronger treatments than I have had, will bounce back relatively quickly. But do not be deceived. No matter how good a blood cancer survivor may look to you, no matter how much they may seem to have regained their "normal life", no matter how far they can walk, no matter how many hours they can work, you do not get through this experience unscathed and unchanged . . . despite any silver lining to the clouds of cancer, the battle scars for most of us are deep. And we will never look at life the same again. Just like you do not "get over" the death of a loved one, the departure of our sense of health, wellbeing and invulnerability should not go unmourned and cannot be forgotten."
Year Five
And so we come bang up to date.  A friend of mine said to me yesterday
"You aren't desolate any more"
I didn't know quite what to make of it at first. Because before that I hadn't really used the word desolate of myself. But that word is definitely a great summary of how I have felt at many points during the past five years, and I resonated with it as a "fair cop". But at first I wasn't sure whether to be perturbed I had been given that label at all, or surprised that my friend no longer thought it applied to me. Desolate is a good word.  It is a descriptive evocative word to describe feelings that have felt overwhelming often. And for sure the last year has been a terribly difficult year for me emotionally. A year of desolation at times.   A year of great loss at times. As I said earlier, crucially, although things have been really tough emotionally just recently, I am also once again seeing a bit more hope than I have for a while in the middle of all the pain. On these anniversary days I have always felt completely  desolate in previous years, instead today I am actually daring to hope that just maybe when I write my six year anniversary article I will be able to report that this next year I am about to enter has been better than the last five.  
Often in the last five years my cancer and other huge problems have made believing this verse hard. But it really is true. I love it in the NLT. Click the link to read the latest summary of my story and the battle between hope and reality: https://t.co/2miNL5b4N0 pic.twitter.com/akQFJqo93w

— Adrian Warnock (@adrianwarnock) April 29, 2022
Previous Cancer Anniversary posts
A Year on from The Day Blood Cancer Changed My Life
Hope in Suffering
A blood cancer tsunami hit me three years ago today
Four year on from a cancer diagnosis: battling for hope, dealing with the reality of emotions, and looking better than I feel!