Heathens are social beasts. We always blather on about the virtue and benefits of community, and there's nothing quite as uplifting as gathering together with a couple of bottles of mead and a couple of horns and hailing gods, heroes, and each other. Impromptu sumbels tend to happen whenever heathens congregate, and the third round, the "toasts and boasts" round, is nicknamed the "hail the community" round. We just love each other to the point of obnoxiousness, and we're proud of how much we support each other.
Right now, we're hurting. We miss each other's faces something fierce, especially now that we're at the end of August. I'm part of the Northeast Heathen Community (which is what we call ourselves as an easy reference: we're not an organization, just a giant group of friends stretching across several states and countries), and right now, I should be at East Coast Thing. We all should. ECT is an annual tradition that's been held for over 20 years; part family reunion, part religious retreat, 100% heathenry at its finest. I sum it up the way one of my kinswomen does: a week spent camping with 200 of my closest friends.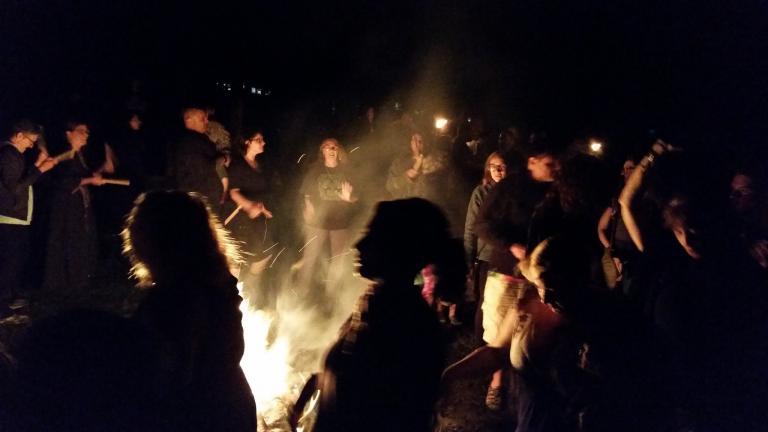 Heathen Happy Hour
Most of my time there is spent at the vé stead, the section of the campgrounds that houses all of the shrines to the various gods and goddesses in the Norse and Saxon pantheon. I'm the keeper of the Sigyn vé, which is nestled together with my dear friend's Loki vé, so that's where I can be found 80% of the time. The rest of the time is spent at the Pavilion, the social hub of the event, where our community craftspeople sell their goods and many bottles of mead are passed around and shared as we reminisce and catch up. There are workshops and lectures throughout the week, rituals and blóts, games and competitions, and bonfires and shenanigans. It's bliss, and well worth the "ECT hangover" that hits all of us the moment we leave: the sadness at parting and longing for the late nights and intense spiritual energy we drum up in the woods.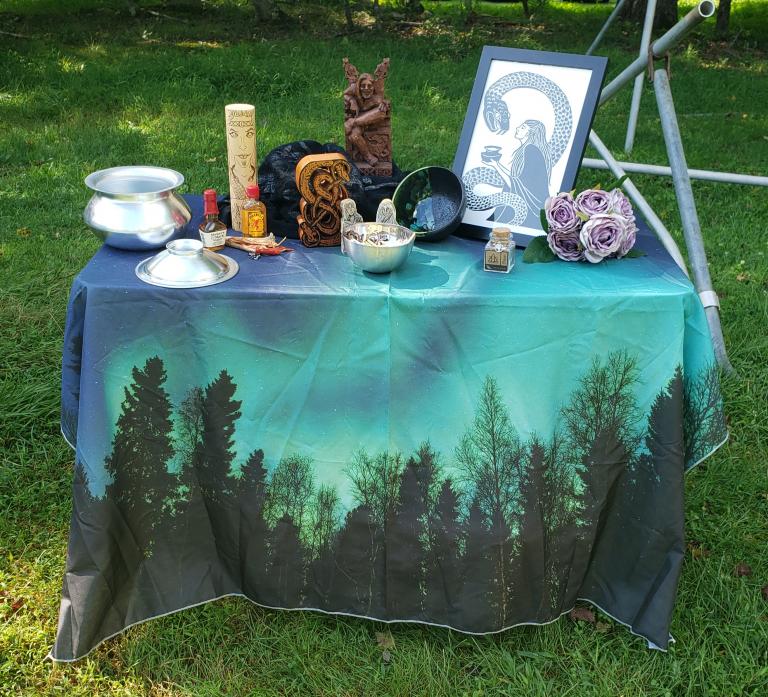 This year, it's virtual, like so many gatherings and events are in so many communities. If ever there was a time in history to endure a pandemic, this is a pretty good one. We've got the technology to link up and see each other's faces and hold our blóts in modified fashion. We can have our Pavilion socializing via Zoom, and enjoy the dramatic performances of the Skaldic Competition from afar. Lectures and workshops are still hopping online, and our vendors are still able to take our money in exchange for extraordinary hand crafted jewelry, horns, and art.
This is a hard year for everyone the world over. As if the pandemic and economic agonies weren't bad enough, we're kept apart by distance and social responsibility. Even the introverts among us are struggling; ECT is an event that reinvigorates us even when basic interactions with other people drain us. I myself am trying to stay positive by saying, "At least this year I can enjoy AC, cats, and iced coffee during ECT," but it's a hollow optimism.
I miss my friends, I miss the energy of the land and the gods and the community, and I miss sitting around the fire passing horns. It's a strange feeling to chat with people without having someone come up and thrust a horn into my hand without commentary, taking a sip, and immediately demanding to know whose mead that was and if there's still a bottle left for me to buy to share in turn with folx who haven't yet sampled it. (Suddenly, I feel the need to reassure y'all that we're not alcoholics and this isn't a frat party. I promise!)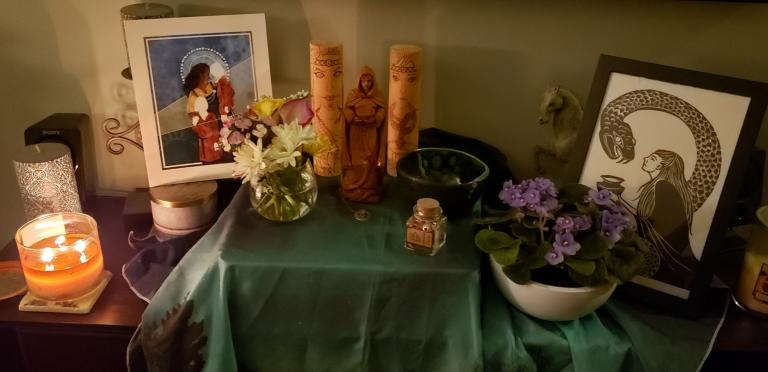 Adaptability is the Key to Survival
That said, I'm proud that my community is socially responsible, in this and in all matters. We miss each other, but the decision to make the event virtual was unanimous. With members from all over the eastern seaboard and beyond, it would be horrifically selfish to travel and converge and disperse back to our home states in current conditions. Face-to-face gatherings are good for the soul, but risky for the body right now.
Even when some of us are able to meet up, horns aren't being shared. Kindred gatherings are BYOH, and I admit I have no qualms about sticking a straw in my horn so I can drink with a face mask on. Not the most traditional way to toast during blót or sumbel, but hey, the "how" doesn't matter so much right now as the intent behind it. The gods understand. Protecting the people is more important than keeping up appearances.
For everyone out there who misses their community, I hope you're still able to take advantage of the technology available to see each other in isolation. These are unusual times for our generation, but we can still be together from the safety of our respective homes. It's not the same, but it's better than what we'd have had at our disposal even 15 years ago. Small consolation, yes, but our communities are strong enough to weather this storm as well, and in the end this is just another chapter to add to the lore we're creating. And when we do finally get to converge on our beloved campgrounds in the future, the energy is going to be more epic than any saga to date!
Be safe, everyone. Reach out to your communities and check in with one another. Some folx are having a harder time with pandemic conditions than others, so support each other as best as you can. Most importantly, if you're struggling mentally, emotionally, or in any capacity, please ask for help. No one can face this alone. Sometimes it really does take a village, and we're lucky to have such a village ready to help.
Hail the community !