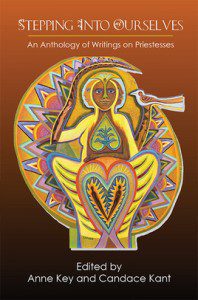 I was recently given an opportunity to read and review Stepping Into Ourselves: An Anthology of Writings on Priestesses, edited by Anne Key and Candace Kant. The book is an extensive tome of wonderfully unique, deeply personal writing by women who have embraced and individually defined the experience of the divine feminine.
In heathenry, feminine power and aptitude are presented in the context of family, home, the individual self, prose, and the personifications that encompass those areas. This book examines all these aspects of the feminine divine. However, the accounts are written from a spiritual perspective outside of religious particulars and transcending any specific dogma.
In the chapter entitled "My Family's Lineage of Priestesses", Carmen Roman describes becoming a priestess through personally caring for her own family's needs. She relates that she only stepped into that role once she felt the time was appropriate, despite having been given the title earlier than she was prepared for. In her role as a priestess, she focuses on home, family, and daily responsibilities in a way that is sacred. Carmen writes,
I consider myself a priestess for myself, my family and my community. I have been in the role of spiritual guide for my peers and for people of different ages. I perform rituals when needed. In the past few years, I have closed the eyes of people who have died and visited newborn babies in our family, visited family members and neighbors who were in emotional need, and attended special meetings at the family council when conflicts have arisen.
This is an example of what is known as frith in heathenry. Caring for one's own family and inner circle, providing for their needs, and working to ensure that the familial structure remains peaceful and intact is a constant process with which heathens are intimately familiar. In Carmen's account, we're given a glimpse of a woman working to ensure that her family role is comprehensive and valuable through both practical work and the application of spiritual rites and beliefs. Frigg, as a goddess of hearth and home, is often venerated by heathens in her role of goddess over household affairs. In this example, it's easy to see the priestess assuming both the physical and spiritual responsibilities of Frigg's realm.
One compelling theme of Stepping Into Ourselves is the spiritual empowerment of women. The book contains numerous stories of women coming into a place of spiritual ownership in their lives. The reader encounters personal examples of women who, through using their gifts and talents for greater spiritual purposes, have discovered themselves as priestesses. For some, a talent for writing enables them to compose their own liturgy. For others, deep compassion and dedication to family and chosen community inspires them to create a haven for those who share their spiritual quest. Through their stories, each individual writer demonstrates a passion for what it means to serve as a priestess in their individual lives.
Many of the accounts touch on what the writers learned about themselves in the course of the journey. Some relate having discovered unexpected personal strengths, as well as areas that needed strengthening. In one particularly poignant piece under the heading "It's Easier to be a Priest than a Priestess," Nano Boye Nagle details her experience of finding the divine feminine while also coming out as queer and the inner struggle she endured in the process of discovering herself. She writes,
Even though I had always been woman-identified this was, practically speaking, an intellectual exercise. I was separate from the divine feminine and the girl hidden in my heart. We can only notice the faces of divinity we are willing to experience; I could not experience her and so denied myself the need for wholeness.
Stepping Into Ourselves also offers a range of practical leadership advice. Many of the stories emphasize the importance of mental and spiritual preparation for stepping into a priestess role. Additionally, the essays address common problems that arise when working with others and provide strategies for avoiding pitfalls while maintaining spiritual momentum. The writers outline ways to head off potential power struggles in a group, examine the process of making (and keeping) commitments, and outline how to keep a group focused and on track.
Both new and experienced spiritual practitioners can find great benefit from these relatable stories exploring the diverse traits that can define a priestess. Even more importantly, Stepping Into Ourselves offers readers a personal way of connecting to this sacred role. It is sure to encourage anyone who is yearning to understand the journey toward priestesshood and the feminine divine.
---
Heathen Woman is published on alternate Fridays. Subscribe via RSS or e-mail!