Well, here we are moving forward into a new secular year. I'm excited as always to see how long it's going to take me to remember to write 2018 instead of 2017. I'm also looking forward to going back to Ireland this year, as well as a trip next fall to Iceland. But before I start looking ahead too much I wanted to remember some of the good things about 2017.
Last year had its challenges, but instead of dwelling on those as we move forward I thought I'd rather look back at some of the books I read that I enjoyed, which I think some of you might also like. In fairness I have to say up front that these aren't books that were published in 2017, but books that I read last year, so some of these may be out of print now and harder to find, but I'd still say they were worth getting. That said, here are my top ten books from 2017, in no particular order: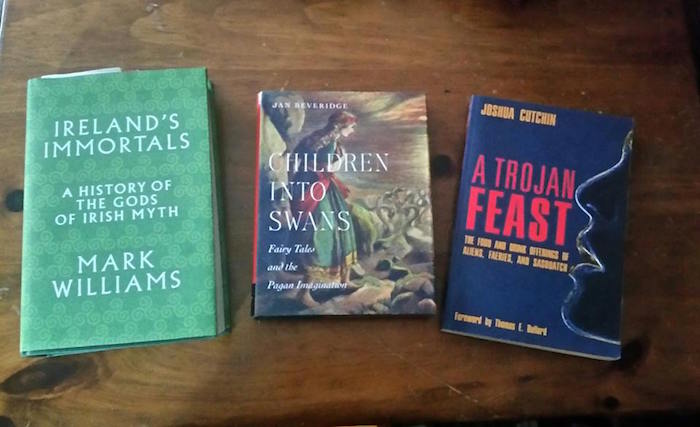 Non-fiction
Let's start with some non-fiction that I thought was really good. These will be books that focus on Irish mythology or fairylore, something that I was reading about, researching, and writing about a lot last year.
Ireland's Immortals by Mark Williams – a thorough look at the Gods of Ireland from the oldest sources to modern material. I don't agree with all the author's conclusions, but overall it was a very interesting work and thought provoking. I liked that he included a lot of the older stories, at least in excerpts and good discussions about the cultural contexts of the stories.

Children into Swans: Fairy Tales and the Pagan Imagination

 by Jan 

Beveridge – an interesting look at a variety of themes found in fairytales, roughly tracing the history of mythology shifting into fairytale. Particularly interesting to me as it looked at the crossover between the pagan period and later Christian era, although I did feel that it only dipped into each subject rather than really digging into it. I did like the way the book was set up though, with each chapter focusing on a single main topic. 

A TROJAN FEAST: The Food and Drink Offerings of Aliens, Faeries, and Sasquatch

 by 

Joshua Cutchin – this one was recommended by a friend and I enjoyed it more than I thought I would. for those who aren't aware there's an interesting combination of crossover and rivalry between the community of people who believe in fairies and UFO enthusiasts so I wasn't sure how exactly this book was going to approach the subject; personally I tend to keep an open mind but generally fall into the 'its all fairies' view. The book is interesting and includes a lot of anecdotal material about human encounters with non-human beings. 

Scottish Fairy Belief: A History

 by

 Henderson and Cowan – really great indepth look at both fairy beliefs and related practices in Scotland during the early modern period. Of particular interest to me because of its inclusion of ballad material that can be hard to find, like older version of Thomas of Ercledoune, and also because of its look at the Scottish witchcraft trials. 

The Visions of Isobel Gowdie: Magic, Witchcraft and Dark Shamanism in Seventeenth-Century Scotland

 by 

Emma Wilby- I'm a fan of Wilby's writing and this book is no exception. Wilby is always thorough and covers a variety of theories and viewpoints, which I appreciate. Isobel Gowdie was one of the most important of the Scottish witches who were caught up during the persecutions and this book, I think, is vital for anyone wanting to really understand who Isobel was as a person and to get a better idea of what actually happened – or most likely happened – during her trial. 

Folklore in the English & Scottish ballads

 by 

Lowry Charles Wimberly – recommended by a friend who knew I was getting very interested in the old ballads, this book is really fascinating. I especially enjoyed its discussion of fairies in the ballads which I think is important because its looking at all of the ballads rather than just a few.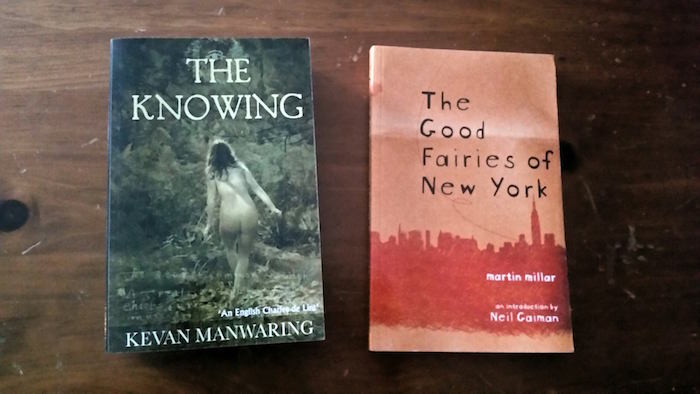 Fiction
I don't have as much time to read fiction as I'd like but I did manage to get in a few good books last year that are worth mentioning here. I will add that I generally read urban fantasy (or fantasy) by choice, so that will be the genre we're looking at.
That sums up my top ten favorite reads from 2017. I'd recommend any of these books to people who find these subjects interesting, and particularly The Secret of the Kelpie for children. That one is part of a series of children's books by Floris Books on Scottish folklore which I thought was good overall, although I admit I liked the Selkie Girl, which stays truer to the folklore, much better than The Tale of Tam Lin which doesn't.
Last year I also wrote several books which I'm excited to see coming out in 2018, and these include Pagan Portals Odin (March 2018), Traveling the Fairy Path (September 2018), and Pagan Portals the Dagda (October 2018). I'm also finishing up the 7th novel in my Between the Worlds series which should be out sometime early 2018.