So it has occurred to me, when looking back on the posts I've written for The Agora  the last couple of months, that I never properly introduced myself to you, dear reader. When I wrote my first article back in February I made a vague reference to the podcast of which I'm a co-host and went on my merry way talking about Eostre, bunnies, and Ostara assuming you already knew the necessary information about me, the podcast, and my family.
Ugh. Rude!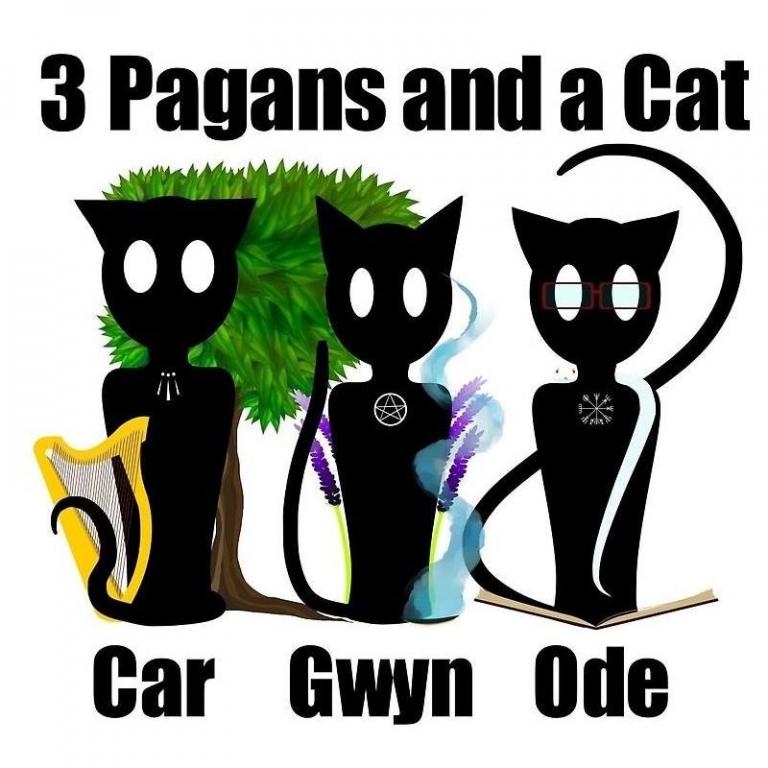 Therefore, I'm asking your indulgence in allowing me to properly introduce myself and forgive me for repeating some information which may have filtered into previous posts as it related to other topics.
As mentioned, I'm a co-host for 3 Pagans and a Cat, a podcast which my family and I began recording and sharing on the internet about a year and a half ago. My family, which includes me (Gwyn,  Eclectic Green Witch), my husband Car (a Druid), and two adult children (Ode is a Heathen and Jackson is a Hedge Witch), has always been one which enjoys conversation about interesting topics. Religion, a wide variety of entertainment, politics, et al. We discuss, laugh, debate, and sometimes argue as a means of learning from one another and growing as individuals and a family. However, what we hadn't been discussing as a family were our spiritual beliefs after each one of us came to be on a different Pagan path.
The reason for this is that we came to our individual paths at different times.
My husband and I had been Christians for years and when our children were young we raised them in that religion. I'm the one who took initial first steps onto the witchcraft path about twenty years ago and introduced my children to the idea there might be something more than the Christian religion for themselves.
Fast forward to a few years ago. Ode and Jackson had found their Pagan paths as young adults. Car and I had decided to give up practicing a religion which no longer fit either of us. I embraced witchcraft while stepping away from the idea of "religion." Car decided to go the way of his Irish ancestors by becoming a Druid Initiate after several chats with Ode.
And so our conversations as a family began to reflect our shared, albeit a bit divergent, Pagan beliefs. One day someone (there is a question whether the idea came from Ode or Car) suggested we start sharing these conversations with the wider Pagan community through a podcast.
Why would we want to start such an endeavor, you may be asking?
Car, Ode, and Jackson are all regular consumers of podcasts. One or all of them (I'm not sure) had been searching out the available Pagan podcasts at the time and discovered many were discontinued but available through archive or had a very sporadic posting schedule. Car, Ode and I (Jackson decided not to be "on air" but support us behind the scenes) figured we were already having the conversations about Pagan topics, why not do so in front of a microphone? So, we chose a topic and made the leap into podcasting.
On December 30, 2017, we posted our inaugural episode called  A Day Without Trees.
Talk about amateurs! Well, Ode and I are amateurs. Car has a degree in broadcasting and has worked in radio so that has helped in the episodes overall. In the first episode we introduce ourselves, talk about how we celebrated Yule by combining elements from each of our paths, discuss the meaning of A Day without Trees and the January Super moons.
We were a bit nervous, unsure of ourselves or what people would think (after all, what do we know? It's not like we're experts or anything!) But we had so much fun that Car, Ode and I decided no matter the response we would keep a regular recording schedule.
Needless to say, we have been amazed and blessed by the overwhelming support and response our podcast has received from the Pagan/Magickal community, not to mention the opportunities it has provided for us to meet people and participate in wider community events such as Michigan Pagan Festival, ConVocation, and Detroit Pagan Pride.
We are grateful to 3 Pagans and a Cat's ever expanding listenership and those who have been instrumental in creating a vibrant online community through 3PaaC's social media outlets – Facebook, Discord, Twitter – (our listeners are part of "The Pride" to stick with the cat theme).
The Pride has helped us by sharing discussion topics and are the reason we have segments called Ode's Stone Corner, Gwyn's Garden Gems, and Car's Feast Table. We do our best to support the Pagan community by reviewing books and hand-crafted products sent to us. We've also had opportunity to interview wonderful leaders such as Jason Mankey, Jacki Smith, Ivo Dominguez Jr., Witchdoctor Utu, Bill Ehle of Pagans in Need and others.
The last thing I will share is why we call ourselves 3 Pagans and a Cat.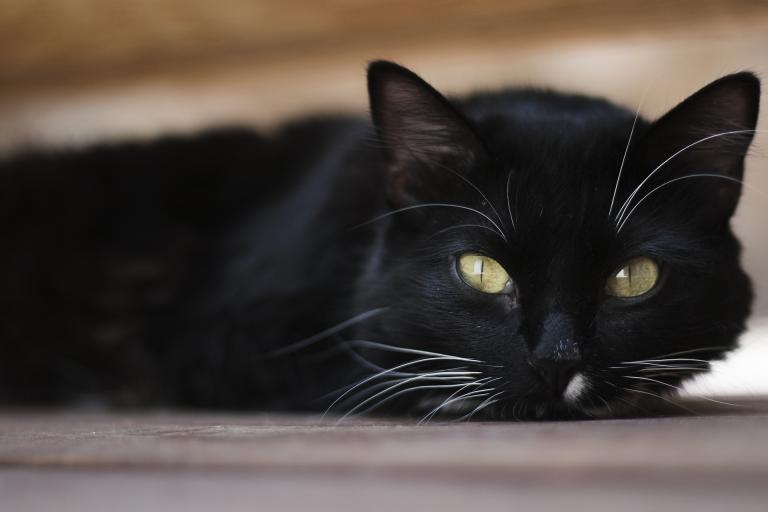 Many moons ago, Car adopted a cat for me (even though he is very allergic) when we were first engaged. An adorable black kitten, the runt of the litter, at a local animal shelter. He was tiny but had a ridiculously long tail. Even the kitten's claws were too long to sheath in his wee paws.
We named him Shadow.
He grew into a large cat, although his tail remained a little too long and his claws peeped out from his paws. He lived a good long life in the country as both a contented house cat and outside as a mighty hunter, keeping the mouse and rabbit populations in check. As Shadow grew older he lost one eye to a tumor and became quite deaf. Even so, small critters were no match for that old cat if they ventured too close. Shadow crossed the veil many years ago and I still miss him.
When Car, Ode and I were deciding on a name for our podcast, 3 Pagans and a Cat (in honor of Shadow) popped into my brain. We didn't have a cat at the time and so many people were asking about "the cat" part of our podcast, we decided to adopt an adorable black kitten (who will be one year old in June). His name is Balthazar. Shadow will always be a part of the podcast (the one-eyed cat on the logo Ode created is inspired by him), and Balthazar is now our official "podcat."
There you have it. The story of me and my family.
We are three Pagans.
And a cat.