A Third Door
Sometimes in life we stumble across the perfect person, place, or thing at exactly the right moment. I like to view these circumstances as divine timing. It was no surprise to me back in late August 2019 when I came across a Podcast called Basic Witches and the first episode I listened to was called Taking the Third Door. This was an interview which two Witches, Leah Knauer and Rachel Laforest, conducted with Alex Banayan. Alex became the youngest bestselling business author in American history with his book, The Third Door: The Wild Quest to Uncover How the World's Most Successful People Launched Their Careers. As an introductory listen to these Witches I could not have been met with a better first impression.
I had recently found my own third door entrance into the writing world just a few weeks earlier with Patheos Pagan via The Agora. I had also begun to bang on another third door more than a month before this when I completed a 5-minute pitch with Heather Greene of Llewellyn Worldwide at the first ever Mystic South in Atlanta, Ga. Needless to say I quickly became a fan of the Basic Witches and even wrote about them in my article on practicing gratitude.
When the world flew into chaos, first with the isolation of Covid-19 and then with the rising voices standing up against systemic racism, I turned to the things I loved for comfort. One of those things are the podcasts I listen to. I was delighted to learn that Leah Knauer was offering a class on manifesting. This was not only exciting because I love to see fellow Witches flourish but also because she was planning to use her voice and platform for a greater good.
Recently I had the chance to reach out to Leah and ask her a few questions.
What up Witch
Magick IRL: Hi Leah. Thank you for allowing me to interview you today. Some of the readers might not know you. Can you tell me a little bit about yourself to start things off?
Leah Knauer: Thank you for interviewing me, Vini! I'm Leah Knauer (like me, the K is not silent) and I'm a comedian, actor/writer, artist, witch, and co-host of the "Basic Witches" podcast with my soul sistah, Rachel Laforest. I'm a Gemini/Cancer cusp, Pisces Moon, Capricorn Rising. Basically, I'm a social butterfly bada$$ business witch with lots of emotions – fun! I'm originally from the Philadelphia suburbs and have been living in sunny Los Angeles for almost ten years.
MIRL: What led you to witchcraft?
LK: I've always been a spiritual person and a feminist, before I even had the words to put to it. I often had moments of clairvoyance growing up. I could sing lyrics along with a song without ever hearing it before, correctly guess final scores at sports games with my Dad, and would have psychic dreams. I dimmed my power throughout my teen years, until I discovered "The Secret"/"The Law of Attraction" in my Senior year of high school.
From then on, every day is a fun challenge for myself in Manifesting. When I met Rachel in a musical improv comedy class, we bonded over yoga, weed, feminism, and spirituality. With that, "Basic Witches" was born, where we ask all the "basic" questions to all kinds of witchy and spiritual people. I love witchcraft because it connects the most empowered, bada$$ truth-seekers over a common goal of global unity, peace, and love.
MIRL: As a Witch do you find yourself working on specific goals more often than other goals?
LK: I do consider myself an eccentric light-worker Witch. I dabble in a lot, but most of my magic comes from self-love and empowering myself/others to go after what I/they really want. One very specific goal I had back in 2015 was to be in famous director Kevin Smith's movie "Mallrats 2", simply because I love his movies and he was set to film it in my hometown mall where I was arrested for shoplifting in 7th grade (lol). I tweeted at him for 278 consecutive days using light-heartedness and self-aware humor. The craziest part? It worked. In March 2019, I flew to New Orleans to shoot my scene in "Jay and Silent Bob Reboot".
MIRL: Do you manifest things often in your life?
LK: All. The. Time. It's actually creepy sometimes. I've manifested free floor seats to an Ariana Grande concert, an iPad Pro, tickets to a Lil' Wayne concert, a microphone, and more. Sometimes I will ask the Universe for something, do one small action towards it, and I will have it in literally less than 48 hours. It's surreal, exciting, and addicting.
MIRL: What type of witchcraft do you use to manifest your intentions?
LK: Most of my witchcraft consists of daily dream journaling, positive intentions, meditation, New and Full Moon ceremonies, and reading oracle/tarot cards. I also have some incredible witchy/creative folx in my life who make an incredible support system. Friendship is definitely Magic!
MIRL: You have a class you're currently offering. What is it called?
LK: My course is called "(Wo)Manifest Some Sh*t!" It's a 4-week online course open to all genders, races, and sexualities that anyone can start at any time from wherever they are! In this course, I walk you through the ACTUAL tactics I used to Manifest my Kevin Smith dream into a reality. Each week is packed with colorful artwork, lots of juicy self-love and manifestation tips, and a weekly video from yours truly. The course also grants you access to a supportive online community of like-minded bada$$ (Wo)Manifesters. If you've been feeling stuck, depressed, or uninspired, this class will lift your spirits and inspire your soul.
I'm also very excited to be offering the course for free to any interested BIPOC people.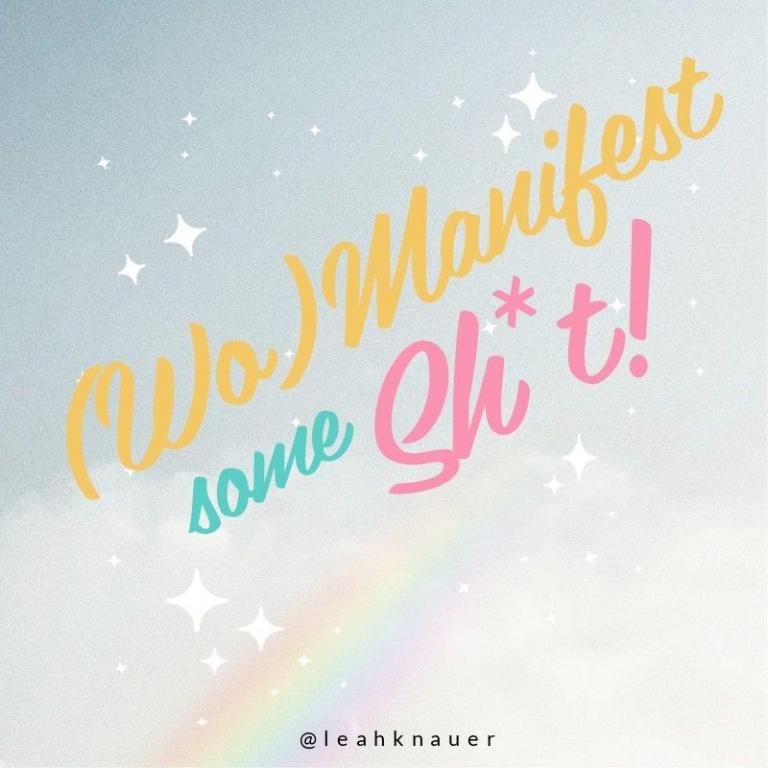 MIRL: What led you to want to provide a class like this?
LK: I don't think enough people know the ins and outs of Manifesting. It's more than just thinking something and putting it in the Universe. You have to also show up and take action. Specifically, as a woman who lived too many years trying to make myself small or apologizing for my desires, I want to teach other women that there is another option and it's so much better (and fun!). I wanted to provide this class because the more Witches we have taking over the World, the more empowered, magical, and accepting the World will be. You DESERVE to live the life of your dreams!
MIRL: Basically, what are the four tricks you teach in the class?
LK: Manifesting takes 4 steps: Vision, Action, Accountability, and Gratitude. An easy way to remember: V.A.A.G. (which, magically enough, I did not even realize I chose those letters until after the fact lol). It's more than just knowing the 4 tricks: you gotta know how to put them into action. For that, you gotta enroll in the course 🙂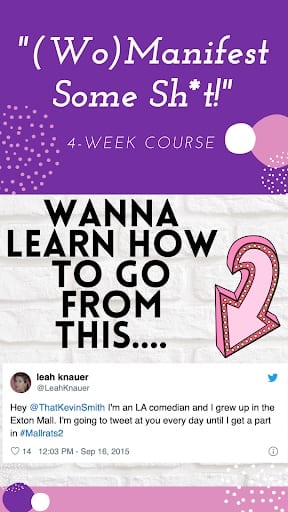 MIRL: What's the biggest thing you've manifested?
LK: The part in Kevin Smith's movie is definitely my biggest Manifestation! So many people told me it couldn't be done, that it looked desperate, that I was insane. (That last one may be a little true.) But on the other hand, there were lots of people who thought it was hilarious, who told me I had to keep going, and were helping me get closer to my goal! For those people I am so grateful. When I think back on the entire experience, starting from sending li'l tweets on my phone to then exploring New Orleans by myself, it all feels like a dream that I lived through.
MIRL: Do you believe that it takes a lot of mundane work to manifest your intentions?
LK: Yes! Most of the work is mundane. Most of Manifesting is the part that nobody else sees. It's cultivating a positive mindset and environment in order to harness all your faith, hope, and assurance that everything is always working out for you. But when you get into that groove of creativity and gratitude, it all flows.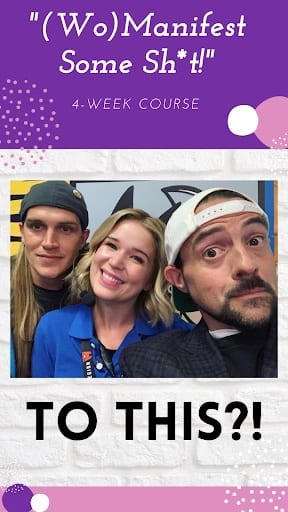 MIRL: Are you currently manifesting anything big?
LK: Yes! This course is a big part of it! I have a goal of donating $3,000 to the Loveland Foundation, which provides mental health services to Black girls and young women. I am manifesting at least 100 (Wo)Manifesting students! Basic Witches also has some pretty big plans in the works, like our own oracle deck and a movie we wrote!
MIRL: I would definitely watch your movie. I love the Basic Witches. How close are you to your goal?
LK: I've donated almost $100 so far, which is nothing to laugh at! Therapy is expensive!
MIRL: I want to switch gears if you don't mind. There is this other really big thing you've manifested. You have a podcast called Basic Witches; do you feel like you manifested that?
LK: Oooh, great question! I do feel Basic Witches was manifested. I'd always wanted to host a podcast, but needed the right co-host and topic, so it was always in the back of my mind. Then I met Rachel and the other lady of our musical improv team, Adele Dazeem, which totally expanded my world with bada$$ feminine energy and the healing powers of female friendship.
Around this same time, I was set to perform in "Roast Battle" at The Comedy Store, which is a show where comedians roast each other in front of an unruly audience. I was getting deeper into my spiritual journey and trying to focus on only things that made me feel good.
As it turns out, the idea of being made fun of in front of a crowd did not sound like it'd make me feel good, so I told my Roast opponent that I didn't want to do it anymore. The wild part? That Roast opponent also ran the Store's podcast studio, so about two months later, I pitched him "Basic Witches". Perfectly enough, they were looking for a spirituality-based show, especially since The Store is known to be haunted. It all fell exactly into place how it needed to.
MIRL: That's so cool. So, when you decided to stop doing the Roast Battles would you say you were also manifesting more self-love?
LK: ABSOLUTELY! I was saying "No" to being demeaned, and saying "Yes" to myself. And that choice was not easy because I do love roasting. I love joke writing and performing so much. I'd done the show several times before and even ranked in the Top 50 Roasters one year. As a performer, it was not easy for me to say no to stage time, but ultimately I was saying yes to my self-worth.
All images provided courtesy of Leah Knauer.
To join Leah's class click on (Wo)Manifest some Sh*t . You can follow Leah on Instagram and Twitter. Or follow the Basic Witches on Instagram too.
Also you can follow me on Instagram as well.