I'm gratified to have been quoted in Stacy Psaros' two-part article appearing in The Wild Hunt, Pagans and Hurricane Season. I thought I'd take a few minutes to expand on how moving to a part of the country that is regularly impacted by hurricanes has affected my daily Practice.
When I moved south of the Miami area toward the end of the previous year's hurricane season and started socializing with some of the local pagans and witches, I was told the old gods had never died here—that they are still quite active.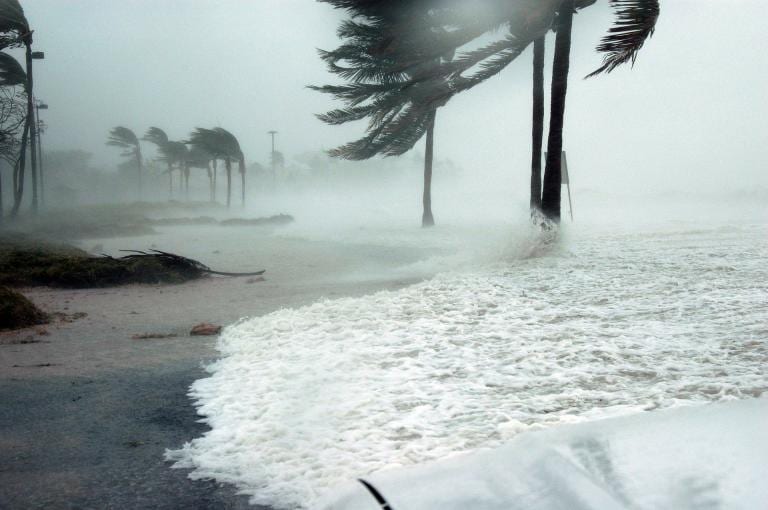 Yemaya
Here south of Miami, the Orisha Yemaya is pretty much the go-to deity to petition during the season, but I have not felt comfortable embarking on a relationship with Her. For one thing, it's never a good idea to begin a relationship with a deity by asking for something from them right off the bat. It'd be like introducing yourself to someone and then asking them to do you a big favor, like give you their car.
I also couldn't get past the dissonance I was feeling around cultural appropriation. While no one "owns" a deity, I just could not get around the fact that some of my ancestors were slave holders. As a person with that disgrace as part of my lineage I simply don't feel like I ought to be petitioning Yemaya for anything other than forgiveness and atonement.
To learn more about Yemaya, check out this YouTube video by Blaque Witch YaYa:
Hekate Einalia
I can, however, petition Hekate Einalia, goddess of the dark seas. Cyndi Brannen's Hekate and the Sea offers a thorough exploration of this particular epithet. In her introduction to the article, Cyndi writes:
Hekate's association with the sea stretches from the earliest known descriptions to contemporary understanding. As Einalia, she is the Goddess of the Seas, ruling over the oceans and providing bounty to those who make their living from it. As The World Soul, she is the stream providing essence to all of nature. There are many ways to incorporate Hekate's watery aspects in contemporary devotion and witchcraft, ranging from honoring her though activism to making magick with oceanic treasures.
Even though I had not previously worked with this particular aspect of Hekate, I have an established relationship with Her, having worked consistently with her epithets of Medusa (Guardian), Rixipyle (She who breaks down the gates), Enodia (She who is both the crossroads and the Guide at the crossroads), Chthonia (She who guides the dead) and Brimo (the terrifying storm). And while Brimo might have been an effective epithet, I really wanted to bring in an aspect of Her energy that was specific to the sea as well as an acknowledgement of my geographic closeness to the Atlantic Ocean.
At the beginning of hurricane season I added a small Einalia shrine to my Hekatean altar, where it will stay through the end of the season. It's simple—an aqua votive candle set on an upturned clam shell that was collected by my mother, with two small whelk-type shells that look very much like two teeny Hekatean torches. The little shells have a special place in my heart, collected decades ago after my husband and I worked through a particularly rough patch, and saved throughout all these years later as a daily reminder that the way out is through.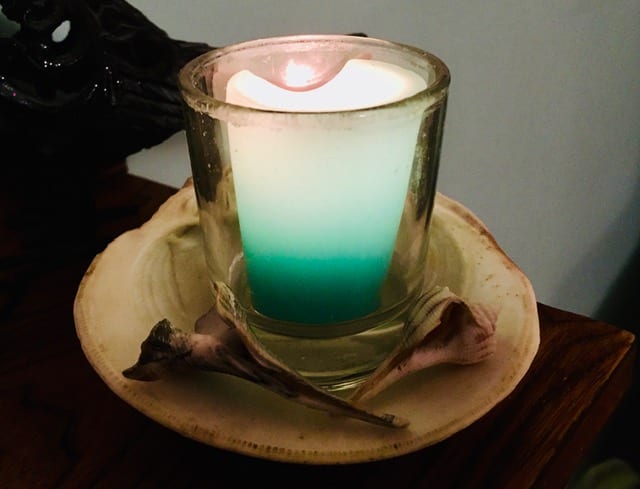 During my morning devotions I ask for Hekate Einalia's protection for my friends and family (and their property) in Texas, Louisiana and Florida during any hurricanes that may develop. It feels well-aligned to create and strengthen a relationship with Einalia long before the seas and winds rise, and in turn it feels more respectful to ask a boon if and when that time comes having established a relationship prior to making a petition. As hurricane season progresses I also give thanks to Einalia for the protection She has already offered, naming each of the storms whose threats have passed.
And OF COURSE I also do the practical preparations of storing potable and non-potable water, having fresh batteries (and flashlights) at the ready, photocopies of important papers, photos of the house and its contents for insurance purposes and all of the other gathering of resources just in case they're needed. Pragmatism and witchery are not mutually exclusive.
We've months to go yet in this very active hurricane season. Having lived along the Gulf coast area for 20 years before my time in the Midwest and subsequent move to Florida, watching the weather patterns in the tropics is not an unfamiliar activity. Hekate is one of those deities who expects you to do the work, and I've done that with common-sense preparations and respectful awareness of the destructive powers that hurricanes unleash upon the land.
We do what we can. Honoring and petitioning Hekate's aspect of Einalia helps me maintain my calm center during the tempests, when the most we can do is so often not enough.
May those of us who live in areas affected by hurricanes and tropical storms survive this season with our lives and our properties intact.
Want to read more about Yemaya and other Orishas? Check out Lilith Dorsey's Orishas, Goddesses, and Voodoo Queens!
You can hear more of The Corner Crone during her Moments For Meditation on KPPR Pure Pagan Radio on TuneIn.