Looking for simple, fun ways to celebrate the Season? How about a weekly Halloween-Themed Dinner and a Movie Night? Whether it's an evening on your own or with your significant other(s), with your QuaranTeam or with your familiar, planning for and setting aside one night each week of October for some seasonal entertainment can get you into the spirit of Halloween.
Note here I'm not talking about Samhain, which for many of us has little to do with the camp and kitsch of secular Halloween. The following suggestions are not meant to be disrespectful, but are instead meant to help you evoke a little of the sense of anticipation and just plain fun many of us might remember from our childhood Halloweens.
So, here are some suggestions for dinners, drinks and movies to celebrate the coming of Halloween!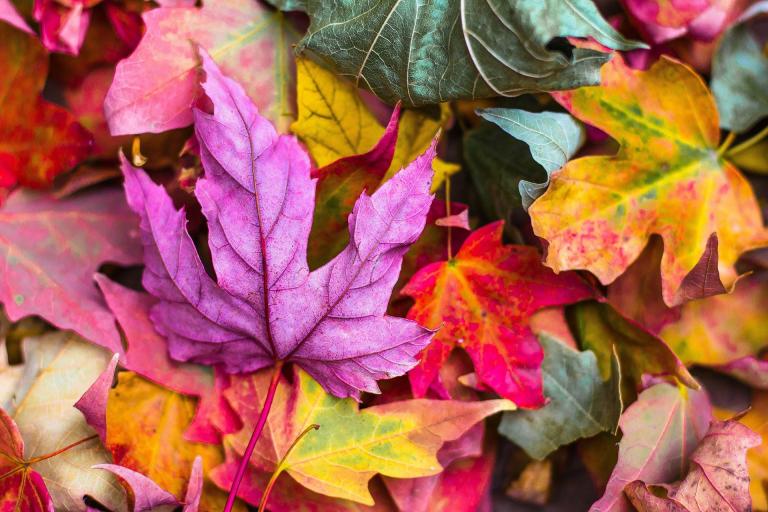 Week One
Halloween's a long way off at this point, and it's hard not to jump full-on into the holiday. Why not start with something that has only a hint of the magic to come?
Movie: The Last Keepers (Vertical Entertainment, 2013). Although this PG-13 movie is far from perfect, I think it's a Wiccan gem. Rhea Carver comes of age in a story that is very goddess- and earth-centric. Her Pagan family's celebration of the Autumnal Equinox makes this a great movie to kick off the month of October, when we're still a little closer to the Equinox than we are to Halloween.
Dinner: Veggie Feast. The family has a thriving vegetable patch that's featured in a pivotal scene of the movie, so a menu featuring bounty from the garden is a perfect match. A veggie feast also fits in well with the general themes of harvest so prevalent during this season. Try a creamy roasted carrot soup for starters, stuffed Portobello mushrooms with French fries as the main course, and finish off with a couple of slices of sweet potato pie. Suggested drinks: The earthiness of a Pinot Noir is perfect when paired with vegetables like mushrooms. If beer is more to your taste, try any of the seasonal pumpkin ales that are available this time of year (Samuel Adams has several varieties). Any number of herbal teas can provide a wide range of non-alcoholic choices as well.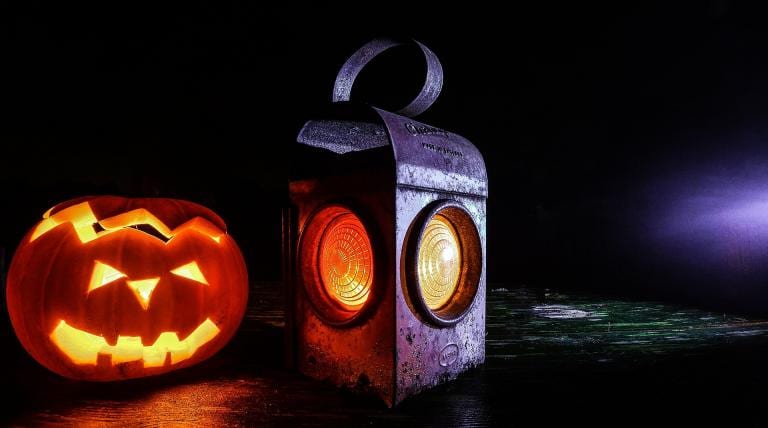 Week Two
Movie: Sleepy Hollow (Paramount Pictures, 1999). Tim Burton and Christopher Walken? Yes, please! Set in 1799 New York State, this is another movie that features some gorgeous scenery (albeit filmed in several UK locations). Most of us are familiar with the source material, Washington Irving's The Legend of Sleepy Hollow. Deliciously spooky, this R-rated film features a familiar Halloween-ish tale without being solely focused on the holiday.
Dinner: Foods eaten by the Colonial Dutch. Sleepy Hollow is populated by the Van Tassels, the Van Brunts, Reverend Steenwyck and an entire host of Dutch folx. This is not surprising as Dutch folx were among the colonizers of the geographical area around New York. Start off your meal with Beer Cheese Soup topped with popcorn (the colonizers brought dairy cattle with them when they immigrated, and popcorn has strong Native American roots). Any number of pork dishes can be served as the main course with vegetables like corn and cabbage—braised cabbage with bacon would easily fit the bill. The Dutch colonizers loved fruit; try Dutch Apple Pie for dessert. Suggested drinks: Pork goes well with both white and red wines. Try a medium-bodied wine such as a Zinfandel or Chenin Blanc, or if beer is your go-to, you can't go wrong with a stout or a lager. Three Floyds Brewery has some excellent choices, and checking out your local breweries will yield some great options as well. Spicy herbal teas are a fine non-alcoholic alternative, as are any number of apple ciders.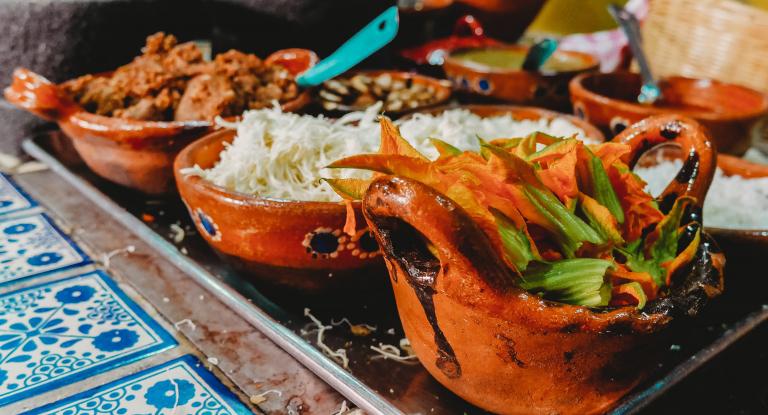 Week Three
Movie: Coco (Disney/Pixar, 2017). There is really nothing like this gloriously colorful and kinetic movie that takes place in the Land of the Dead. Respectful of and rooted in the Mexican culture it portrays, it's a great choice to watch with Halloween right around the corner.
Dinner: Mexican, por supuesto! Try this easy queso recipe and store-bought tortilla chips as an appetizer, and for a simple main course this chicken enchilada casserole with a fresh Mexican chopped salad. Flan is a traditional dessert choice, or make things super easy and finish up with some store-bought vanilla ice cream and caramel sauce. Suggested drinks: Margaritas! Sangria is another option, as is a good Mexican beer like Tecate. Limeade (aka unleaded margaritas) or citrus herbal teas are non-alcoholic choices.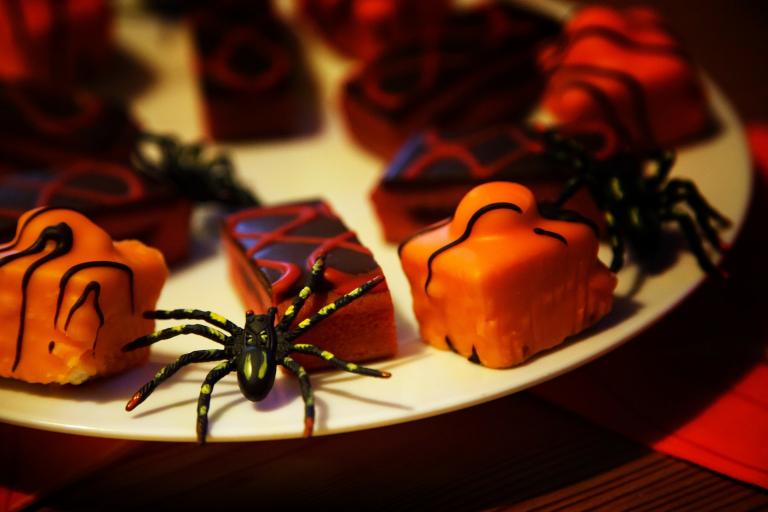 Week Four
Movie: Hocus Pocus (Disney, 1993). By the last week of October folx really are running amok amok amok with Halloween energy, so you might as well join in the camp and kitsch with the Queen of Camp herself, The Divine Miss M. Filmed in Salem, Marblehead, and Plymouth MA, the movie takes place on Halloween Night with mayhem and the Sanderson Sisters running in the streets. Think of it as a visual sugar rush of Halloween film candy.
Dinner: We're all just guests at the Halloween party, so why not spookify your dinner to match? Try Pumpkin Deviled Eggs or Spinach Dip in a Bread Bowl Cauldron as an appetizer. Mac-O-Lantern and Cheese Bowls are a veggie option for a main course, or try Black Bean-Pumpkin Soup with a spider-webby swirl. By the fourth week of October most grocery stores have 2-for-1 sales going on their bagged candy, so you could fill a couple of cheap plastic jack-o-lantern mini-buckets with a few small candy bars and call it dessert. Suggested drinks: Pomegranate-Rum Punch (cuz ya gotta have punch at a party, and . . . pomegranates) or any of a number of hard apple ciders. Regular apple ciders are your non-alcoholic go-to.
So there you go—some light-hearted ideas and suggestions to get you in the spirit as we roll through October toward Halloween. Enjoy!
You can hear more of The Corner Crone during her Moments For Meditation on KPPR Pure Pagan Radio on TuneIn.